BIO- LifeSciences BC Satellite Symposium

Monday, 23 June 2014 from 3:00 PM to 5:30 PM (PDT)
Event Details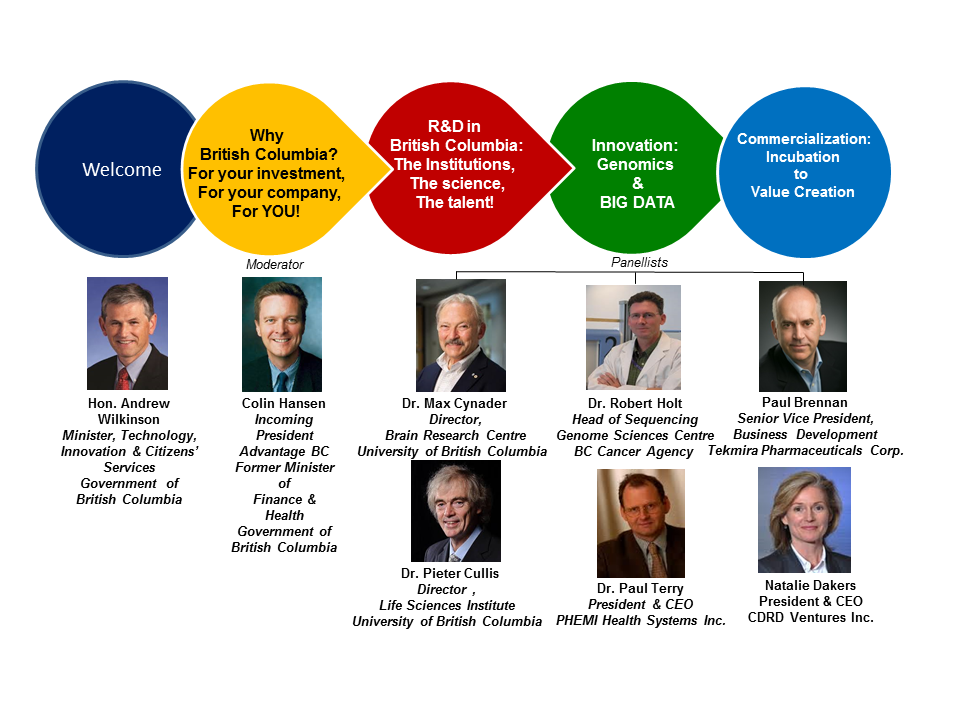 LifeSciences BC Satellite Symposium
Co-hosted by the British Columbia Ministry of International Trade and in conjunction with the 2014 BIO International Convention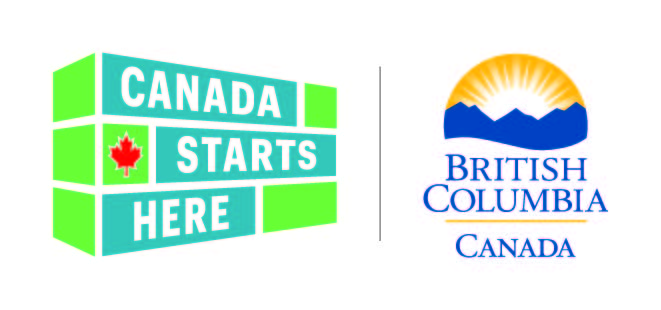 Monday, June 23 at the Manchester Grand Hyatt Hotel in San Diego
3:00 pm – Panel Discussion
Welcome address from the Honourable Andrew Wilkinson, Minister of Technology, Innovation and Citizens' Services
Andrew Wilkinson was elected MLA in May 2013, and was appointed Minister of Technology, Innovation and Citizens' Services a month later. He has served as deputy minister for the British Columbia Ministry of Economic Development and for Intergovernmental Relations in the Premier's Office. Andrew has also served as president of the BC Civil Liberties Association, president of the BC Mountaineering Club and president of the BC Liberal Party. Prior to being called to the bar, he was educated and licensed as a physician.
Moderator: Colin Hansen, Incoming President, AdvantageBC (former Minister of Health and Finance, Government of British Columbia)
Colin Hansen is the incoming President of AdvantageBC. He served in elected office from 1996 to 2013, and held the posts of Deputy Premier for the Province of B.C., Minister of Finance, Minister of Health, Minister of Economic Development and Minister Responsible for the 2010 Olympics. Colin is a director with two not-for-profit organizations: the Arthritis Research Centre of Canada and the Fraser Basin Council. He also chairs the Advisory Board for Retirement Concepts and is chair for the Transportation Investment Corporation, a provincial crown corporation.
Panelist: Dr. Max Cynader, Director, Brain Research Centre, University of British Columbia
Dr. Max Cynader obtained his B.Sc. at McGill University in 1967 and his Ph.D. from the Massachusetts Institute of Technology in 1972. Following postdoctoral training at the Max Planck Institute, he held positions at Dalhousie University. On arriving at the University of British Columbia in 1988, Max headed the Ophthalmology Research Group until 1998, at which time he was appointed Founding Director of the Brain Research Centre.
Panelist: Dr. Pieter Cullis, Director, Life Sciences Institute, University of British Columbia
Dr. Pieter Cullis has been responsible for fundamental advances in the generation, loading and targeting of lipid nanoparticle systems for intravenous delivery of small molecule drugs and macromolecular drugs. Pieter co-founded Lipex Biomembranes Inc., Tekmira Pharmaceuticals, Northern Lipids Inc. and, most recently, Acuitas Therapeutics and Precision NanoSystems. In addition, he co-founded and was Scientific Director at the Centre for Drug Research and Development from 2004 to 2010.
Panelist: Dr. Robert Holt, Head of Sequencing, Genome Sciences Centre, BC Cancer Agency
Dr. Robert Holt received his Ph.D. in Neuropharmacology from the University of Alberta in 1998. After a postdoctoral fellowship in Molecular Evolution at the State University of New York, he joined Celera Genomics where he served as the Senior Scientific Operations Manager for initial sequencing of the human genome. Since 2002, Robert has been a Senior Scientist at the BC Cancer Agency Genome Sciences Centre where he is Head of Sequencing. He is also Co-director of the Genome Canada Science and Technology Innovation Centre and Professor at the University of British Columbia and Simon Fraser University.
Panelist: Dr. Paul Terry, President & CEO, PHEMI Health Systems
Dr. Paul Terry is the President & CEO at PHEMI Health Systems. He is a director with Providence Health Care, and for the past 11 years was also the secretary/treasurer and technology adviser for the Michael Smith Foundation for Health Research. Paul was one of the Entrepreneurs-in-Residence at Simon Fraser University's Venture Labs, and is currently a Partner with Magellan Angel Partners. Prior to his work in health care and venture capital, he was CTO and Co-founder of OctigaBay Systems, a pioneer in high-performance computing that was acquired by Cray Inc., the world leader in supercomputing. Paul was also Co-founder and CTO of Abatis Systems, which was acquired by Redback Networks in one of the largest technology acquisitions in Canadian history.
Panelist: Natalie Dakers, President & CEO, CDRD Ventures Inc.
Natalie Dakers currently serves as the President & CEO of CDRD Ventures Inc. after having spent the last seven years as the founding CEO of the Centre for Drug Research and Development (CDRD). Prior to leading CDRD, Natalie was President & CEO of Neuromed Pharmaceuticals (Technologies) Inc. Prior to Neuromed, she managed technology transfer for the Life Sciences sector at the University Industry Liaison Office at the University of British Columbia.
Panelist: Paul Brennan, Senior Vice President, Business Development, Tekmira Pharmaceuticals Corp.
Paul Brennan has served as Tekmira's Senior Vice President, Business Development since September 2010, and has over 20 years of experience working for pharmaceutical and biotechnology companies in general management, business development, marketing and regulatory affairs. He was Senior Vice President, Business Development at Aspreva Pharmaceuticals, and was also at AnorMED where he held a number of roles including Acting President. Paul holds B.Sc. and M.Sc. from Queen's University.
4:30 pm – Wine & Cheese Reception – Generously sponsored by:

After the panel discussion, you're invited to a wine and cheese reception with British Columbia's business and research leaders, as well as top executives from around the world.
Value creation in life sciences thrives where there is innovative and unique environments. British Columbia has a unique life sciences ecosystem with global leaders in research, innovation and commercialization. Join us and hear what opportunities exist for your collaboration with the people, institutions and companies of British Columbia. Our unique ecosystem is one of North America's top 10 biotech clusters, and on a growth trajectory. Come grow with us! 
For more information, please contact:
Sarah Wuertz
Events & Office Manager
LifeSciences BC
Tel: 604.602.5255
Email: swuertz@lifesciencesbc.ca
When & Where

Manchester Grand Hyatt Hotel
1 Market Place
Rooms: Regatta A-C
San Diego, CA 92101


Monday, 23 June 2014 from 3:00 PM to 5:30 PM (PDT)
Add to my calendar
Organizer
LifeSciences BC
Website:http://LifeSciences%20BC
BIO- LifeSciences BC Satellite Symposium