Designing Trauma Informed Services for Children and Families

Tuesday, 19 February 2013 from 9:00 AM to 4:30 PM (PST)
Event Details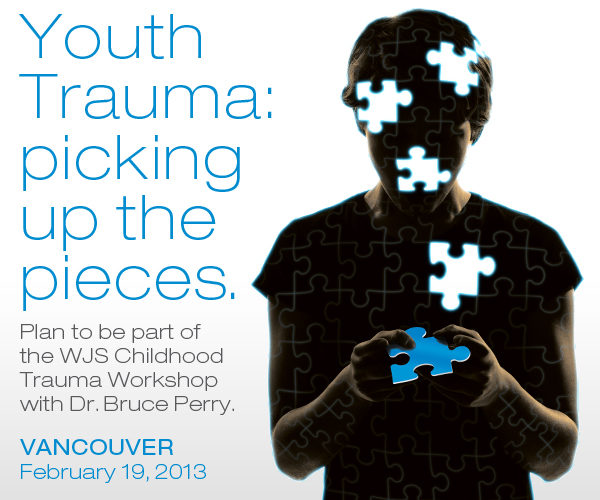 The effects of childhood trauma can be devastating and recovery a complex process requiring knowledge of the biological, brain-altering results of emotional and physical trauma.
Dr. Perry
 is internationally renown for his Neurosequential Model (NMT), a developmentally sensitive, neurobiologically informed approach to trauma. He is an educator and practitioner on issues of child trauma and a founding member of the Premier's Council of Alberta's Promise. Dr. Perry is the co-author with Maia Szalavitz of two definitive books: "The Boy Who was Raised as a Dog" and "Born for Love: Why Empathy is Essential and Endangered."    
This hands-on workshop with a leading expert will enable you to recognize trauma and direct therapy for kids who need help. As educators and health care professionals in the prevention, early intervention and child intervention community, you'll grow your understanding and skills and enhance your ability to improve lives threatened by, or suffering from childhood trauma.
For more information about this Workshop please 
email Dawn
 at the
WJS Training Division or phone (604) 465-5515 x116.

When & Where

Hilton Vancouver Metrotown
6083 McKay Ave
Burnaby, BC V5H 2W7
Canada

Tuesday, 19 February 2013 from 9:00 AM to 4:30 PM (PST)
Add to my calendar
Organizer
WJS Canada Training Division
WJS Canada is a CARF accredited organization that has been providing care and supportive services throughout Canada for over 25 years. Our Training Division has provided internal and external training in various disciplines.
Core Values Statement
WJS believes that learning is a lifelong process. Our goal is to Engage, Educate and Empower, in a way that maximizes potential through innovative learning.
Mission Statement:
The WJS Training Division exists to provide innovative training to fill the market gaps in professional development.
Vision Statement:
The WJS training division will provide the highest standard professional development services in BC.
Strategic Intent
We intend to equip employees and external agencies with the tools to carry out their professional duties. In order to do this we intend to provide training of the highest standards for WJS and external individuals and agencies. We will provide cost effective training that is competitive in nature and of the highest possible standards.
Subscribe to our mailing list * indicates required Email Address *   First Name   Last Name I would like annoucements for this region: North Region   Interior Region Fraser Region Vancouver Coastal Region Vancouver Island All Regions  
2012-11-28 10:50:57
For more information on Dr. Perry
visit the ChildTrauma Academy
2012-11-30 15:36:57
Going to be in Edmonton?
Why not attend the Edmonton session on February 20th, 2013?
http://tip2013edmonton.eventbrite.ca/
For more information on this session, contact Evelyn
Alberta Regional Office
#218, 10509 - 81 Avenue
Edmonton, Alberta  T6E 1X7
Telephone:  (780) 439-5087, Ext. 32
Fax:  (780) 431-2196
2013-01-28 09:46:20
The Hilton Vancouver Metrotown is offering participants of this workshop a special guest room rate of $149.00.
To recieve this special rate, contact Jacqueline Jones at the Hilton Vancouver Metrotown and let her know your with the Trauma Informed Practice workshop. Jacqueline.Jones@hilton.com  t: 604 639 3725

2013-02-08 09:14:37
Some questions have been posed about the content of the workshop,
Workshop Title:
Designing Trauma Informed Services for Children and Families
Workshop Objectives:
1. Understand the effects of trauma and neglect from a neurodevelopmental perspective.
2. Identify signs and symptoms of trauma and neglect in young children.  
3. Learn new strategies for care, program development, and policy as related to developmental trauma.
Workshop Description:
The development of a young child is profoundly influenced by experience.  Experiences – good and bad - shape the organization of the brain. The ultimate effect is to impact emotional, social, cognitive and physiological functioning.  Insights into this process come from understanding brain development. Both trauma and neglect, the absence of essential developmental experiences required to express a fundamental potential of a child, are pervasive problems in our culture. Various forms of neglect are possible and include splinter neglect, total global neglect and emotional or relational neglect.  Chaos, threat and abnormal patterns of emotional, social, cognitive and physical interactions with young children lead to an array of brain-related problems. This presentation will review clinical work and research that can help us better understand developmental trauma, neglect and the relational problems that arise from neglect and threat.  An overview will be provided that suggests new directions for clinical practice, program development and policy.
2013-02-14 16:06:04
The registration deadline has been increased by one day to compensate for the phone issues experienced on February 13th and 14th.