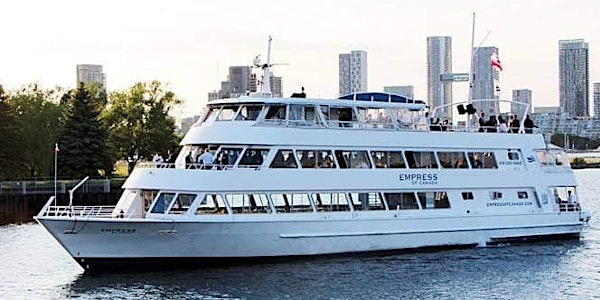 06.30 Toronto's Hip-Hop Boat Cruise
Performers
echo the element, elli, Manatee, Count Klassy, akresky, Konan doyle, BMG, critical treez, cranberry, Gavin Breen, Jake Clarke, joey karma
Location
Empress of Canada Yacht
11 Polson St.
Toronto, ON M5A 1B6
Canada
Toronto's Hip-Hop Boat Cruise will be the hottest ticket on the lake June 30th!
About this event
🎉TORONTO'S 🎉
HIP-HOP BOAT PARTY CRUISE
Kick off your weekend on a boat and see your city like never before! What could be a better way to celebrate Toronto on a summer evening than to PARTY ON A BOAT. Experience your City by cruising through the Inner Harbour, Island Lagoons and Toronto's cityscape.
Empress of Canada a three-level vessel with two indoor decks and an outdoor open-air deck makes it a perfect floating nightclub that provides amazing views and a fun partying experience !
★★★★★★★★★★
Featuring·
• 4 hours of cruising on the water
• Fully Licensed Premium Bars
• Spectacular views of Toronto
• Three-Floor Boat with interior and exterior viewing decks
• Club-like Dance Floor
• DJ's and live performances
• Snacks and appetizers available for sale
Our DJs will rock the boat with all your favorite Top 40, Hip Hop, Throwback, R&B, Reggaetón and much more!
★★★★★★★★★★
BOARDING: 7:30 PM
DEPARTURE: 8:00 PM
Arrival: midnight
BOAT: Empress of Canada
DEPARTURE LOCATION: 11 Polson Street, Toronto
Be at the dock 15-30 min prior for boarding
★★★★★★★★★★
TICKETS AVAILABLE ONLINE
Tickets Price: $60 + ser. charge & tax
THIS WILL SELL OUT FAST - GET TICKETS WHILE YOU CAN!
★★★★★★★★★★
Tickets www.revmediastudio.com
★★★★★★★★★★
19+ EVENT / ID REQUIRED
(FOLLOWING ALL COVID-19 PROVINCE-WIDE RESTRICTIONS)
★★★★★★★★★
We've taken a very thoughtful approach when it came to launching our NEW events, nothing was rushed and everything was well thought out before the decision was made to bring back our events. We can finally say we're ready. Things may look different and they are! There's no doubt they are but be assured that if you're comfortable going out to events, our company have taken all the necessary safety steps to protect all involved. We hope our events give you that piece of mind so you can enjoy them safely.
★★★★★★★★★★
Boat Cruise presented by:
Where It's At Entertainment
FB: https://www.facebook.com/WhereItsAtEntertainment/
IG: https://www.instagram.com/whereitsatent
Website: www.whereitsatent.com
R-Evolution Media
FB: https://www.facebook.com/REvolutionMediaStudio/
IG: https://www.instagram.com/rmediastudio/
Website: www.revmediastudio.com