1-Day Online Workshop for Faster Spiritual Progress – Intermediate Level
Description
* Please note that this workshop will be conducted in English *
SSRF's Spiritual Workshops provide you with all the tools you need to deepen your spiritual practice and experience more peace and happiness in your life. Our online workshops are ideal for those with more demanding schedules who may find it difficult to take the time to travel to our offline workshops. The workshop will be interactive wherein the conductors will share their screen to show various media and you can ask questions or share your comments.
In our previous beginner level workshop, we had introduced the Personality Defect Removal (PDR) process which has been created and developed by His Holiness Dr Athavale (who is the founder of the Maharshi University of Spirituality). In this intermediate level workshop, attendees will learn through practical sessions how to reduce personality defects such as anger, worry, jealousy and others.
Additionally, we will open up our library and show some of our unique spiritual research that SSRF in association with the Maharshi University of Spirituality has been conducting for the past 30 years.
If you regularly practice the various aspects of Spirituality that you will learn in this workshop, you will gain the benefit of progressing spiritually at a faster rate and experience peace of mind.
Program of the Online Workshop
The timings of this workshop are as per the US Central Time zone (CST). You can calculate your corresponding local time here: https://www.timeanddate.com/worldclock/meeting.html
10:30am - 11:00am | Workshop opening & Introduction of conductors and attendees
11:00 - 12:00pm | Recap of the Personality Defect Removal Process (PDR) (Presentation)
12:00pm - 1:00pm | Break for Lunch
1:00pm - 3:00pm | How to write mistakes & analyse them (PDR) (Practical session)
3:00pm - 3:30pm | Break
3:30pm - 5:30pm | 30 years of Revolutionary Research into the Spiritual Realm (Presentation)
5:30 - 6:30pm | Questions & Answers + Conclusion of the workshop
Registering for the Online Workshop
Please register by filling your contact details in the form below and the workshop organizer will be in contact with you for the further steps in joining the online workshop. We will be using the service of Free Conference Call to present audio & visual material for each session.
Registration form:
https://docs.google.com/forms/d/e/1FAIpQLSfIV_Di4nKsCgkqeupYv82QlNXQLuHDNkq9e48l6v-IYfplgg/viewform
Registration fee: $20 USD
* This workshop will be held in English. A good internet connection is also required to be able to join the Online Workshop. Please consider these points before registering and you can contact us at ssrf.workshop@gmail.com if you have any questions.
Conductors of the workshop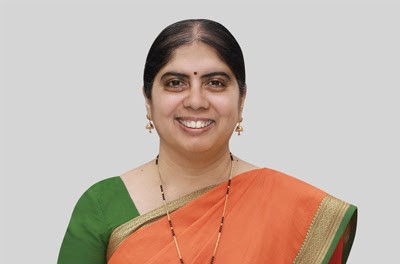 Her Holiness Mrs Shilpa Kudtarkar was curious about spirituality since she was a child and when she was 10 years old, she asked her mother, "How can I experience God?" Her mother replied that she would experience God when she would meet a Saint like Swami Vivekananda. When H.H. Shilpa met H.H. Dr. Athavale, she felt that she had met her Vivekananda (Guru) in this lifetime and began her spiritual practice sincerely under the guidance of SSRF in 1994. She feels that doing spiritual practice under the guidance of SSRF has made experiencing God a reality and not just concept and she is greatly indebted to SSRF for that. After moving to USA, she and her husband offered their home in New Jersey for SSRF Workshops and seekers have benefited greatly from their virtue of sacrifice throughout the years. In January 2019, H.H. Shilpa was declared to have reached the spiritual level of Sainthood during a blissful ceremony at the SSRF Research Centre & Ashram. Her perseverance in her spiritual journey, spiritual emotion towards God, and incredible faith in her Guru is an inspiration to all of us.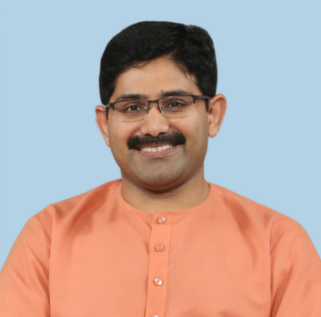 Mr. Krishna Mandava is from Roanoke, Virginia. He completed his Masters in Physical Chemistry and is a Pharmacist by profession. From a young age, he regularly studied holy scriptures, and was inspired by devotional songs sung by his mother. His desire for God-realization motivated him to look for guidance in spiritual practice. In 2015 Krishna started spiritual practice under the guidance of SSRF. After attending the 5-day spiritual workshop at Ramnathi Ashram, Goa, he felt his search had ended and began spiritual practice with a new vigour. Noticing rapid changes in his attitude, such as feeling more stable, calm in life's situations, and happiness within that he had never felt before, Krishna decided to dedicate all his free time to helping others learn about and perform spiritual practice. Krishna conducts spiritual meetings (satsang) and workshops online and in the USA. He helps spread SSRF's unique knowledge by distributing SSRF's holy books written by Saints, as well as through the Facebook social media platform.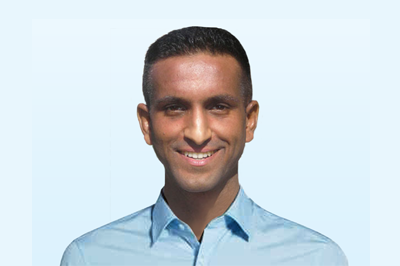 Mr. Sameer Sangha is from Vancouver, Canada. He completed his BA in the field of History, and by profession runs a bed and breakfast along with working in the health food delivery business. Sameer found relief from lifelong eczema and food allergies by practicing the spiritual healing methods given on the SSRF website. As he continued with his spiritual practice, Sameer experienced many more benefits. He began to feel a sense of inner peace, problems in his life started reducing, and he found a purpose in his life and wants to help others to also experience the same. Sameer has spent time living at the SSRF Research Centre in India over the past several years, and currently resides in Vancouver, Canada. Sameer has continued his spiritual practice under the guidance of SSRF and helps with uploading articles to the SSRF site, content creation for SSRF social media platforms, and promotion of SSRF books
This workshop is organized by the Spiritual Science Research Foundation and the Maharshi University of Spirituality.