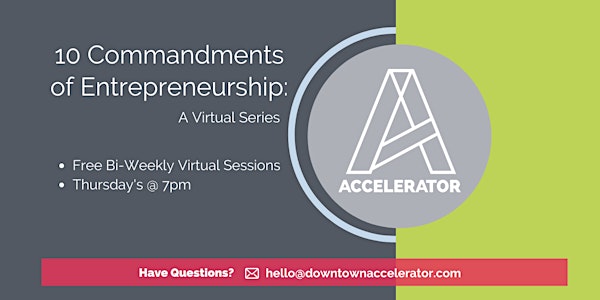 10 Commandments of Entrepreneurship: Bi-Weekly Virtual Series
10 Commandments of Entrepreneurship: The Virtual Series is a Bi-Weekly Series designed for Entrepreneurs to Share Challenges and Solutions.
About this event
Entrepreneurship is not for the faint of heart. It takes focus, determination and a will to do things, go places and make sacrifices that others will not.
The 10 Commandments of Entrepreneurship were created one night in San Francisco when seasoned entrepreneurs reflected on their experiences.
Every other Thursday we will meet virtually until further notice to talk about the Commandment for that session, your experiences, share challenges and solutions.
There is no charge for this event.
January 27th - Don't Waste Time - Yours or Others
February 10th - Be Genuine
February 24th - Give to Get
March 10th - Respect All
March 24th - Always Hustle
April 7th - Be Bold
April 21st - A Startup is An Event
The final 3 sessions will take place on Wednesday's at 5pm!
May 11th - Pay it Forward
May 18th - Embrace Failure
June 1st - Execute! Just Do It