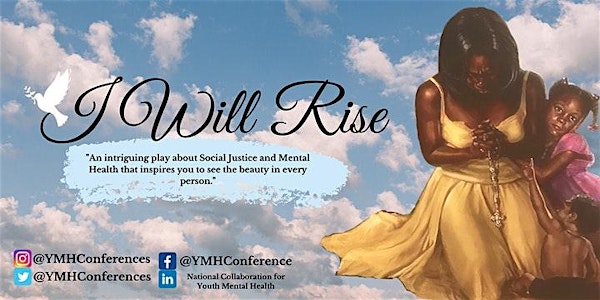 10 minute Standing Ovation for " I Will Rise" Dates ADDED for waiting list.
Only April 5th left! " I Will Rise" an inspiring Play about Friendship, Family, Faith & succeeding when race, law & mental health collide.
When and where
Location
VENUE CHANGED TO Ontario Institute for Studies in Education 252 Bloor Street West Toronto, ON M5S 1V6 Canada
Refund Policy
Contact the organizer to request a refund.
About this event
Know a child or youth with mental health challenges? 1 in 3 youth experience mental health challenges. Buy Now to Support Youth.
"I Will Rise" promotes healing from mental health challenges through Art, Family and Community. This Family Play expresses mental health in a way we can all relate to.
Audiences leapt to their feet giving " I Will Rise" a ten minute standing ovation on March 7,2020 and You will too!
It's Toronto! " I Will Rise" is culturally diverse & about friendship, family, faith and believing in your future when race, law and mental health collide.
INVEST IN TODAY's YOUTH
SPONSORS support Youth by buying up to ten free tickets for " I Will Rise" play.
" I Will Rise" is scheduled for a Third Date due to waiting lists.
Tickets are FREE for ages 10 to 18 if needed and only $5.00 to the Public thanks to the generous donations of University of Toronto Alumni, Lawrence Park Community Church, The Bronfman Family, Dr. Mireille Norris of Sunnybrook Hospital, Maxine Adwella, David Schwartz, CIBC, RBC Insurance and Bell Canada.
DONATIONS are still being accepted to pay for our programs and cast members.
FUNDRAISER for the National Collaboration for Youth Mental Health
VIP RECEPTION included:
Keynote: Dr. Christine Lay: Sick Kids Hospital: How the brain develops and responds to external stimuli and substances such as nicotine, marijuana, alcohol, etc.
Keynote: Dr. Myrna Lashley: Cultural Aspects of Mental Health and Interracial Communities in the Workplace and Organizations
CAST : Professional Actors Ages 13 to 28; two actors are over 30.
Question & Answer after every performance of " I Will Rise".
SUMMARY:"I Will Rise" is an intriguing racially and culturally diverse play about Social Justice and Mental Health that inspires you to see the beauty in every person, to seek understanding rather than difference, and to do the compassionate thing in every challenge we face.
FAMILY and COMMUNITY
" I Will Rise" is a family play that emphasizes the importance of birth families, as well as the families we create out of common values, community and sometimes survival.
The protagonist Faith Oaks inspires and encourages the people she encounters with her determination, strength and high expectations of the people who exist within the justice system. Her commitment to justice will inspire attendees to do the right thing."
DIVERSITY in YOUTH MENTAL HEALTH
The various characters range from youth, some of whom are facing mental health challenges, to skeptical guards, to a brilliant Jewish lawyer whose grandparents were holocaust survivors. The lives of the youth Faith Oak meets in jail are forever changed.
WHEN DID THINGS GO WRONG?
The play reveals the characters' individual vulnerabilities as it delicately traces their lives back to discover that pivotal moment where things went wrong, in some cases resulting in mental challenges.
"I Will Rise" is appropriate for ages 10 and older. It will gently educate your children, friends and colleagues about society, mental health challenges, the law and inspire them to do the right thing.
CALL TO ACTION
What is our role in creating justice? Is our justice system broken? What is the daily impact of a broken justice system on the life of diverse individuals? What can each individual, each family, each community realistically do to change our society for the better?
Proceeds to go to National Collaboration for Youth Mental Health. Http://www.ymhconference.ca