Location
Neil Balkwill Civic Arts Centre
2420 Elphinstone Street
Regina, SK S4T 7S7
Canada
Each of the 10 nights includes a pedagogical theme from research with gong master-teachers and a 45-minute improvised gong-sound immersion
About this event
10 Nights of Gong / Sonic Performances / 10 Gong Research Themes
Regina, SK, Canada @ Neil Balkwill Civic Arts Centre
6:00PM-7:00PM each night from JUNE 17-26, 2021
NOTE: Currently the WAITLIST is in effect for all nights as we are now FULLY BOOKED. If weather permits and the event is held outdoors, 6 additional spots will open up each morning! Register and join the waitlist and let's see about the weather.
Join Stacey Bliss, SSHRC Postdoctoral Fellow in the Faculty of Media, Art, and Performance, University of Regina, for one night or come for all 10 nights. In order to collaborate and improvise with local artists (which is one of the gong-teachings), some nights have special guests as noted below.
Each night will begin with a brief research talk on one of 10 themes from gong research, conducted with two international gong master-teachers, Don Conreaux and Sheila Whittaker. After the research talk, enjoy a 45-minute live and improvised gong bath (sound immersion, sound meditation).
The 10 main themes are as follows:
1. holistic resonance - Thurs, June 17
2. you are a gong - the body as resonant instrument - Fri, June 18
3. collaboration - Sat, June 19 - with special guests Rebecca Caines (iPad instrumentation), Kathryn Ricketts (movement performance), and D. Andrew Stewart (digital instrumentation); this night is extended 30 minutes (6:00PM-7:30PM) for Solstice Celebration - bring paper and a pen to write some intention(s)
4. tai loi - 泰來 - happiness has arrived - Sun, June 20 - with special guest Sundance Robson (hand drum and vocals)
5. shruti songs as invocation - Mon, June 21 - with special guest Helen Pridmore (vocal performance of shruti songs)
6. functional harmony - music and social systems - Tues, June 22 - with special guests, Dami Egbeyemi (crystal bowls) and Tara Semple (flute)
7. improvising - life / teaching / learning to fly - Wed, June 23
8. deep listening - Thurs, June 24
9. silence and shunyata (Śūnyatā) - Fri, June 25
10. humanity and hopeful futures - Sat, June 26
Why 10 nights? The gong teachers teach their students how to hold an all-night gong puja (prayer) that is 7.5 hours of continuous gong playing. Divided over 10 nights, each gong bath (gong sound immersion) is thus 45 minutes for this event. Gong master-teacher Sheila Whittaker also remarks that a 40-50 minute gong bath is the optimal length of time for one-on-one sessions with clients. Join for one night - good vibes. Join for all nights - wowza!
Online Audio Tours: Go to www.blissresearch.org/gong to find a link to hear more wisdom of gong teachers on an audio museum. In her Gallery of Sonic Arts, Stacey Bliss has compiled 10 audio tours (4 min-19 min) of the research highlights, including: the themes for the 10 Nights of Gong, Don Conreaux's and Sheila Whittaker's voices and gong teachings, and sonic samplings of gong baths and gong in collaboration with other instruments.
Thank your for interest in gong sound. It is important. You are a gong!
Gratitude Notes:
Thank you to the following organizations and supportive folks:
SSHRC (Social Sciences and Humanities Research Council of Canada) for supporting my two-year fellowship (2019-2021);
Dr. Rebecca Caines for her mentorship as a scholar and example as a lovely human;
Rebecca and John for making my time in Regina fun and engaging through a pandemic, both online and in the back yard;
Faculty of Media, Art, and Performance (MAP) at the University of Regina for hosting me during the two-year fellowship;
The Art Gallery of Regina (AGR) for partnering in the presentation of the 10 Nights of Gong; they gladly support sound art;
The Neil Balkwill Civic Arts Centre - City of Regina for providing space for the 10-night event;
Special guest artists who improvise well with others: Rebecca Caines, Kathryn Ricketts, Helen Pridmore, Dami Egbeyemi, D. Andrew Stewart, and Tara Semple.
Event Notes:
You may choose to attend one, two, or all nights. If you register, but are unable to attend, please cancel your registration on eventbrite so others may take up your spot.
Please arrive 10 minutes early. Latecomers will not be admitted so as not to disturb the sound meditation/sound immersion.
In order to maintain distancing in the outdoor courtyard space, each night can accommodate 12 guests. Masks are a optional outdoors. If we are indoors, masks are mandatory. Chairs are provided, but if you'd like to bring a mat or cushion to lay or sit on the ground, please do so.
In case of rain, we will be under pop-up tents OR move to a room in the Neil Balkwill Civic Arts Centre.
The space is fully accessible. Accessible parking spots (2) are available at 'exit' doors and near sidewalk (2). If you require entry though the accessible doors, let Stacey know (email gongsoundspace@gmail.com) and the staff at AGR will allow bump-bar access. If bump-bar doesn't work, press the door bell at the back door (it must be held down for 10-15 seconds) and someone will come to assist you.
Main event photo of Stacey Bliss by Dan Tracker.
Below photos: Don Conreaux and student in India; Sheila Whittaker in the UK; Sarian learning gong in the UK; students practicing their performance, India; The Earth and Ether Trio (Jim Harley, Reza Yazdanpanah, Stacey Bliss); Sheila Whittaker and gongs, UK.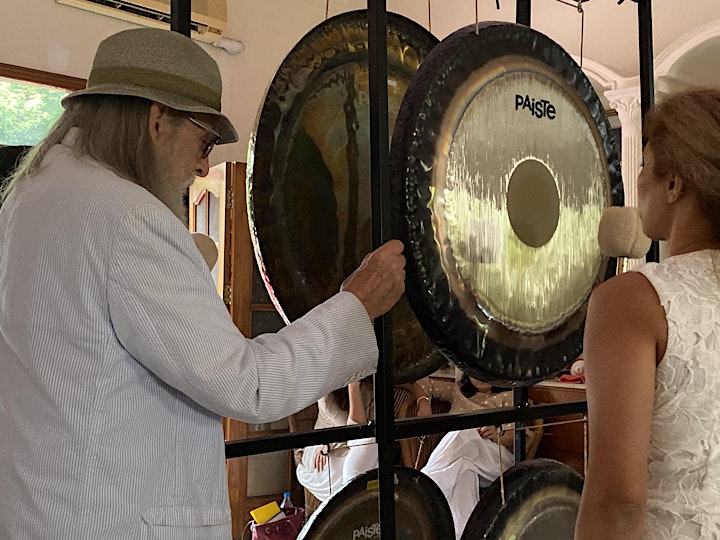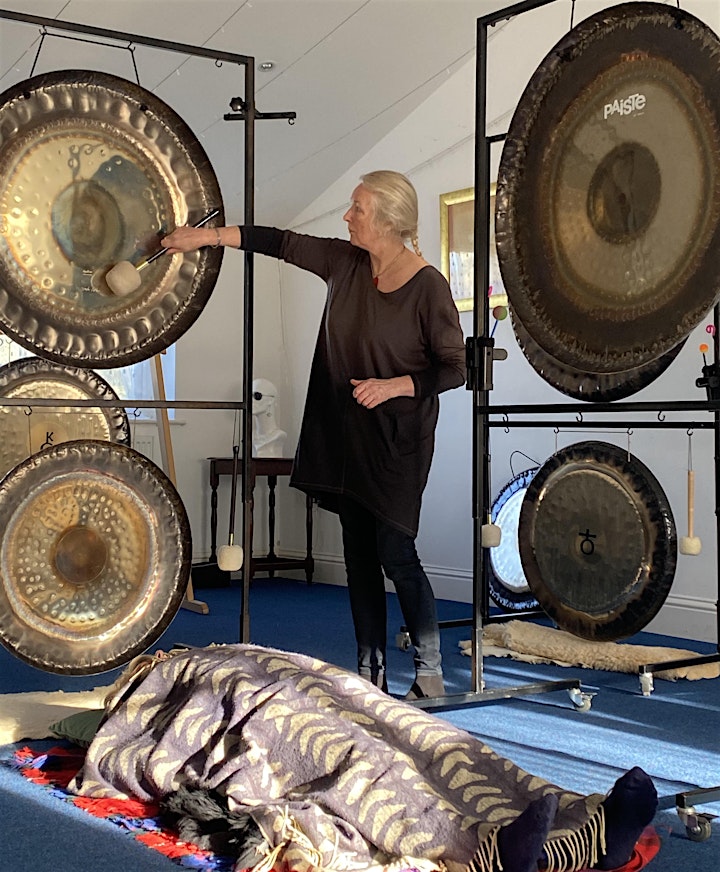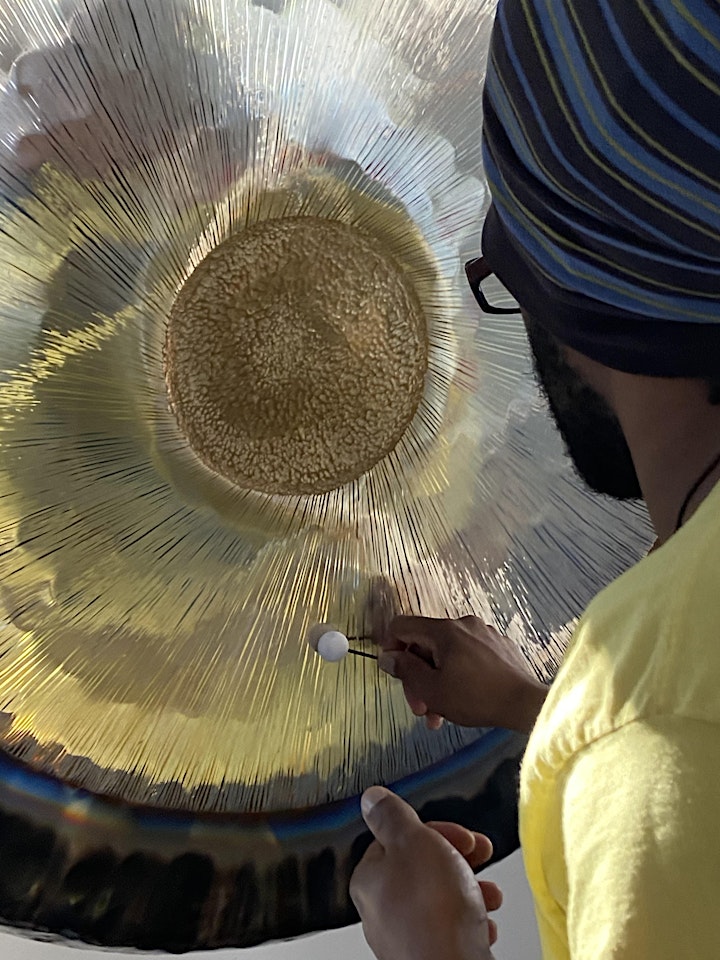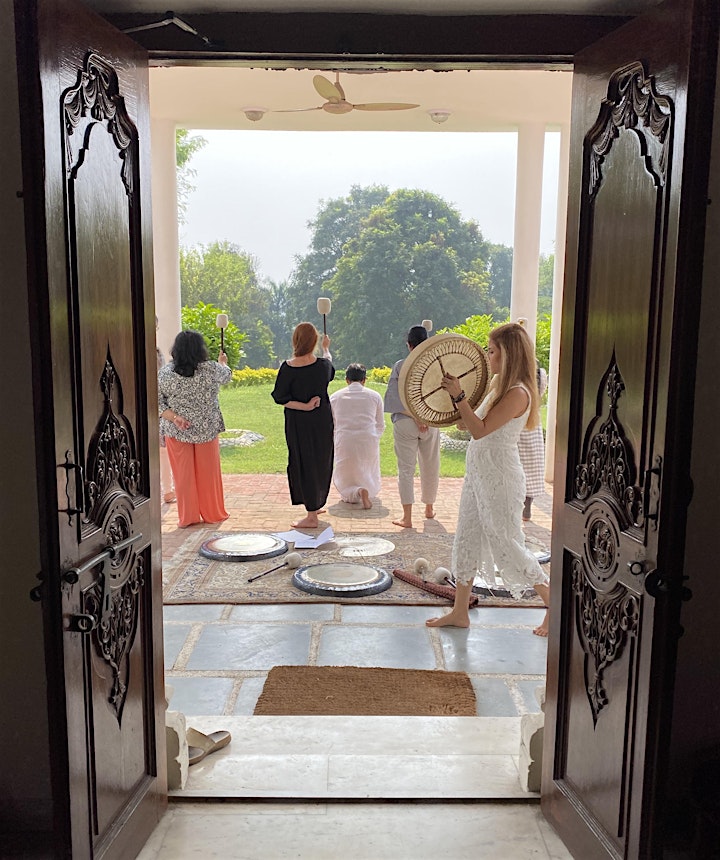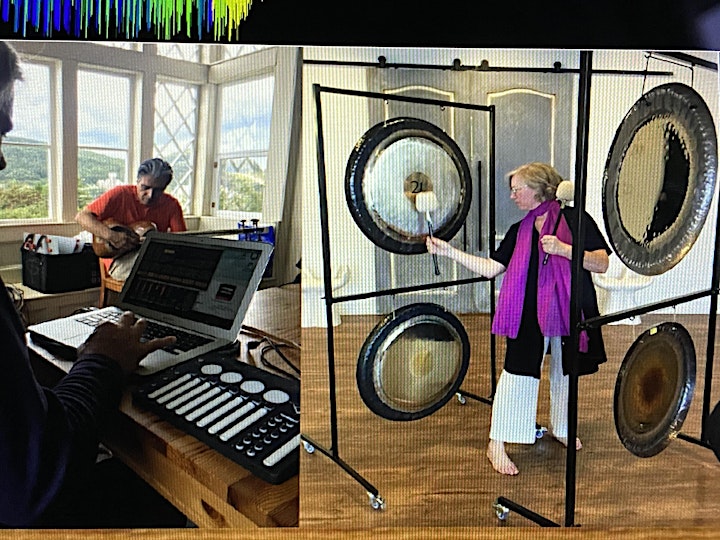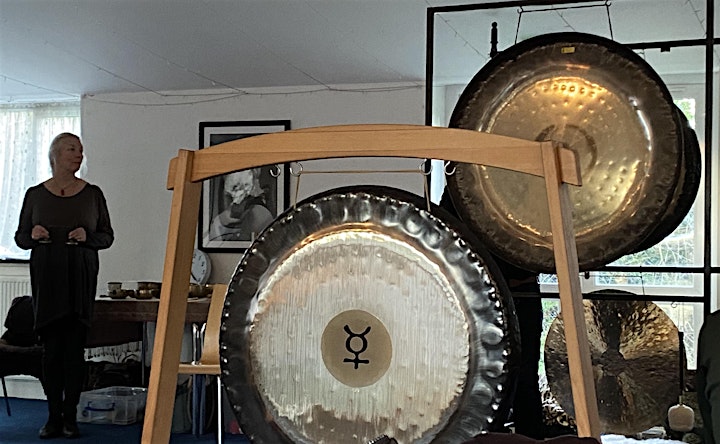 Venue photos below: Weather permitting, we will be in the outdoor courtyard of the Neil Balkwill Civic Arts Centre. If needed, we will move into the Art Gallery of Regina and be with art of Phomohobes, Paul Robles, Gerry Ruecker, and Rhayne Vermette; a show curated by Sandee Moore. Photo of Stacey Bliss @ Neil Balkwill Civic Arts Centre in the centre courtyard, by Tim Domoslai.