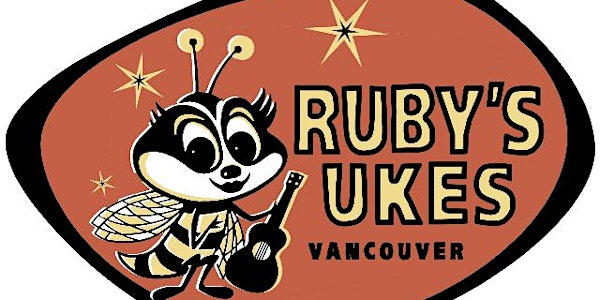 10 week Ukulele Course - Intermediate Eduardo Garcia - Wednesdays at 6pm
In person. 10 week Ukulele course for Intermediate players. Perfect way to take your Uke playing to the next level!
When and where
Location
Ruby's Ukes @ The Post750 750 Hamilton Street ##110 Vancouver, BC V6B 2R5 Canada
Refund Policy
Refunds up to 7 days before event
Eventbrite's fee is nonrefundable.
About this event
Ruby's Ukes, is the largest physical ukulele school in the world outside of Hawaii. Since 2009 we have supported the musical journeys of thousands of students who now have the absolute pleasure and connection of music in their lives!
Ruby's Ukes presents a Ukulele Course Extraordinaire with Eduardo Garcia at the helm that takes place at The Post 750 110-750 Hamilton Street, Vancouver, BC, V6B 2R5
We are so delighted to be back in-person and let's cease the moment and play together! We have added a class materials page that you will have access to with all your song charts, theory charts and audio samples that you can play along with.
The classes are in person. Meet other ukulele players each week, and have a fun, educational, appointment to play that will inspire and motivate you to take your Ukulele playing to your next personal level. Simple.
Register for our 10 week Ukulele course:
on Wednesday ~ starting September 21st 2022
Time: 6pm - 7.30pm
Cost:$195
Place: The Post 750 110-750 Hamilton Street, Vancouver, BC, V6B 2R5
The classes are a weekly 90 minute session and will leave you smiling and a whole lot smarter. The perfect way to keep inspired and have an appointment to play music each week. These classes are all 13 yrs+
This level is perfect for you, if you know a variety of chords in first position (around the 1st 4 frets) very well (for example: A, Am, A7, C, C7, Em, B7, D7, E7, Gm, Dm, G7, Am7), and can easily make a Bb shape, D7, F7 shape, can read tablature and play melodies, can understand chord progressions (such as I , IV, V), you can learn chords and tunes quickly, and your playing has a very steady rhythm and fluidity.
You will learn: Moveable chords shapes based on Bb, F7, Dm7, D7 shapes and barre chords that can be moved around the fret board. As well as Major & Minor scales of C, D, G & F and more scales of interest such as a Jazz Blues Scale. Right hand technique will include finger style picking patterns, melody playing, riffs and licks, and a variety of strum feels such as Reggae, Swing, and Blues Shuffle. You will play tunes from a repertoire of Jazz, Blues, Country, Classical, Folk & contemporary tunes! There is something for everyone!
This course deepens your theoretical understanding, adds variety to your chords, picking and strumming, taking your Ukulele playing to the next level. Plus it is great, concentrated I have to say, fun!!
At Ruby's Ukes our mission is to open the amazing world of music to everyone and you will find a welcoming, inclusive, inter-generational, very encouraging learning environment. All you need for a fun time playing the Ukulele!
-Ruby
Ruby's Ukes: As featured on CBC's National Radio Documentary "Four Little Strings" aired on 'Living out Loud' and 'North by northwest'. And CTV morning live, Globe and Mail, Georgia Straight, Vancouver Courier, Ukulele Magazine, Vancouver Magazine, Monte Cristo Magazine, and many more!