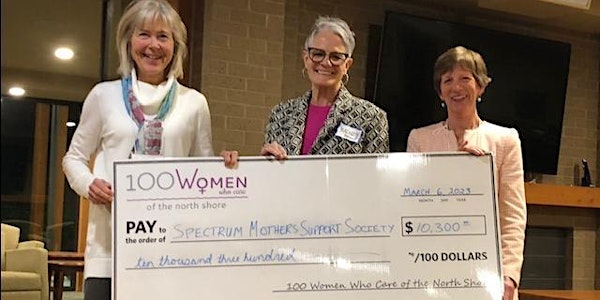 100 Women Who Care North Shore June 5, 2023
Join us at our next 100 Women Who Care of the North Shore meeting on Monday, June 5, 2023.
By Naomi Chard and Mary McGivern, Co-Chairs
Date and time
Mon, Jun 5, 2023 7:00 PM - 8:00 PM PDT
Location
Kiwanis Terrace 975 21st Street West Vancouver, BC V7V 4Y3 Canada
About this event
Please register by May 31st to attend our next 100 Women Who Care of the North Shore meeting on Monday, June 5, 2023. We will be holding this meeting in the "Great Hall" at the Kiwanis North Shore Housing Society on Haywood, just west of 21st in West Vancouver. We will have signage out to welcome you, but it is located at the front of the building on the north side of the complex (999 21st Street, West Vancouver). There is plenty of parking on the side streets and at the Rec Centre, along Gordon Avenue.
At the meeting, we will hear from North Shore Community Resources, the charity our members chose to support at the March meeting, as well as the 3 new charity nominees that will be randomly selected two weeks before the meeting. We expect to have at least $9,000 to donate … the more members, the greater the impact.
FORMAT 
Social Hour: We will offer an optional social hour from 6:00 - 7:00 pm. Wine will be available for a $7 donation (cash only please), as well as light appetizers.
Meeting: 7:00 - 8:00 pm.
New Members: If you would like to join 100 Women Who Care North Shore in advance, please complete your commitment form and send your donations to the West Vancouver Foundation (see form for payment options) -- $100 one-time membership fee + $100/quarter (a total of $400 for the remainder of the 2023 year).  Print the form  Or if you'd like to attend to check us out, you are welcome to do that, but please register in advance. Visit our website www.100womennorthshore.com for complete information.
Please join us!  
Questions?  Contact Mary and Naomi at 100womennorthshore@gmail.com.