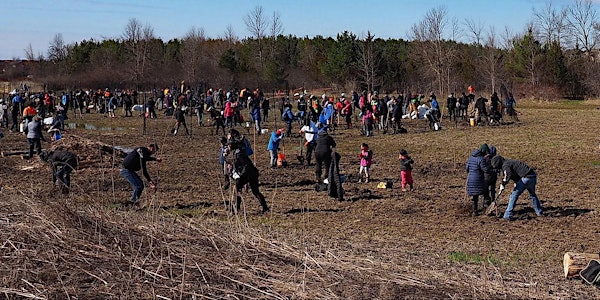 10,000 Trees, Saturday, April 29th, 2023, Site Setup & Planting Coach Trng
Site Preparation & Planting Coach Training - will ensure site and people will be ready for tree planting on Sunday, April 30, 2023
By 10,000 Trees for the Rouge
Date and time
Sat, Apr 29, 2023 8:00 AM - 3:00 PM EDT
Location
HILLMOUNT PARK 93 Hillmount Rd.( SW corner of Markland St & Hillmount Rd.) Markham, ON L6C 1Z7 Canada
About this event
SITE PREPARATION INCLUDES:
Work can be challenging and will require lifting in at times more difficult terrain
Unloading applicable planting stock (trees, shrubs, wildflowers, etc.)
Transporting planting stock to designated planting areas
Implementing measures to keep planting stock viable until planting
Train new Planting Coaches
Please join 10,000 Trees for the Rouge in the ongoing efforts that are helping to restore the Rouge Valley watershed, improving the natural environment in our communities.
HEALTH AND SAFERY AND GENERAL INFORMATION
Only participants who have agreed to 10,000 Trees' "Communicable Disease Liability Release and Assumption of Risk Agreement" can register to participate.
Based on personal decision making, participants are responsible for bringing and wearing PPE (facemasks, gloves, etc.) as applicable for an outdoor activity.
All participants are advised that appropriate clothing for conditions should be worn.
We strongly recommend participants wear, long pants, sturdy footwear, and garden/planting gloves.
Participants should bring their own sunscreen, bug repellant, water bottle and shovel.
All participants must maintain appropriate physical distancing when on the planting site.
HOW TO REGISTER FOR TICKETS IN EVENTBRITE
****GROUPS MUST ASK ALL MEMBERS TO REGISTER INDIVIDUALLY. EACH ADULT MUST HAVE THEIR OWN TICKET*****
CHOOSE ONLY ONE TYPE OF TICKET and only sign up for ONE TICKET PER ADULT. EACH ADULT MUST HAVE a TICKET IN THEIR OWN NAME.
DO NOT sign up for multiple tickets using one name for the same session
EACH ADULT MUST register and have a ticket in their own name.
FAMILIES WITH MINOR CHILDREN - If a family (or adult guardian) is bringing children, only ONE ADULT needs an Adult Planter with Minor(s) ticket, and they can write in MULTIPLE MINORS names on that ticket. Any other ADULT in the group needs to register for their own ticket.
If you are unable to attend the event for any reason, please CANCEL your registration in EVENTBRITE following the instructions provided in the e-mail confirming your registration and ticket.