Multiple Dates
101. Intro to Blockchain Technology, Crypto & Tokens - Live Online Course
Event Information
Refund Policy
Refunds up to 30 days before event
Introduction to Blockchain technology, cryptocurrencies, tokens and emerging applications. First in a series of courses for Certification.
About this Event
Learn More at TransformationWorx
CIO Certified Blockchain Business Analysts identify, capture and communicate business and customer needs for the technology solution through an understanding of Blockchain technology, cryptocurrencies and digital assets and their applications. They leverage insight of emerging business and governance models, policy and IP management to successfully drive to results on transformation projects. 100-level courses teach business and technology professionals the skills needed to achieve this. Certification requires demonstration of these skills via an online exam.
Prior Blockchain, technical or programming skills are not required for this program.
The Certification has three online live streamed courses to be completed or equivalent knowledge demonstrated by passing on online exam.
101. Intro to Blockchain Technology, Cryptocurrencies and Tokens
102. FinTech, Decentralized Finance, Blockchain Business & Governance Models
103. Blockchain Digital Transformation Strategy – A Practitioner's Guide to Strategy Development and Strategy Workbook
101. Intro to Blockchain Technology, Cryptocurrencies and Tokens
What you will learn: This is the first of three courses for the CCBBA Certification and provides an introduction to Blockchains, cryptocurrencies, tokens and an overview of Blockchain applications and case studies for business and government use. You will understand how Blockchains work, and analyze live Bitcoin and Ethereum Blockchains.
5 Hours Live Stream
Pre-requisite: None
Certification: Counts towards CCBBA, CCBP and CCBA
Level: Course 101
Dates and Times: All sessions are Live Streamed and Available Globally
Oct 27: 12:00 PM (Noon) Eastern Time (Toronto, Canada)
Nov 23: 2:00 PM Eastern Time (Toronto, Canada)
Interactive Workshop ContentWith all new disruptive technology innovation strategy development framework - used by leading management consultants including McKinsey, Bain and BCG.
Pre-learning materials will be provided ahead of the course.
101. Introduction to Blockchain Technologies, Cryptocurrencies & Tokens
What are Blockchains and DLTs, How they work?
Business Applications of Blockchain
Basic concepts of Finance and Economy
What is money, currency, legal tender, ledgers
History of Money
Economics of Bitcoin (Monetary policy)
Bitcoin White Paper
Concept of Inflation, Deflation and Disinflation
Hedging currency against Gold
Applications across multiple industries
Business disruption as a result of Blockchain
Business opportunities as a result of Blockchain
Addressing Business Challenges with Blockchain
Applications in private sector – Finance, Insurance, Real estate, and Media
Applications in public sector – Records management; Credentials and Digital Identity management, Healthcare and Medical Records management, Land Registry
Key characteristics of Blockchains
Distributed
Peer-to-Peer
Open/closed and anonymity
Immutable
Time stamped
Consensus
Types of Blockchains and DLTs
Permissionless and Permissioned - Open, Federated and Closed
Structure of Blockchain
Overview of main protocol functions
Analyze live Bitcoin and Ethereum Blockchain block formation and construct
Why and when Blockchain makes sense
Adoption timeline for Blockchain
Introduction to Cryptocurrencies and Bitcoin
Bitcoin and Altcoins – Ether, Litecoin, etc.
Cryptocurrency ecosystem – wallets, exchanges and applications
Security (51% attacks and hacking), privacy and key management considerations
Tokens
Classes of tokens and Digital Assets
Fungible and Non-Fungible tokens
Security and Utility tokens
Use cases of tokens
Important Information
Audience: Open to business and technology professionals who are learning about Enterprise Blockchain and Digital Transformation. This course does not have a pre-requisite and assumes no technical experience and little to no familiarity with Blockchain and Cryptocurrencies.
Technical Knowledge: Little to none
Pre-Requisite: None
Methodologies and Tools: The following management / business / technology methodologies and tools may be used during this workshop. In cases where these tools are used, either a brief introduction to the concepts and/or supporting material will be provided to help develop the strategy/plan (not to teach the tools themselves):Methods for determining disruptive forces and trends
Digital transformation journey planning
Design thinking and journey mapping
PESTEL Analysis
SWOT/TOWS Analysis
Weighting average
Business Transformation Model
Your cell phone / your laptop
Certification: This course provides the foundational knowledge needed for all of the certifications. Certification requires successfully passing the online multi-choice exam. CCBP certification candidates also receive a capstone (Blockchain strategy and lean business model) template and receive feedback on the capstone. Successfully completing the capstone is needed for the CCBP certification only.
Cost for Certification: Please note that there is an additional fee for review of the capstone project and the certification exam. This will be kept to a minimum and shall not exceed $300 for those registered for the bootcamps. Bootcamp participants will be emailed a coupon code to reduce certification costs.
Pricing and Discounts: Discount and coupon codes are for limited time only and may be discontinued at any time. Expect the price for any given course to increase closer to the date of the course.
Refund Policy: Refunds are issued less processing and credit card/Paypal fees as long as cancellation is received 30 days in advance of the event.Unfortunately we are not able to provide refunds within 30 days of event.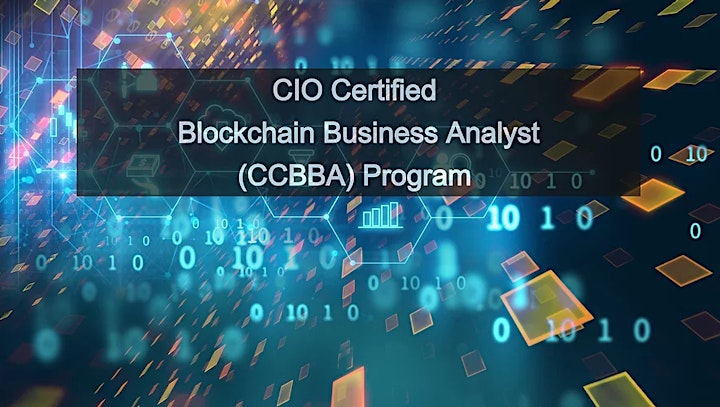 Location
Refund Policy
Refunds up to 30 days before event