Sales Have Ended
Ticket sales have ended
Thank you for your interest in our Cook for a Cause event. We are officially SOLD OUT! Tune in to 105.7 EZ Rock to find out where we're going next.
Sales Have Ended
Ticket sales have ended
Thank you for your interest in our Cook for a Cause event. We are officially SOLD OUT! Tune in to 105.7 EZ Rock to find out where we're going next.
About this Event
We're hosting a series of events that benefit our new charity partner Wellspring Niagara - Niagara's only cancer support centre offering free services to people in our community.
Join us for an unforgettable evening with friends as we enjoy wine and a special culinary fare, hosted by 105.7 EZ Rock's own Lori Love. Antipasto and tapas platters will be offered as guests mix and mingle upon arrival followed by samples of the dishes that will be prepared during the cooking demonstration – each time by a different local celebrity chef.
THIS COOK FOR A CAUSE CELEBRITY CHEF IS CHEF MICHAEL OLSEN!
While you're there, fill out a FREE ballot for our grand prize draw - a fabulous kitchen upgrade worth over $15,000.
-----
Doors open at 6pm for registration
Cooking demo starts at 6:30pm
This event is 19+, please bring a piece of valid government issued photo ID.
Ticket includes samples of the 3 dishes, a complimentary glass of wine, entry into the demonstrations and a ballot for the grand prize draw to win a kitchen upgrade valued over $15000.
-----
WIN A KITCHEN UPGRADE (rules available at 1057ezrock.com)
While you're at the event, enter your ticket into our Grand Prize draw for your chance to win a kitchen upgrade by Distinctive Designs & Cabinetry – Design a Life you Love in partnership with QuartzCo, PLUS a Samsung Kitchen Suite from Goemans Appliances - the whole Grand Prize valued over $15,000!

JUNE 23RD - BENCHMARK RESTAURANT AT NIAGARA COLLEGE
The Canadian Food and Wine Institute's state of the art facilities are nestled into 114 acres of abundant Niagara land.
Benchmark is the next evolution of the hands-on learning process. Students begin their careers in the culinary and hospitality industry at this unique teaching restaurant.
Benchmark has been created to offer local, fresh food options for college students, staff and the external community at affordable prices. Features of Benchmark include a focus on fresh, local and Canadian cuisine, an educational kitchen and food, wine, cider, beer pairings. We welcome all students, staff and members of the community to experience Benchmark.
CHEF MICHAEL OLSEN
After 30 years as a professional chef, Michael Olson knows how to get the most out of his food. These days, he's also a teacher and dinner-maker-in-chief, so he understands what home cooks are looking for when it's time to eat.
In Living High Off the Hog, Michael shares his wealth of knowledge and over 100 of his favorite pork recipes. First, he gives you a rundown on everything you need to know about pork--how to buy, store, butcher and prep various cuts, along with special sections on deli meats, charcuterie and BBQ. From there, he shares his must-have pantry items and most-used cooking techniques to set you up for success as you work through four extensive recipe chapters: The Deli Counter, Ground and Diced, Chops and Steaks and Roasts and Big Cuts. With recipes like Bacon Okonomiyaki, Caramelized Chili Pork with Peanuts & Lime, Schnitzel and Crispy Pork Belly, you'll find a huge variety of tastes and textures to explore. For special occasions, you can dig deep into the low-and-slow world of BBQ and experiment with one of his recipes for ribs, learn a new skill with a porchetta roast, or go hog wild and try your hand at roasting a whole pig.
With Michael's expert guidance, sense of humor and warm encouragement, you'll find recipes and learn techniques to cook familiar classics, as well as expand beyond your regular repertoire with exciting new ideas for all cuts of pork.
Whether he's cooking a laid-back meal with his wife, fellow chef Anna Olson, or entertaining a large group, Michael's main goal is to create simple yet delicious dishes from scratch, and enjoy them with those he loves. For Michael, that's what "living high off the hog" is--the good life of combining good food and great company around your table.​"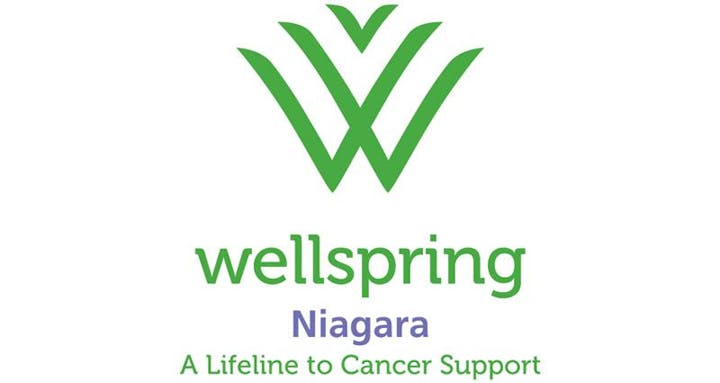 ABOUT WELLSPRING NIAGARA
Wellspring Niagara is a regional cancer support centre, with a mission to provide free programs and services that meet the emotional, psychological, social, restorative and informational needs of men, woman, and children living with cancer, at any stage, as well as their caregivers and family members.
A not-for-profit charitable organization, Wellspring Niagara receives no government funding, or funding from other cancer-related charities. They rely solely on the donations to run and EVERY DOLLAR RAISED STAYS IN NIAGARA!
As Niagara's only cancer support centre, Wellspring Niagara offers more than 40 supportive care programs and annually serves more than 700 individuals. Since opening its doors in 2001, Wellspring Niagara has registered over 73,000 programs attendances and each year demand for its free, community-based, non-clinical, supportive care programs and services reach an all-time high.