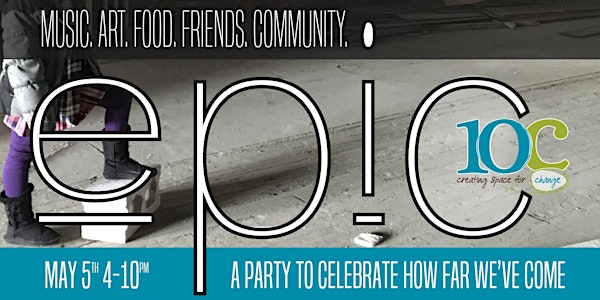 10C Epic Party to Celebrate Everything!
Date and time
Sat, May 5, 2018 4:00 PM - 10:00 PM EDT
Location
10C Shared Space 42 Carden Street Guelph, ON N1H 3A2 Canada
Description
WE HAVE A LOT TO CELEBRATE...
SO WE'RE HAVING A PARTY!
A lot has changed in the past couple of years at 10C, Guelph's social innovation hub.
In 2016, we began renovations on 42 Carden Street (aka the "Acker's Furniture Building"). Then, during some very hot days in July of 2017, we made the move from down the street at 10 Carden to our new permanent home at 42 Carden Street.
Since our big move, 10C has nearly quadrupled in size and we are excited to offer Guelph's social innovation community even more space for change. To celebrate all we have achieved thus far, as well as the potential of the project going forward, we're hosting an epic party!
We have created many spaces for change at 10C, and for the party, they will be activated in many different wonderous and whimsical ways.
The early part of the evening will have fun for all ages - youth under 12 are free. Advance tickets for adults are $25 and are available until Friday May 4th at 6pm. After that tickets will be available online and at the door for $35.00. All funds will help support our work in 2018.
Local beer, supplied by our friends at Wellington Brewery and Royal City Brewing Co., and wine will be served as well as non-alcoholic drinks, and there will be snacks!
The night will consist of no shortage of friends, music and entertainment. Hope to see you there!
Featuring Music and Interactive Performances by:
Ajay Heble & The Vertical Squirrels - a rare performance presented by the Guelph Jazz Festival
6pm-7pm, Community Classroom (4th floor)
Annie Sumi
9pm-10pm, Community Classroom (4th floor)

Brave Moon
5pm-6pm, Community Classroom (4th floor)

Citizen Jane
7pm-8pm, Community Classroom (4th floor)
Cynthia Kinnunen - offering an interactive ukulele workshop
5:15pm-6pm, Library/Sun Room (2nd floor)
Guelph Spoken Word
8:30pm-9:30pm, Library/Sun Room (2nd floor)

Harpist Leslie Shapiro
6:30pm-7:30pm, Library/Sun Room (2nd floor)

The Lifers
5pm-6pm, Activity Room (3rd floor)

The Making Box - offering a fun improv workshop
4pm-5pm, Activity Room (3rd floor)

Onion Honey
7:30pm-8:30pm, Library/Sun Room (2nd floor)
Out Loud
5pm-5:15pm, Library/Sun Room (2nd floor)

Royal City Ukulele Ensemble
4pm-5pm, Community Classroom (4th floor)
Ten Boy Summer
8pm-9pm, Community Classroom (4th floor)

Special thanks to our friends at CFRU 93.3 and Guelph Jazz Festival for partnering with us on the party's musical programming!
Visual Art from:
Gregory Denton - RED BLUE on exhibit in the Community Classroom until May 29th
Katie Wilde - Seldom Heard, a quiet installation of still and kinetic sculptures
Val Pugilese - Animache visual art
About the organizer
10C Shared Space (10C) is the hub for community activators and changemakers in Guelph. We welcome groups and individuals into an inclusive community of social change organizations working across sectors and engaging in collaborative work to build a resilient and sustainable community.
10C puts collaborative, inclusive placemaking at the core of our program areas: Sustainable Food Systems, Community Engagement, Sustainable Development Goals, Social Finance, Social Enterprise & Social Innovation. We operate 45,000+ sf of social purpose real estate at our main hub at 42 Carden St. (15,000sf) and a Farmers' Market at 2 Gordon St. (11,400sf building with 20,000sf grounds).
KEY projects include: Nourish by 10C, Harvest Impact by 10C, SDG Cities, and the revitalization of the Guelph Farmers' Market. People work, meet, eat, connect and brainstorm together at 10C.