Description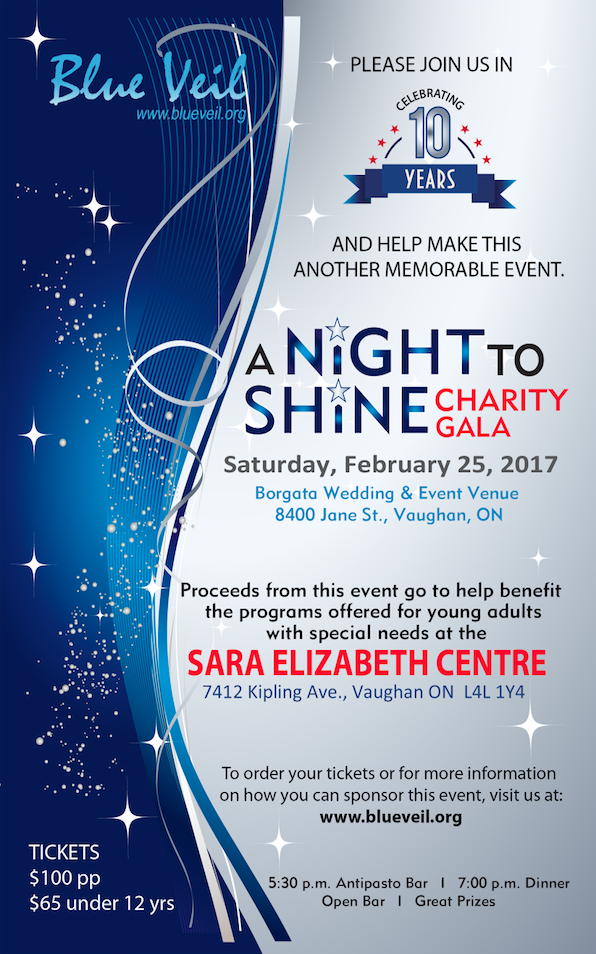 It is our 10th year and everyone looks forward to attending our annual dinner dance fundraiser where everyone gets to celebrate together and raise the necessary funds that are so desperately needed.
Your generous support in the form of donations, goods or services, or financial contribution is sure to have a huge impact on the programs we offer at SARA ELIZABETH CENTRE enhancing the lives of all we serve, in particular the children, youth and young adults who are diagnosed with developmental and/or physical disabilities.
Blue Veil, is a registered, non-profit community based organization offering unique all year round arts and music based youth programs serving also post 21 years of age young adults who are developmentally and/or physically disabled and who no longer attend school. Serving families from the surrounding GTA area (including York Region and Dufferin Peel the Sara Elizabeth Centre offers integrated and inclusive educational programs using a variety of scheduling options including: day full time, seasonal camps, after school and Saturday programs along with computer, drama, dance, audio/visual and wellness programs.
Please click on the TICKETS tab to purchase individual tickets, or to make a donation.
How we can thank you.
In recognition of your financial support we will acknowledge you in the following way;
• Your name or business name will appear in our event program
• Your name or business name will be mentioned and acknowledged that evening
• You will receive a Charity Tax receipt for your contribution.
Feel free to go on line, mail or drop off your contribution at our SEC location or simply call, text or email me and I will be more than happy to arrange for a pick up.
All proceeds received from this years , "A NIGHT TO SHINE" charity gala will go to help with the rising cost of running a Centre such as ours. Since first opening our doors in 2006, we have been recognized as a valued service provider for many school boards, and families as well as a training location for various community agencies. But as we continue to grow each year, the task of asking families for more funding; funding they just don't have, is becoming harder and therefore we are hoping that you can see the importance of what we do and find it in your hearts to join us as we dance and dine for a great cause!
For an affordable cost of $100 per person / $65 children under 12, this years Charity Gala "A Night to Shine" will feature:
Antipasto Bar at 5:30 p.m

Three course sit down dinner served at 7:00 p.m.

Open Bar

Great Raffle Prizes to win

50/50 Draw

Dance to the rhythm as our DJ makes sure that everyone is dancing the night away!
Let's do this together! Here's how you can help us and get involved:
1. Buy individual ticket for the Gala
2. Buy a table of 10 or 12 and have your personal name or company name advertised at the Gala
3. Become a sponsor (See chart below for different sponsorship levels)
4. Make an in-kind donation in the form of goods, service or financial contribution and get your personal name or company name advertised at the Gala.
Please make sure to print a copy of your online ticket receipt. Charitable tax receipts will be issued


Sponsorship Levels
Sponsorship packages available are as follows:
SEC Super Nova ($5,000)
Public recognition at "A Night to Shine" 2016 Gala
Company logo/banner prominently display at venue
Company logo and website link listed on the SEC website
Fullpage (5.5 x 8.5) Ad in event program book
MC announcements of sponsor during Gala
One table at the 2017 SEC Gala (seats ten people)
SEC Sirius ($3,000)
Public recognition at "A Night to Shine" 2016 Gala
Company logo/banner prominently display at venue
Company logo and website link listed on the SEC website
Half page Ad in event program book
MC announcements of sponsor during Gala
6 tickets to the 2017 SEC Gala
SEC Stars ($1,500)
Public recognition at "A Night to Shine" 2015 Gala
Coporate logo on website
Quarter Ad in event program book
MC announcements of sponsor during Gala
4 tickets to the 2017 SEC Gala
SEC Starlight ($500)
Business Card Ad in event program book
Company logo on website
2 tickets to the 2017 SEC Gala
SEC Starlight ($250)
Individual name listed in event program book
Individual name listed on SEC website