Description
10th Annual Cardiovascular Update


COURSE DESCRIPTION:
This course is designed to provide the most recent and relevant information pertaining to common but potentially complex cardiovascular scenarios. The overarching goal is to enable attendees to appreciate and utilize optimal strategies in caring for their patients in the community.
OBJECTIVES:
1. Recognize the young patient with benign and malignant forms of syncope and the likelihood of sudden cardiac death
2. Identify the principles and practice of new developments in secondary prevention in heart failure and hypertension
3. Develop an approach to the counselling of the primary prevention patient using pharmacologic and nonpharmacologic strategies
ACCREDITATION:
Participants in this session are eligible to claim up to four and a quarter (4.25) MainPro(+) credits through the College of Family Physicians of Canada (CFPC) or MoC Section 1 credits through the Royal College of Physicians and Surgeons of Canada (RCPSC).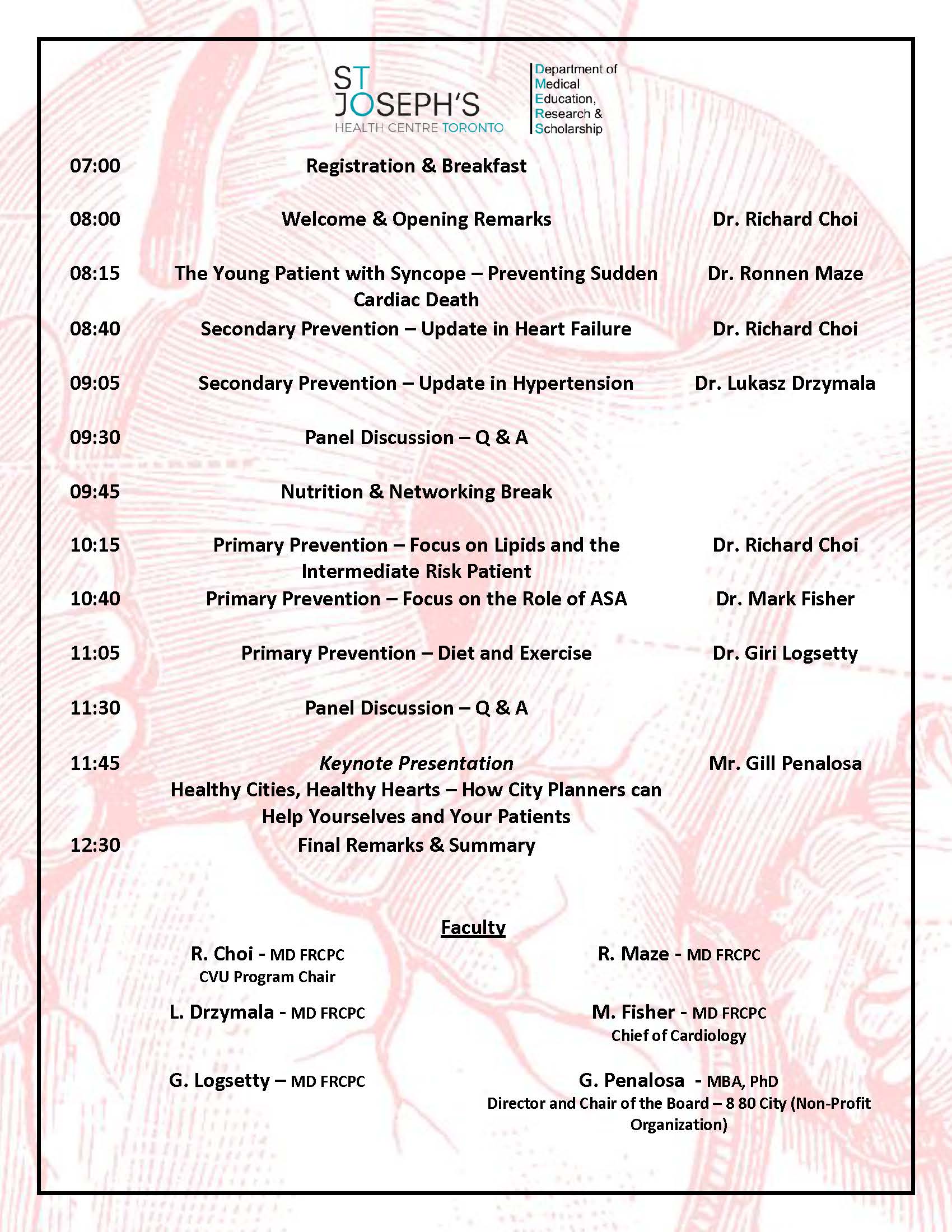 Agenda*

0700 Registration and Breakfast
0800 Opening Remarks – Richard Choi
0815 The young patient with syncope – preventing sudden cardiac death. Dr. R. Maze
0840 Secondary prevention – update in Heart failure, Dr. R. Choi
0905 Secondary prevention – update in Hypertension, Dr. L. Drzymala
0930 Panel discussion, Q&A
0945 Nutrition break
1015 Primary prevention – focus on lipids and the intermediate risk patient, Dr. R. Choi
1040 Primary prevention – focus on the role of ASA, Dr. M. Fisher
1105 Primary prevention – diet and exercise, Dr. G. Logsetty
1130 Panel discussion, Q&A
1145 Keynote – Healthy cities, healthy hearts – how city planners can help yourselves and your patients, G. Penalosa, Director and Chair of the Board, 8 80 Cities, a non-profit organization
1230 Final remarks and summary
1245 Adjournment

Keynote Presentation
Mr. Guillermo Penalosa is passionate about cities for all people. He advises decision makers and communities on how to create vibrant cities and healthy communities for everyone regardless of age, gender and social, economic, or ethnic background. His focus is on the design and use of parks and streets as great public places, as well as sustainable mobility: walking, riding bicycles, using public transit, and new use of cars.
Guillermo is the founder and chair of the board of the internationally recognized non-profit organization 8 80 Cities, based in Canada. The organization was created centred on a simple but powerful philosophy; if you create a great city for an 8 year old and an 80 year old, you will create a successful city for all people.
We look forward to having Mr. Penalosa present at the 10th Annual Cardiovascular Update!