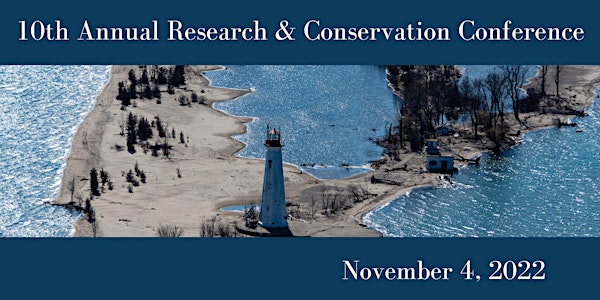 10th Annual Research & Conservation Conference
10th Annual Research & Conservation Conference
When and where
Location
Port Dover Community Centre 801 Saint George Street Port Dover, ON N0A 1N0 Canada
Refund Policy
Contact the organizer to request a refund.
Eventbrite's fee is nonrefundable.
About this event
Come celebrate in person and learn more about the research and conservation projects taking place in and around our Long Point Biosphere Region. This year's research and conservation conference is an excellent opportunity for academic and student researchers, government agencies, members of NGO's and the public to take part in an exchange of ideas related to local environmental sustainability and conservation. Being one of Canada's Priority Places we look forward to showcasing some of the research from within our geographical area.
We encourage you to pass this open invitation on to your friends, family, work partners, volunteers, researchers, students, etc. All are welcome to attend.
Event Line-up:
Prospects for "growing" ecosystem services on conventional farms in Norfolk County: a long term collaboration project with ALUS Canada & University of Guelph - Andrew MacDougall Professor - Dept of Integrative Biology at University of Guelph
Snake abundance and habitat use before and after prescribed burns: presented by - Britney Vezina - Ontario Nature
Tracking changes to Carolinian Forests in the Long Point Biosphere (1995-2022): presented by Bethany Linton - Long Point Biosphere Region
The last 6000 years of vegetation and sediment accretion changes at a riparian freshwater marsh in southern Ontario: Presented by Cecilia Codero Oviendo - University of Toronto
Biological control of introduced Phragmites: presented by Michael McTavish Post Doctoral fellow - University of Toronto
Implementation of community based strategy to help turtles and snakes cross roads safely: Presented by Mandy Karch and Kari Gunen - Ontario Road Ecology Group & Eco Kare International
Bat capture rate in the Long Point Biosphere Region: presented by Christy Humphrey - Nature Resource Solutions Inc.
Understanding Big Creek Watershed: Sophia Vezina - University of Toronto
Key Biodiversity Areas (KBA's): Andrew Couturier - Birds Canada
Wildlife Species Monitoring Technologies: Presenting Martin Smith - Niagara College
Measuring drivers of insect regulation using experimental farm systems: Poster Presenter Alesksandra Dolezal PhD student - University of Guelph
The role of restored agricultural wetlands as migration stopover sites and breeding habitat for migratory birds: Poster Presenter Annika Wilcox Master Student - University of Guelph
Canadian bee-cology: Climate and the distribution of solitary bees using community-based data and DNA metabarcoding: Poster Presenter Lucie Vezina MSc Student - University of Guelph
Frogs, food and feces: Analyzing Anuran diets across a habitat disturbance gradient in southern Ontario: Poster Presenter Natalie Houde MSc student - University of Guelph
If you are interested in attending this year's 2022 conference, please register here: LPBR 2022 Conference.
About the Long Point Biosphere Region
As one of Canada's 19 Biosphere Reserves designated by the United Nations Educational, Scientific and Cultural Organization (UNESCO), the Long Point Biosphere(LPBR) is located in South Western Ontario. LPBR provides support for research, monitoring, education and information exchange related to local, national and global issues of conservation and development.
For more information, please contact:
Cynthia Brink
Conference Coordinator
conference@longpointbiosphere.com
226.567.0465
Web: www.longpointbiosphere.com
Facebook:www.facebook.com/long point biosphere
Instagram: @longpointbiosphere