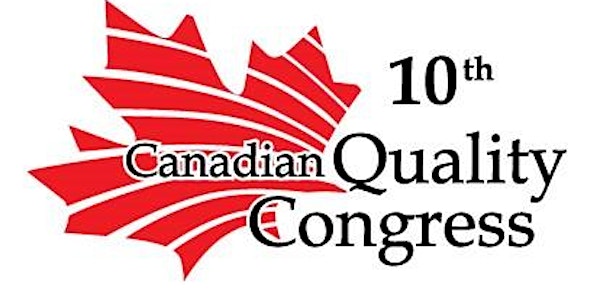 10th Canadian Quality Congress, September 24-25, 2018. Vancouver, BC, Canada
When and where
Location
Simon Fraser University 515 West Hastings Street Vancouver, British Columbia V6B 5K3 Canada
Description
The 10th Canadian Quality Congress
Theme: Quality and Innovation to Embrace Change
Special Sessions on Healthcare Quality and Innovation
The conference focuses on the latest thinking in the areas of quality improvement strategies and innovations, knowledge management, success stories, case studies, lean management, Kaizen, six sigma, as applicable to healthcare indutries including stories from the manufacturing, government and educational institutions, and other sectors.
Technical Sessions:
More than 40 paper presentations on quality and innovation topics and culture transformation.
World-class Keynote speakers:
Keynote speakers are announced on the website. Watch for all updates regularly!
Gala Dinner and Awards Ceremony
Don't miss to attend this function. Also being presented are: Quality Chamipon Awards and the Best Paper Awards as selected by a team of experts. Selected papers are published in journals. Enjoy the opportunity of international networking, exhibit booths, sight-seeing tours and much more.

Registration Cancellation - Note that Credit Card with P. O. Box Office Address is not accpatable.
Cancellation requests received in writing before August 24, 2018 will incur a $100 processing fee. There will be no refunds after August 24, 2018. Substitutions are allowed at any time.
Guest Registration
Should a guest wishes to attend technical sessions, they must register as delegate, not as a guest.
For Further Information
Visit www.CanadianQualityCongress.com or contact us by email at: CSQ@shaw.ca; by Phone (Toll-Free) at: 1-888-286-4473 (US and Canada)
Students
If you are a student, please contact us at CSQ@shaw.ca with proof, and we will send you the link with the special $150 student rate. For proof, please send us a photo of your valid student ID, and documentation that you are currently enrolled as a full-time student at an accredited college or university.
---
Le 10e Congrès canadien de la Qualité
Thème : Qualité et Innovation pour accepter le changement
Sessions spéciales sur la qualité et l'innovation dans les entreprises manufacturières et de service
Vous aurez la chance d'assister à des présentations de dirigeants d'entreprises qui ont fait un succès de leur démarche, que ce soit en Lean, en amélioration continue ou en innovation. Des experts et des conférenciers de renom vous présenteront comment la qualité et l'innovation vont davantage s'intégrer dans les démarches d'amélioration du futur.
Ateliers
Des conférenciers de prestige, plus de 40 présentations, incluant des ateliers spécifiques sur l'innovation.
Des conférenciers de classe mondiale
Les principaux orateurs annoncés sur le site. Surveillez les mises à jour régulièrement !
Groupes de discussion avec des chefs d'entreprise sur la qualité dans les entreprises manufacturières et de service.
Présentation du prix pour le meilleur article, une sélection des meilleurs papiers reçus sera également publiée.
Réception de bienvenue, souper de gala, divertissements, remise de prix, réseautage international, kiosque d'exposition, visites touristiques et bien plus.
Politique d'annulation
Les demandes d'annulation reçues par écrit avant le 24 août 2018 entraîneront des frais de traitement de 100 $. Il n'y aura pas de remboursement après le 24 août 2018. Les substitutions sont permises à tout moment.
Inscription des invités
Si un invité souhaite participer à un atelier, il doit s'inscrire comme participant au congrès, et non comme un invité.
Pour plus d'information
Visitez www.CanadianQualityCongress.com ou envoyez un courriel à l'adresse suivante: CSQ@shaw.ca; téléphone (Sans-frais) : 1-888-286-4473 (US et Canada)
Élèves
Si vous êtes étudiant, veuillez nous contacter à CSQ@shaw.ca avec une preuve et nous vous enverrons le lien avec le tarif spécial de 150 $. Pour preuve, envoyez-nous une photo de votre carte d'étudiant valide et de la documentation que vous avez actuellement inscrit comme étudiant à temps plein dans un collège ou une université accréditée.