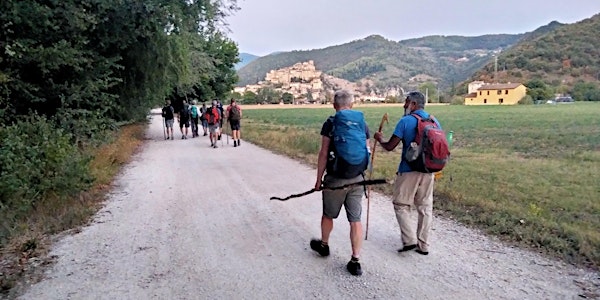 10th Year: Conscious Leadership Mastery(for men) w Sujith Ravindran-Italy23
8-days walk-based conscious leadership mastery for top level male leaders, changemakers and futurists from politics, business, & non-profits
Date and time
Sat, Sep 9, 2023 12:00 PM - Sat, Sep 16, 2023 6:00 PM CEST
Location
Umbria Piazza della Resistenza 05100 Piediluco Italy
About this event
7 days 6 hours

Mobile eTicket
[PROGRAM REALIZATION DEPENDS ON COVID-19/CORONAVIRUS]
............................................................
[10TH EDITION: An 8-days walk-based conscious leadership mastery for top-level male leaders, changemakers and futurists from politics, business & non-profits]
How could leadership transform when you engage the subtle self and the causal self?
What would the infusion of intangibles like self-realization, meaning, purpose and fairness do to leadership?
What does the inclusion of sourcing, intuiting and sensing do to thinking, feeling and sense-making of leadership?
"Joining Sujith on a walk like this will … enable you to be the kind of leader that will create lasting positive change in your family, your business and the world. I can thoroughly recommend it!"
PAUL H, CEO FMCG Company, United Kingdom
This programme follows the leadership rite-of-passage undertaken by legendary leaders like Mandela, Gandhi and ML King, and delves deeply into the nature, qualities, mindsets, internal governors and motives of conscious leaders. Over the 8 days, you will step back from the buzz of your daily leadership, and - within the framework of an age-old structured process of activating your consciousness - reflect, scrutinize, unlearn and (re)discover wisdom hidden within that would then catapult your leadership to the next level. By the 8th day you would develop your conscious leadership manifesto which you would deploy in your leadership domain.
"I came to recognise all three motivational elements, performance, significance, and relevance, in Sujith's wise, gentle, and playful curatorship of my spiritually deepening experience. I indeed also experienced both 'heroic conquest' and 'reverend embrace'. Sujith, you declare yourself a 'space-holder', with little need to 'perform', your abiding presence in the fine atmosphere I felt, enabled me to feel relevant. And the loving attention you offered to each pilgrim's personal process re-emphasised each one's, and my own, significance."
C van Wyk, Founder and Futurist, Spain (https://holos-earth.org/)
>>> ARE YOU A SEASONED LEADER WHO SEES YOURSELF LEADING HUMANITY INTO THE NEXT ERA?
If yes, this leadership 'rite-of-passage' is something for you. The mission of this programme is to create conscious leaders by expanding the leadership consciousness of the participants and their worlds. Leaders from business, politics, governance, social and other domains across 5 continents have undertaken this leadership 'rite-of-passage'.
[This leadership walk is for men only and will be facilitated in the beautiful rolling hills of Umbria, Italy]
Participants are admitted through a screening process.
ABOUT THE PROGRAMME
"Where business schools fail in the inner leadership training, this programme achieves it."
Sjoerd H, Swiss Banker
While the programme is highly subsidized, it is intense. 12 participants are carefully chosen into each cohort based on their leadership distinction, foresight of their vision and the grandness of the aspirations they hold for humanity and the planet.
Each day we will start our (inner) journey at 07:00 am and end at around 07:00 pm. While the walk itself is leisurely (covering a few kilometers/day), the innerwork is grueling. The days are filled with a series of practices, processes, self-enquiries, peer-to-peer coaching and studying conscious leadership.
STAGE 1: DEPARTURE PHASE: In this phase, you will cross the threshold of the departure phase in your leadership and examine your current leadership paradigms
STAGE 2: PASSAGING PHASE: In this phase, you will enter into a realm of apprenticeship and vision-quest, explore higher paradigms of leadership, especially the ones espoused and practiced by the legendary leaders.
STAGE 3: ARRIVAL PHASE: In this phase, you will harness your leadership boons and develop a blueprint of your future leadership self, including the higher purpose and the 'standards of being' that you will embody in your new leadership.
(a brief meeting with the participant will be held to determine the fit with the programme). Please write to Sujith (at sujith@sujithravindran.com) for more info.
LOGISTICS
Location: Umbria, Italy [start in Piediluco and ends in Assissi]
Dates: 9th – 16th September 2023
Number of participants: 12 [participants will be taken on a first-come-first-serve basis and based on the screening].
COSTS
The programme is offered on a 'COST + DONATION' basis [the participants will cover their share of accommodation, food & other necessities]. The costs/participant/day are estimated to be around EUR 35/day. IF YOU WISH TO MAKE A DONATION FOR SUJITH'S FACILITATION, AT THE END OF THE PROGRAMME YOU MAY.
"This was a profoundly transformative leadership experience for me, unlike all the location-based programmes and on-the-job training I ever received. Thank you!"
Heinz H, Former Diplomat & Politician
** KINDLY DO NOT APPLY IF YOU DO NOT MEET THE CRITERIA STATED ABOVE**
About the organizer
ABOUT THE PROGRAM FACILITATOR
Sujith Ravindran – author of 'The BEING Leader: Tracing the Inner Path of Legendary Leaders', 'SUBTRACTION: The Subtle Art of Unleashing Boundless Innovations', and several other books, including bestsellers – assists top leaders within global institutions and organizations across 21 countries in the Americas, Europe and Asia/Pacific on personal mastery and inner leadership. He is one of the initiators of the BEING Abundance Movement and the Fellowship of Conscious Leaders, a global forum that advances new forms of leadership. He was conferred the honour of AMBASSADOR OF PEACE in Italy in 2012.