10x Cultures One Day Conference "Re-frame, Doing more with less"
Description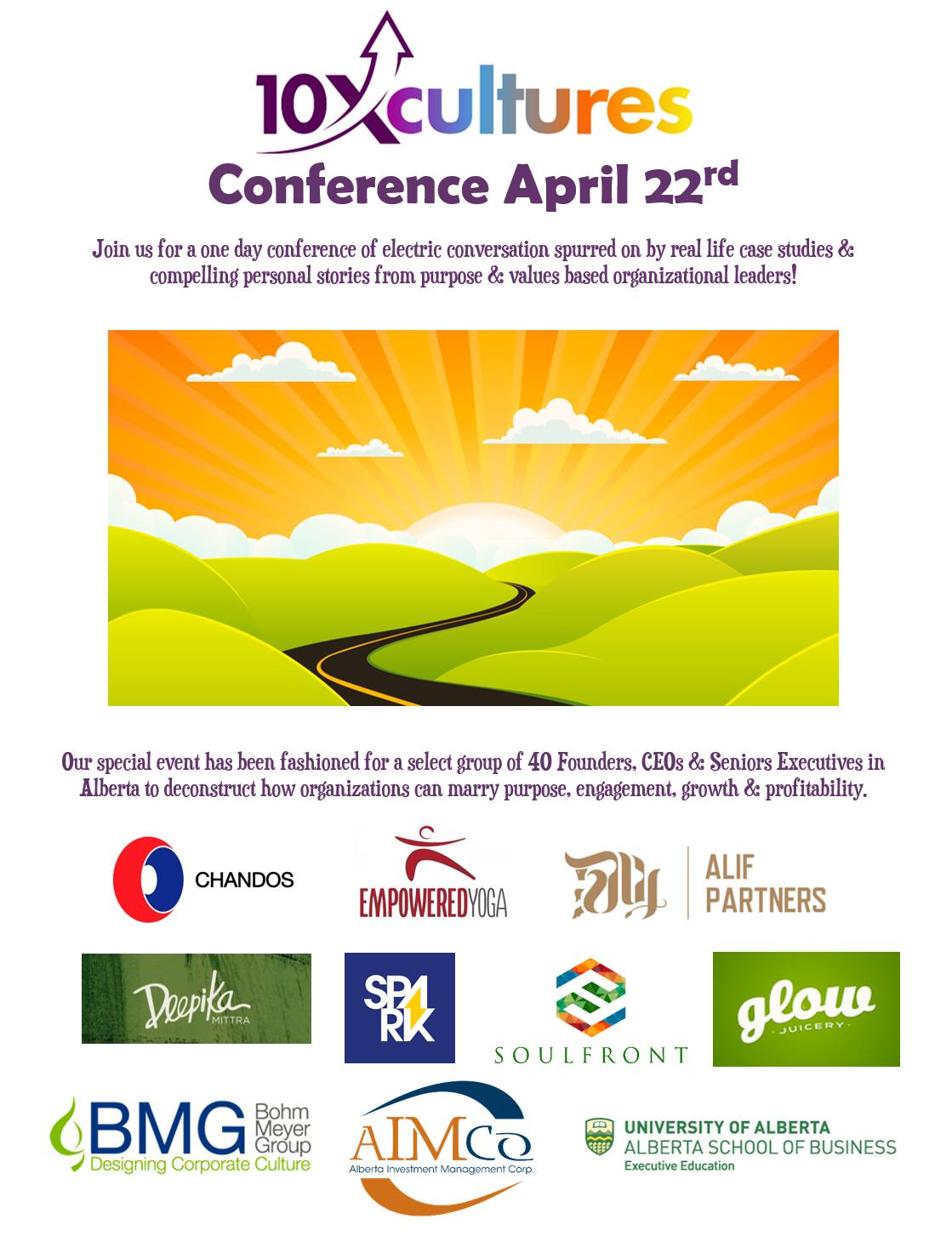 "10x Cultures" is an idea my good friend Christoff Boshoff past ATB Director of Leadership & I dreamed up over way too much coffee. We believe that the exponential change in business demands organizations nurture progressive and transformative cultures or what we call "10x Cultures" that are fluid enough to embrace this enormous amount change successfully.
The 10x Cultures Conference digs into new ways of conducting business and explores how organizations exponentially grow and adapt by combining purpose, engagement, growth and profitability. The event is targeted to a select group of 40 organizational leaders in Alberta who will move through a series of purpose driven and values based sessions, Keynote speakers and special activities are meant to expand thinking, to inspire and to be a catalyst for business transformation.
Back in October 2016 during a "Transforming the Future of Work Dinner" a small group of us started a conversation about building a movement in Alberta centred on bringing meaning and engagement to the workplace. Our 10x Cultures conference is about expanding this conversation and increasing awareness of purpose and values based organizations in Alberta.
Glen Ronald, Founder of Spark, Ieva Kimonte, HR Professional & I (Scotty, Founder of Soulfront) are the organizers of this not for profit 10x Cultures Conference and we are convinced that together we can build this progressive movement. See Glen's video.
Our conference is for leaders who are passionate about open-minded business cultures and transformation. The day will highlight real life case studies, compelling personal stories that showcase successful purpose and values based leaders, strategies, organizations, practices. We look forward to electric conversation, vigorous debate around how we can marry purpose and engagement with growth and profitability. Oh, and lots of fun too :)
The theme of the April 22nd Conference is Re-Frame.
Doing more with less.
Alberta businesses do business differently. Know it. Love it. Share it.
Re-framing is the idea of taking an existing problem, shifting it and seeing opportunity.
In an age of disruption where we need to diversify and evolve quickly, how do we turn problems into opportunities? How do we create a willingness to shift ourselves and recognize that the change we fear is the opportunity (& innovation) we seek.
Be ready to talk about re-framing engagement, re-framing profit, re-framing change, re-framing innovation.
See you there and stay wonderful.
Scotty, Glen & Ieva