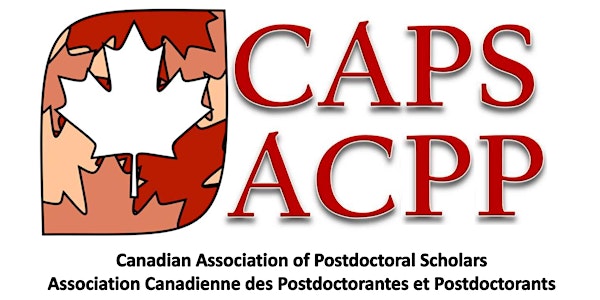 11th Annual General Meeting/Assemblée Générale Annuelle, 2021
Canadian Association of Postdoctoral Scholars (CAPS/ACPP) brings you the 11th Annual General Meeting/Assemblée Générale Annuelle (AGM/AGA)
About this event
You are cordially invited to join members of the CAPS/ACPP Executive Council for our 11th Annual General Meeting/Assemblée Générale Annuelle (AGM/AGA)
Date: Thursday, November 18, 2021
Time: 1:00 to 5:30 PM EST
Format: Virtual over Zoom
Save the date and register to join us virtually!
AGM/AGA is the key annual event for our association. It enables our Executive members from across Canada to meet with members and representatives from other organizations, discuss issues pertaining to Canadian postdocs, discuss the future of CAPS/ACPP, present our contributions and efforts in supporting postdocs in Canada and Canadian postdocs abroad, and develop collaborations aimed at improving postdoctoral policy in Canada.
As with past AGMs, this event is free of charge for all postdocs, provided you are registered as a member of CAPS/ACPP. Membership is free and open to all current/ former postdocs (Active and Alumni, respectively) as well as other stakeholders (Adjunct Members; graduate students, administrators, union representatives, etc.).
We look forward to seeing you!
Final Agenda