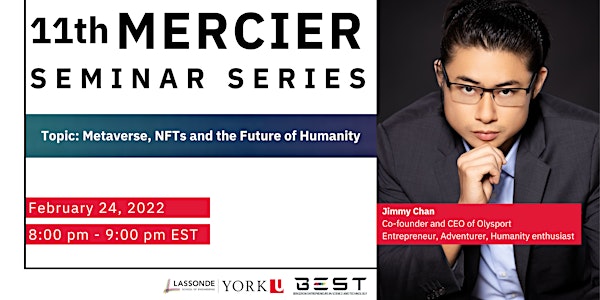 11th Mercier Seminar with Jimmy Chan
Metaverse, NFTs and the Future of Humanity
About this event
Featuring Jimmy Chan
Event Date: TBD
Jimmy Chan was the co-founder and CEO of Odyssey3D, a #1 virtual real estate company in Canada. His experience in the real estate industry is the bridge between virtual land and real land, creating a metaverse in the game. He's founded the Oly Sport that is designed to unite humanity under a common thread in order to work together to solve the challenges that lie ahead. With Oly Sport's Metaverse, Jimmy plans to unify the global financial and real estate markets within a metaverse where gamers can "race-to-earn" for a living, without ever having to get another job.
He will be sharing:
Why we should look to the future of technology as a way to bring our ideas together into a unified way of seeing the world
His lessons learned on his entrepreneurship journey and his inspirations
How to find opportunities and converting them into action items
What skills students should focus on to prepare them for career success in an increasingly volatile business environment
How to attend:
The link to the Zoom will be shared with registrants closer to the event date.