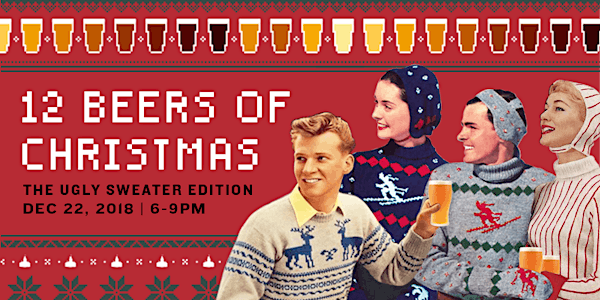 12 Beers of Christmas
When and where
Location
Gladstone Hotel 1214 Queen Street West Toronto, ON M6J 1J6 Canada
Description
Twas three nights before Christmas, when all through the hotel
Every brewery was pouring, the music was swell;
The steins were filled by the breweries with care,
In hopes that dancing and karaoke would soon be there;
The drinkers were nestled all snug in their sweaters,
While visions of ales and sours made them feel better;
All the 19+ kids in town squealed with delight,
The Gladstone Hotel's providing our favourite night cap!
"Now, LAGERS! now, STOUTS! now, PILSNERS and PALE ALES!
On, BITTERS! on SAISONS! on, PORTERS and AMBER ALES!
To the Evenbrite link! to the party of the year!
Now buy tickets! buy tickets! buy all of the tickets!"
HAPPY 12 BEERS TO ALL, AND TO ALL A GOOD-NIGHT!
We made a list and checked it twice–of 12 local breweries, naughty and nice–to join us at our annual beer-drinking extravaganza! On Dec 22, throw on your ugliest Christmas sweater and cross a beer (or 12) off your list.
There will be live music, DJs, and a lot of beer. This event sells out every year, so get your tickets early!
This iteration of 12 beers will be offering 12 bountiful drink samples with your ticket purchase. After this, 6 additional tickets at a time will be available from one of several Gladstone Smart Serve Genies.
Participating Breweries:
Amsterdam
Beaus
Brickwords Cider
Collective Arts
Henderson Brewing
High Park
Junction City Craft
Longslice
Mill Street
Sawdust City
Side Launch Brewing Co.
Steamwhistle
--
No refunds. 19+ only.