Online Group Coaching Workshop of the 12 steps M.Y.B.U.C.K.E.T.L.I.S.T. Blueprint® formula to design & crush your ultimate Bucket List
About this event
When was the last time you ticked something off your Bucket List? 3...2...1... too long ago?
Now that our lives seem to get back to normality, it is the perfect time to pause and reflect on what actually makes us truly fulfilled and happy. It is the perfect time to step out of our busy life to work on our best life. It is the perfect time to work on our Bucket List no matter what your age or social status is
Almost every one of us has a variety of experiences, activities, goals, and dreams that we wish to live and achieve. However, most of these remain in the realm of someday, perhaps withering on a Vision board.
Based on the latest principles of positive psychology, goal-setting techniques, accountability hacks, mental health boosters, and personal development strategies, the 12 step M.Y.B.U.C.K.E.T.L.I.S.T. Blueprint® formula will help you to:
✅Find more purpose, meaning, and fulfillment in life
✅ Become a successful goal-achiever in every area of your life
✅ No longer postpone your dreams and goals to 'someday maybe' - but take action on the spot
✅ Break your big intangible goal down into tangible bites
✅ Experience immense personal & professional growth by finding joy outside your comfort zone
✅ Improve your social, corporate & romantic relationships as a ripple effect of being more 'high on life'
In the MYBUCKETLIST formula, every letter represents one specific category, and together, they form a holistic and complete Bucket List that will even turn the most unmotivated individual into a Bucket Lister wanting to jump out of bed in the morning.
Show up, get over your fear, and get your life into high gear!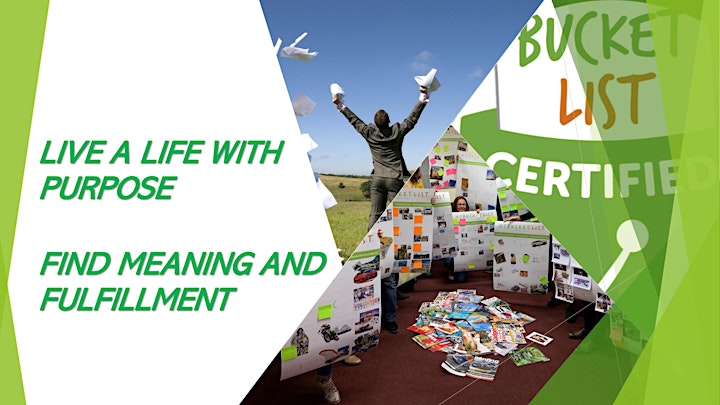 What you need:
● Free Zoom account ( an account is not required but a camera is highly recommended ) .
● Download Adobe to edit your personal vision board
● Stable internet connection
● Printer to print your Bucket List vision board
Stop saying 'tomorrow' and take your first step of action to live your best life!
Organizer of 12 Step Ultimate Lifestyle Makeover MYBUCKETLIST Online Workshop