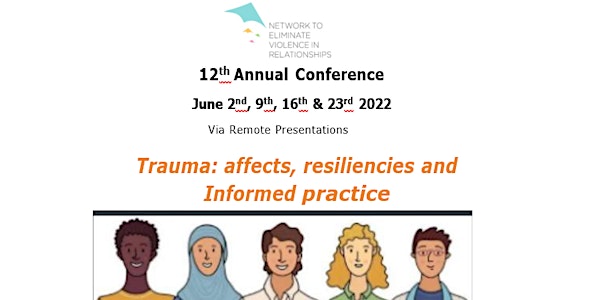 12th Annual Conference Trauma: Affects, Resiliencies and Informed practices
Refund policy
Contact the organizer to request a refund.
Eventbrite's fee is nonrefundable.
Join us remotely on June 2, 9,16 , and 23 2022 - All sessions for only $35.00! Please note that you will have access to all days.
About this event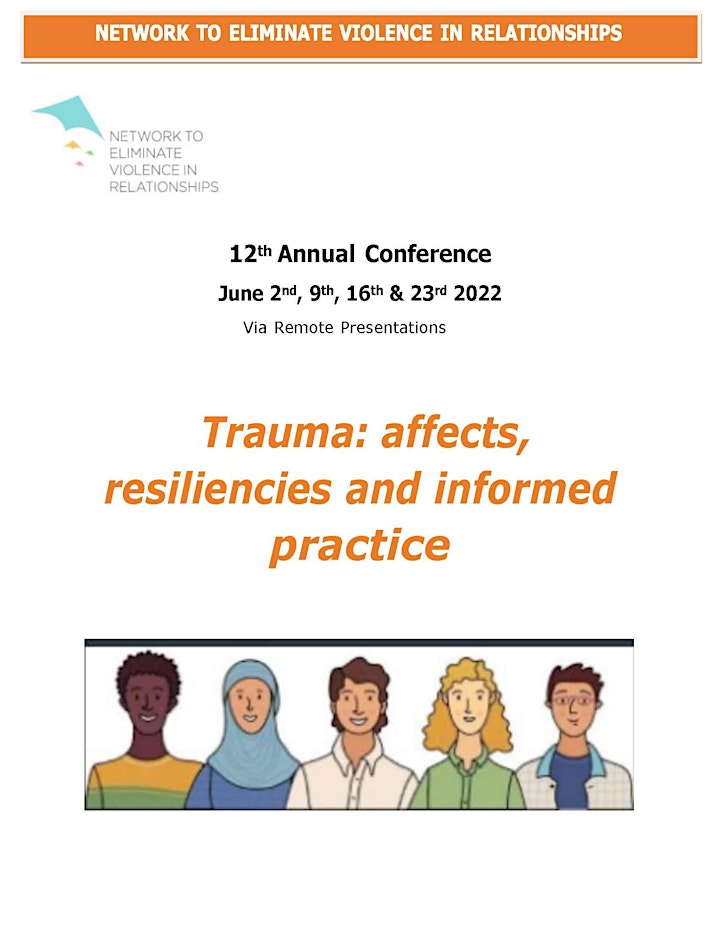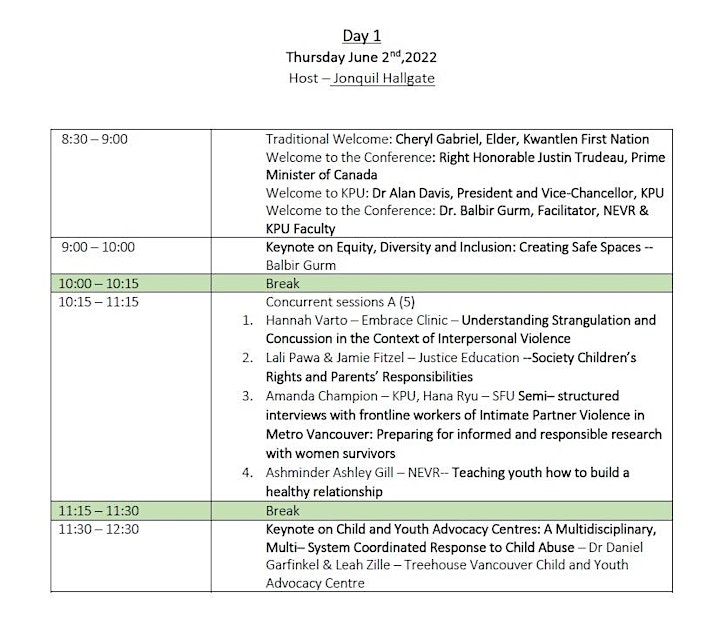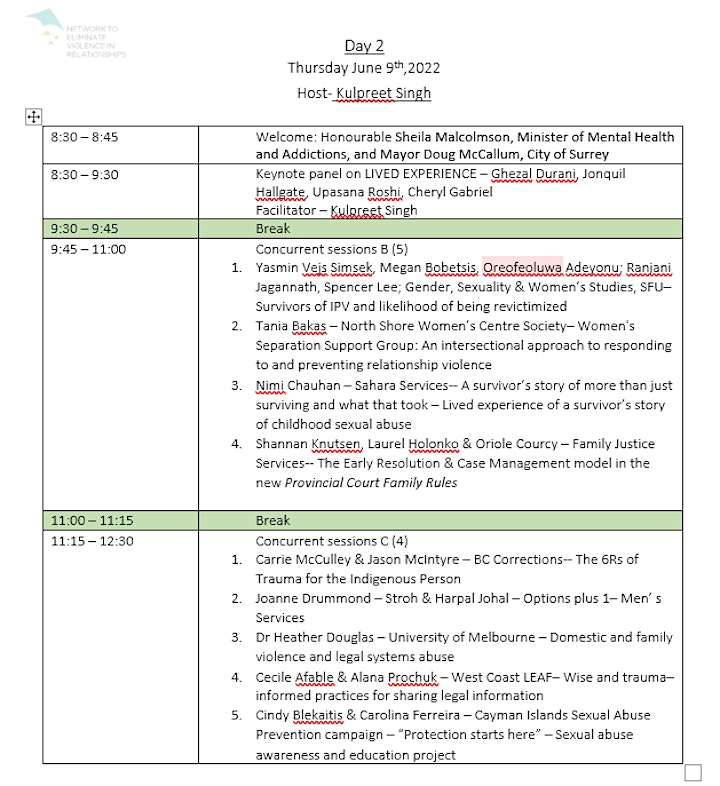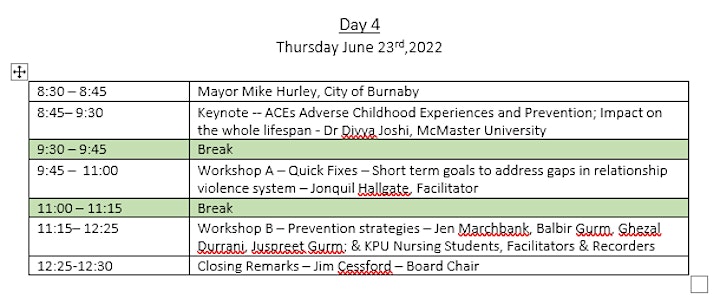 About Network to Eliminate Violence in Relationships (NEVR)
NEVR's Statement:
• the Network to Eliminate Violence in Relationships (NEVR) campaign's purpose is to work
towards elimination and eradication of relationship violence within our community
• community needs and focus are driven by strong research and evidence– based evidence from family violence courts, delineating the incidences of domestic violence, the Ministry of Child and Family development, and other research– based initiatives
• see resources on website for people suffering from abuse
NEVR's Mission:
• To lead initiatives to intervene, reduce and ultimately eliminate the incidence of violence in relationships and shift societal norms that condone its prevalence by
o Creating awareness of and preventing relationship violence through education and leadership
o Having a community where public/private violence in all forms is not tolerated nor accepted
o Having a system that provides coordinated support to victims/ offenders in a timely manner to mitigate the impacts of violence
NEVR's Purpose:
• The purpose of NEVR is to work toward reducing and eliminating violence in relationships in Surrey, British Columbia through coordinated, open and seamless service delivery, collaboration, sharing of resources among service providers, community leaders, educators and government bodies.
NEVR's Scope:
• This organization focuses on relationship violence (physical, sexual, emotional, spiritual and financial) and its effects on all members of the family as well as the cost to society in the Surrey area.
ABSTRACTS
Keynotes
Dr Balbir Gurm - Equity, Diversity and Inclusion: Creating Safe Spaces Balbir Gurm, RN, EdD, FCAN- The Human Rights Code exist in Canada that states there should be no discrimination based on Indigenous identity, race, colour, ancestry, place of origin, religion, marital status, family status, physical or mental disability, sex, sexual orientation, gender identity or expression, or age of that person or class of persons. Canada believes in equity, valuing diversity and including all people regardless of these identities listed. We believe we are not biased. Yet we tend to value and privilege certain social identities. In this keynote, how we are all biased will be discussed and ideas on how we can create more equitable and inclusive spaces described.
Dr Daniel Garfinkel – Treehouse Vancouver Child and Youth Advocacy Centre – Child and Youth Advocacy Centres: A Multidisciplinary, Multi– System Coordinated Response to Child Abuse – This presentation will outline the importance of collaboration among diverse systems and professional disciplines in providing a trauma– informed and coordinated response to allegations of child sexual and physical abuse. Research– based evidence on the efficacy of the multi– disciplinary, multi– system Child and Youth Advocacy Centre (CYAC) model will be presented, with benefits highlighted not only for children and families, particularly in reducing trauma, but also for the professionals who dedicate their careers to serving them. We will describe how the CYAC model is implemented, with an outline of case management processes developed at our centre as well as case examples of collaboration between law enforcement, child protection, victim services, and medical and mental health services. Challenges associated with implementing the CYAC model will be discussed, and approaches for enhancing collaboration and partnership will be presented.
B.C.'s Human Rights Commissioner, Kasari Govender, started her five-year term on Sept. 3, 2019. Since then, our Office has been working swiftly to build a strong team, to listen deeply to the concerns of British Columbians, to issue policy guidance to protect vulnerable communities and to lay a human rights-based foundation for our work. As an independent officer of the Legislature, the Commissioner is uniquely positioned to ensure human rights in B.C. are protected, respected and advanced on a systemic level throughout our society.
Dr Divya Joshi – Research Associate, Academic Department of Health Research Methods, Evidence, and Impact McMaster University: ACES and Prevention, impact on the life span – Distribution of adverse childhood experiences and its effect on multimorbidity among middle-aged and older individuals in the Canadian Longitudinal Study on Aging- This presentation will provide an overview of the distribution of adverse childhood experiences (ACEs) and discuss the association between ACEs and multimorbidity among middle and older aged adults in the Canadian Longitudinal Study on Aging. The results support recommendations regarding the need for prevention and intervention in early life.
Lived Experience Panel
Ghezal Durani, Jonquil Hallgate, Upasana Rosha, Cheryl Gabriel - People in social services offer opportunities along with programs or initiatives that help folks make a difference in their lives. However, sometimes what gets lost in the equation is the voice of the people that we are attempting to serve. On this panel, we will discuss how often when we plan programs in housing and services that people need in terms of mental health and addiction, we are doing it in a professional manner, and we don't always include the voices or experience of people who have lived through that experience. This group of speakers not only works to support folks with variety of needs but also who have experienced a lot of roadblocks in their lives themselves. These are the people who should be a part of every conversation when we choose to see what services should be provided.
Concurrent Session A
1. Hannah Varto – Embrace Clinic – Understanding Strangulation and Concussion in the Context of Interpersonal Violence – Working with survivors of interpersonal violence might also mean working with people who have experienced recent head injury – either from strangulation or concussion. This presentation will review the importance of screening all survivors of violence for head injury, understanding the possible medical implications of these injuries in the short term and long term and provide tips for assisting survivors
2. Lali Pawa & Jamie Fitzel – Justice Education Society – Children's Rights and Parents' Responsibilities – Learn more about this topic and help educate others on the rights for children and the responsibilities of parents and caregivers. Parents are responsible for the care and well being of their minor children and there is a responsibility and obligation under BC Laws for parents and there are certain laws that protect children and their rights.
3. Amanda Champion – KPU – Semi– structured interviews with frontline workers of Intimate Partner Violence in Metro Vancouver: Preparing for informed and responsible research with women survivors – In the context of the Coronavirus Disease (COVID– 19) pandemic, provincial restrictions in British Columbia were necessary to manage the health crisis. One of the restrictions included a stay– at– home measure that unintentionally led to an increase in IPV and associated adverse health and social effects (e.g., mental health– related issues, drug and alcohol addictions, overdoses, and unemployment). The present study aimed to gain insights from expert practitioners who provided services to women survivors of IPV during the pandemic. A total of eight participants from four different IPV organizations in the Metro Vancouver Region participated in semi– structured interviews. Data were analyzed using deductive and inductive coding. Overall, two main themes emerged from the interviews with expert IPV practitioners: (1) the lived experiences women survivors of IPV during the pandemic and (2) recommendations for IPV researchers working with women survivors. Subthemes are discussed and contextualized within ethical protocol implications and avenues for future research.
4. Ashminder Ashley Gill – NEVR – Teaching youth how to build a healthy relationship – Early childhood exposure to information about healthy relationships can change the way society thinks about relationships. I'm working on a current evaluation of fifth grade children where we supply them with knowledge about healthy relationships, boundaries, peer pressure, conflict resolution and how to deal with anger. The purpose of the evaluation is to show that information about healthy vs. unhealthy relationships in schools is vital and that it can change the way these children see their relationships with other people. Children tend not to always know what unhealthy treatment looks like and if we provide them with the knowledge and the resources on where they can get help, we can potentially have less abusive relationships in the future. Changing the younger generation's perspective on conflict resolution and communication instead of anger can lead to less domestic abuse and sexual violence. Teaching children in a way that is applicable to them with games and role playing makes it so that the information stays with them. I'll be providing handouts of the types of workbooks the children used and the types of activities that resonated with them. Getting a program like the healthy relationships club into all schools in Surrey and beyond would be beneficial to the children, their parents and society in general.
Session B
1. Yasmin Vejs Simsek, Megan Bobetsis, Oreofeoluwa Adeyonu; Ranjani Jagannath, Spencer Lee; Gender, Sexuality & Women's Studies, SFU – Survivors of IPV and likelihood of being revictimized – There is a decent amount of literature on violent offenders and the risk of reoffending. There are assessment tools to use to gauge the risk of reoffending. However, there is little on survivors and their risk of being revictimized. We were commissioned by the Surrey Women's Centre to conduct a literature review and we worked along with Ambreen Dandiwal, a representative from the centre. We will be presenting on the findings of our knowledge synthesis focused on available literature on re– victimization. We will also be presenting on the process of conducting the knowledge synthesis and arriving at our conclusions.
Through our research, the following major themes emerged: vulnerability, measurement, sexual violence, and interpersonal violence. We found 84 relevant research papers of which 82 were included in the knowledge synthesis. These sources were organized in the data management program Zotero. We created keyword tags and analyzedeach of them in connection with the research topic. What we found is that there does not appear to be pre– existing tools/measurements to assess the likelihood of a person being revictimized in relation to interpersonal and sexual violence. However, we believe this knowledge synthesis is the first step in the creation of such a measure that can inform practice. Our research will be published on https://www.kpu.ca/NEVR.
2. Tania Bakas – North Shore Women's Centre Society – Women's Separation Support Group: An intersectional approach to responding to and preventing relationship violence – In 2018 the North Shore Women's Centre [NSWC] launched a pilot project to support women separating or considering separation from a marriage or common law relationship. The goal was to increase women's education on family law, financial literacy, and offer emotional support as they navigate this difficult process, through a "wrap–around" program. The NSWC now offers the free 10– week Separation Support Group three times a year with a waiting list. Most women register for this program because they are overwhelmed with legal and financial concerns and feel lost in the process. However, as they share their circumstances in group, stories of relationship abuse emerge, risks of homelessness are shared, re– activation of past traumas are experienced, and most group members present with a deeply wounded sense of self– worth and self– efficacy. All these difficulties are addressed in group and/or through one– on– one consults with the facilitator/counsellor at no cost to the participant. This presentation highlights:
1. How a "wrap– around" program ensures the person is supported and responded to in a holistic way
2. During this pivotal time of restarting, healing, and re– evaluating life, women benefit from
a) the safety of a supportive group
b) being heard, believed, and embraced in that space
c) being empowered through legal and financial literacy
d) psychoeducation on healthy boundaries, healthy relationships, understanding forms of abuse and impacts of violence
3. The importance of offering these supports within a feminist, anti– oppressive, and trauma– informed framework that understands the systemic barriers women face
4. Funding/implementation challenges and opportunities
3. Nimi Chauhan – Sahara Services – A survivor's story of more than just surviving and what that took – Lived experience of a survivor's story of childhood sexual abuse. A brief overview of my story- a survivor of childhood sexual abuse. How I overcame shame, vulnerability and all the other facets that abuse often leaves a victim with. A walk through of how I first begin therapy. How old I was when I first started therapy? Finding therapy: what was this process like for me as a survivor and a teenager. My experience with therapists (how many I saw before it was a right fit) and receiving the different methods of therapy. How some helped more at certain times than perhaps others? How did I navigate my treatment? The fact that things were so much worse before it started to get better. People at times stop because therapy is so difficult. But if you continue, you can begin to heal and truly feel the impacts of therapy. How did I heal? What did it actually take for me personally to come to a certain place and heal? What does healing mean and look like for survivors? What it meant for me to be retriggered and traumatized and then trying to heal again. How healing and our experiences are different for each one of us.
4. Shannan Knutsen , Laurel Holonko & Oriole Courcy – Family Justice Services - The Early Resolution & Case Management model in the new Provincial Court Family Rules - The Provincial Court of BC and the Ministry of Attorney General implemented new Provincial Court Family Rules and forms across BC on May 21, 2021. The rules introduce a new approach to resolving family law disputes in designated early resolution registries (currently Surrey and Victoria). The new model puts family justice services in the path of families first to help them reach agreements where possible and to better ready them for court when needed. Representatives from Justice Services Branch in the Ministry of Attorney General will describe key changes in the new rules and provide an overview of the early resolution and case management model, explaining the role of Family Justice Services Division. Evaluation information from Victoria, the first early resolution registry, will be shared, as well as information about helpful resources.
Session C
1. Carrie McCulley & Jason McIntyre – BC Corrections – The 6Rs of Trauma for the Indigenous Person – We are honoured to share with you the teachings of Elder Gerry Oleman. Elder Gerry is a member of the St'at'imc Nation from Tsal'alh (Shalalth B.C.) and has been involved as a change agent for First Nations communities and agencies since 1976. He came to the realization that all First Nations in Canada have the same suffering and challenges; all challenges are man– made therefore they can be healed and fixed using our traditions and laws that worked for us for thousands of years. Elder Gerry has been a great friend to BC Corrections, and he prepared a video for us in late 2019 with the goal of increasing our understanding of the trauma experienced by Indigenous peoples.
2. Joanne Stroh & Harpal Johal -Options plus 1– Men' Services – In this presentation Joanne and Harpal will outline some of the services available to men who have perpetrated IPV, a former perpetrator will speak to his experiences of changing his behaviour. Joanne will also speak about the need for services for male victims.
3. Dr Heather Douglas – University of Melbourne – Domestic and family violence and legal systems abuse. This presentation considers how legal engagement can be an opportunity to exercise coercive control over a former intimate partner. Drawing on interviews with women who engaged with the legal system as a result of violence in their intimate relationships, thispresentation explores women's experience of the legal system processes as an extension of an intimate partner's coercive control. It builds on existing research showing how legal processes provide an opportunity for perpetrators to continue and even expand their repertoire of abusivebehaviours post– separation. This presentation explores how expectations of equality of access to justice and fair hearing; concepts that underpin legal processes, can be reconciled with legal engagements that seek to end abuse. The paper concludes that improved understanding of domestic violence as coercive control by legal actors may help to circumvent the opportunities for legal systems abuse.
4. Cindy Blekaitis & Carolina Ferreira- Protection Starts Here: a grassroots approach to multi-agency work in the Cayman Islands. Multi-agency and multi-disciplinary teams are usually found in established settings, like Child Advocacy Centres or Multi-Agency Safeguarding Hubs. Such teams are usually focused on dealing with specific cases or clients. Other such groups, such as National Safeguarding Boards, operate at a higher level- such as determining policy or revising legislation. The Cayman Islands' Protection Starts Here (PSH) project differs from these more traditional groups as it brings agencies together in a working partnership intended to address identified gaps in awareness, training, education, prevention, and advocacy. This presentation will take attendees through the context of child abuse (focusing on sexual abuse) in the Cayman Islands, the establishment and working of the PSH group, and some of its outputs.
Session D
1. John Kriger – Kriger Consulting – Is technology violence priming? – There are numerous indicators that our use of technology primes many individuals toward family, relationship, school and workplace violence. Through online interaction we are becoming desensitized to human emotions, seduced by highly sexualized imaging, flooded with dopamine and primed for intolerance of anything short of Immediacy. Examine how technology desensitizes us, changes brain structures and chemistry to dehumanize our interactions. As a former sexual abuse investigator and addictions counselor I will show you how the tech industry distorts our values and primes us for relationship violence.
2. Golnoosh Hakiman & Richa Karkee – DIVERSEcity Community Resources Society – Roots of Safety: Creating Safety in Providing Support to Newcomer Women Survivors of Violence – Roots of Safety is a service planning approach that DIVERSEcity Violence Prevention Services developed and adapted from its parent model Signs of Safety™. It uses a women– centered approach to provide culturally safe and respectful safety planning to support the unique needs of newcomer women and their families. It's a collaborative process between us and the client, empowering the client to act and make decisions independently.
Some of the values embedded within RoS includes cultural humility and cultural safety, integrating non– judgmental and non– shaming approaches by highlighting client's strengths and existing safety. The program takes into consideration the safety of family, including children's safety, and focuses on problem behavior as opposed to placing blame. The goal is to build on existing safety and strength to increase the protective factors, while locating and addressing complicating factors to decrease the risk factors associated with violence.
The framework is grounded in intersectionality and anti– oppressive practice, with a continuous effort to support the long– term healing process of self– identified women. Currently, all DIVERSEcity's gender– based violence programs use the Roots of Safety approach in service planning.
In addition to direct client service through the framework, the program also provides ongoing capacity building to anyone working with newcomer women to create better understanding of their unique needs, as well as comfort around creating safety if GBV is flagged during service delivery.
3. Dr Claire Robson & Dr Jen Marchbank – GSWS, SFU – The Indigo Project – LGBTQ+ Elder Abuse More than fifteen years ago, researchers from the McGill School of Social Work identified an urgent need to create a stronger network of support for LGBTQ+ elders in order to address elder abuse in this marginalized community. To date, there has been very little done to mend this gap and take action to support individuals facing elder abuse, and no– one has conducted substantive interviews with survivors. Our project is a long overdue response to this call to action in order to amplify and share stories from survivors of elder abuse in order to further understand the conditions in which the abuse of LGBTQ+ elders occur, identify the best way to support the agency and resilience of these survivors, and challenge and expand theoretical discussions of queer elder abuse. Created in partnership with QMUNITY (BC's Resource Centre for Queer, Trans and Two Spirit people), the goal of this project is to uncover and ultimately, to publish the narratives of individual survivors that will empower others to break the cycle of shame and silence. This project builds upon previous research conducted by the research team: Dr. Claire Robson, Dr. Jen Marchbank, and Dr. Gloria Gutman, all from Simon Fraser University. In this presentation we will introduce the issue, an overview of the project, and a brief description of our previous work in this field.
4. Maria Gowans – FNHA – abstract to follow Session E
1. Sheila Early, RN – Canadian Forensic Nurses' Association – Genetic DNA and its implications in Adverse Childhood – The Science of DNA is applicable in healthcare as well as forensic science. The Genetic components of DNA impacts individuals and families in many ways. The genetic and inherited diseases and conditions are not well recognizing and their tremendous impact on the Childhood Experiences of children and adulthood needs to be considered. This presentation will describe the difference in genetic and inherited diseases/conditions and relate them to the ACE factors we are familiar with. Case examples will lead to discussion on how healthcare needs to recognize ACE factors in children when genetic and inherited conditions have been identified.
2. Sandeep Kaur Glover – PhD Candidate, Faculty of Education, SFU – Demystifying the Mechanics of Oppression in the B.C. School System: A Multigenerational Exploration – In this presentation, through the medium of embodied storytelling, Sandeep will reveal generational snapshots of her Punjabi– Sikh family's lived experiences in the B.C. school system to demystify the ways in which institutional dynamics such as unconscious bias, microaggressions and gaps between policy and practice remain entrenched. At the end of the storied snapshots, audience– participants will have the opportunity to dialogically engage with critical questions that are posed throughout the presentation. Although awareness surrounding equity, anti– racism and inclusion is growing in society and valuable progress is being made in these areas in schools across BC, I suggest that in order to elucidate the intricacies of relational violence for effective intervention and to support individual and communal healing, it is crucial to foreground the lived experiences and perspectives of community members (students, parents, families, teachers) who have been impacted by school– based systemic oppression.
3. Colleen Kerr & Brian Asaebo – City of Surrey, Community Safety – Multi– disciplinary approaches to supporting vulnerable populations in the City of Surrey – Alongside its community partners, the City of Surrey's Community Safety section is leading innovative, multi– disciplinary approaches to supporting vulnerable populations. The Surrey Mobilization and Resiliency Table (SMART) was established in 2015 to identify and proactively meet the needs of individuals and families experiencing extreme social challenges such as homelessness, substance abuse and mental health. In January 2022, SMART was presented with its 500th intervention and has had measured success with the majority of its clients to date. Being the first table of its kind in British Columbia, SMART continues to serve as a best practice model for the development of similar tables across the province including Surrey's Children and Youth At– Risk Table (CHART). Implemented in 2019, CHART focuses on preventing and addressing risk for gang affiliation amongst 6– to 19– year– olds. CHART is one of 11 individual programs that comprise the larger Surrey Anti– Gang Family Empowerment (SAFE) Program, a multi– agency proactive approach to disrupting pathways toward youth gang involvement. Through its 10 partners, SAFE's overarching goal is to prevent and address youth gang involvement by building positive life skills and increasing connections amongst family, school, and community. By applying $7.5M of federal funding over five years, the SAFE Program is currently on track to support its target of supporting more than 4700 Surrey children, youth and their families. City of Surrey representatives Colleen Kerr and Brian Aasebo will be providing an overview of SMART, CHART and SAFE and are happy to field questions as well as share lessons learned.
4. Negah Alapour – BC Society of Transition Houses – BCSTH Transportation Project (Transportation Barriers in Rural BC and Best Practices) – Women and girls in northern and rural communities have unique transportation needs and challenges. On top of accessing safe transportation option, they often need to travel far for meaningful work opportunities, to get to school, access essential health, support, and legal services, buy food, support their children, and visit family and friends. BCSTH's
research on transportation options in northern BC show gaps in service, knowledge, and access to comprehensive transportation options between communities. When the transportation system is inaccessible, unaffordable, and unreliable, women find other ways to travel, which may often put them at risk. For example, the vulnerability of Indigenous women underserved by transportation systems is recognized by the Highway of Tears Initiative that was initiated in response to the rate of missing and murdered Indigenous women and girls along Highway 16.
In the Transportation Project, the BC Society of Transition Houses (BCSTH) conducted research to:
• Examine the transportation needs of women experiencing violence in BC, particularly rural and remote communities in northern BC.
• Identify existing gaps and barriers to safe and reliable transportation for women experiencing or at risk of violence in rural and remote communities in BC.
• Explore some actions that can address transportation challenges.
This presentation will explain the findings and initiatives that have come out of this project to fill gaps in transportation and meet local needs as well as address the systemic level changes needed. A better– resourced, more extensive transportation system may not be safe or reliable if it does not consider the needs of women experiencing, or at risk of, violence