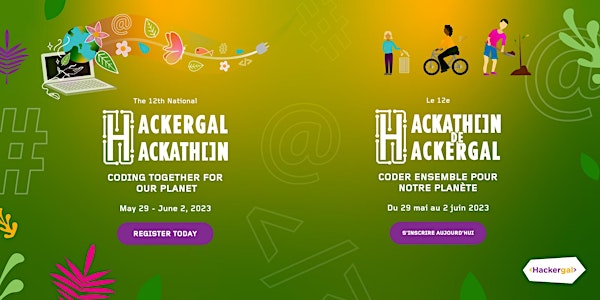 12th National Hackergal Hackathon | Le 12e Hackathon national de Hackergal
A week-long virtual celebration for girls across Canada! | Une célébration virtuelle d'une semaine pour les filles de partout au Canada!
Date and time
Mon, May 29, 2023 9:00 AM - Fri, Jun 2, 2023 10:00 AM PDT
Refund Policy
Contact the organizer to request a refund.
Eventbrite's fee is nonrefundable.
About this event
You are invited to Hackergal's 12th National Hackathon: Coding Together for Our Planet!
Monday, May 29th – Friday, June 2nd, 2023
The countdown has OFFICIALLY begun 🎉 Hackergal's 12th Hackathon will be live-streamed and celebrated in communities across Canada! On May 29th, 2023 - join our week-long virtual event celebrating girls and young women breaking down barriers in tech!
--
Vous êtes invité au 12e Hackathon national de Hackergal : Coder ensemble pour notre planète!
Du lundi 29 mai au vendredi 2 juin 2023
Le compte à rebours a OFFICIELLEMENT commencé 🎉 Le 12e Hackathon de Hackergal sera diffusé en direct et célébré dans les communautés à travers le Canada ! Dès le 29 mai 2023, rejoignez notre événement virtuel d'une semaine célébrant les filles et les jeunes femmes qui surmontent les barrières de la technologie!
Hackergal Hackathon Schedule
🌎 Live Hackathon Launch Party | Monday May 29th, 2023 | 12pm - 1pm EST
Starting off with a BANG! Hackergal will announce an exciting line-up of speakers, share more about the surprise Hackathon theme, and announce giveaways!
🌎 Pre-recorded Lynx Coding Webinars | Wednesday May 31st, 2023
Get ready to code with the Hackergal team as they lead you through engaging Lynx Coding sessions! Tune in to learn and have fun, these webinars are great for gaining inspiration for your projects!
Level 1: Creating Interactive Animations Using Movement, Directional & Shape Commands (English)
Niveau 1: Créer des animations interactives à l'aide de commandes de mouvement, de direction et de forme (French)
Level 2: Incorporating Text & Sound Into Your Coding Projects in Dynamic Ways (English)
Niveau 2: Incorporer du texte et du son dans vos projets de codage de manière dynamique (French)
🌎 Live Hackathon Closing Party | Friday June 2nd, 2023 | 12pm -1pm EST
Come and celebrate your accomplishments with Hackergal at our live Closing Party! This exciting final event marks the end of the Hackathon, and we invite girls from across the country to join us in the festivities. Let's toast to your success!
Don't miss out 🌟 Join our virtual movement to bridge the gender gap across Canada by registering today! Our events are open to all students who identify as girls and live in Canada. At Hackergal, we believe in inclusivity and welcome the participation of trans learners, as well as genderqueer and non-binary learners under our definition of "girls" and "women."
We're so excited to have you join us!
Horaire de la Journée Hackergal :
🌎 Lancement en direct | Lundi 29 mai 2023 | 12 h à 13 h HNE
Commencez par un BANG ! Hackergal annoncera une liste passionnante de conférencières, partagera plus d'informations sur la mission surprise du Hackathon et annoncera des cadeaux !
🌎 Webinaires pré-enregistrés de codage Lynx | Mercredi 31 mai 2023
Préparez-vous à coder avec l'équipe Hackergal pendant qu'ils vous guident à travers des sessions de codage Lynx engageantes ! Connectez-vous pour apprendre et vous amuser, ces webinaires sont parfaits pour vous inspirer pour vos projets !
Niveau 1: Créer des animations interactives à l'aide de commandes de mouvement, de direction et de forme
Niveau 2: Incorporer du texte et du son dans vos projets de codage de manière dynamique
🌎 Clôture du Hackathon en direct | Vendredi 2 juin | 12 h à 13 h HNE
Venez célébrer vos réalisations avec Hackergal lors de notre célébration de clôture en direct ! Cet événement passionnant marque la fin du Hackathon et nous invitons les filles de partout au pays à se joindre à nous pour les festivités. Portons un toast à votre succès !
RSVP aujourd'hui et venez faire partie d'un puissant mouvement virtuel visant à combler l'écart entre les genres dans l'industrie technologique canadienne.
Les événements sont ouverts à chaque élève s'identifiant comme une fille et vivant au Canada! Hackergal s'engage à promouvoir la diversité et l'inclusion. Nous utilisons une définition inclusive des "filles" et des "femmes" et nous accueillons la participation de toutes les apprenantes qui s'identifient comme des filles. Cela inclut les filles transgenres, car nous reconnaissons que les filles transgenres sont des filles. Nous accueillons également la participation d'apprenantes de genres fluides, non binaires et bi-spirituels.
Nous avons hâte de vous avoir parmi nous au Hackathon!
About the organizer
Hackergal is a Canadian charity with a mission to change the face of computer science and pave the way for a technology industry that is diverse and inclusive of girls and young women in underrepresented groups across Canada. We work directly with education systems and organizations across the country, providing educators, facilitators, and parents with the tools they need to expose girls to coding education in their schools, communities, and at home. Woven into everything we do is a commitment to reach more girls in more places, with a focus on BIPOC communities, French-speaking Canada, and northern, remote and rural Canada. Hackergal is committed to diversity and inclusion. Hackergal uses an inclusive definition of "girls" and "women" and welcome the participation of all learners who identify as girls. This includes trans girls because we recognize trans girls are girls. We also welcome the participation of gender-fluid, non-binary, and two-spirit learners.