The perfect stay-at-home Valentine's Day Meal prepared by the YOU Made It Cafe! Pre-order a 3-course dinner for 2.
About this event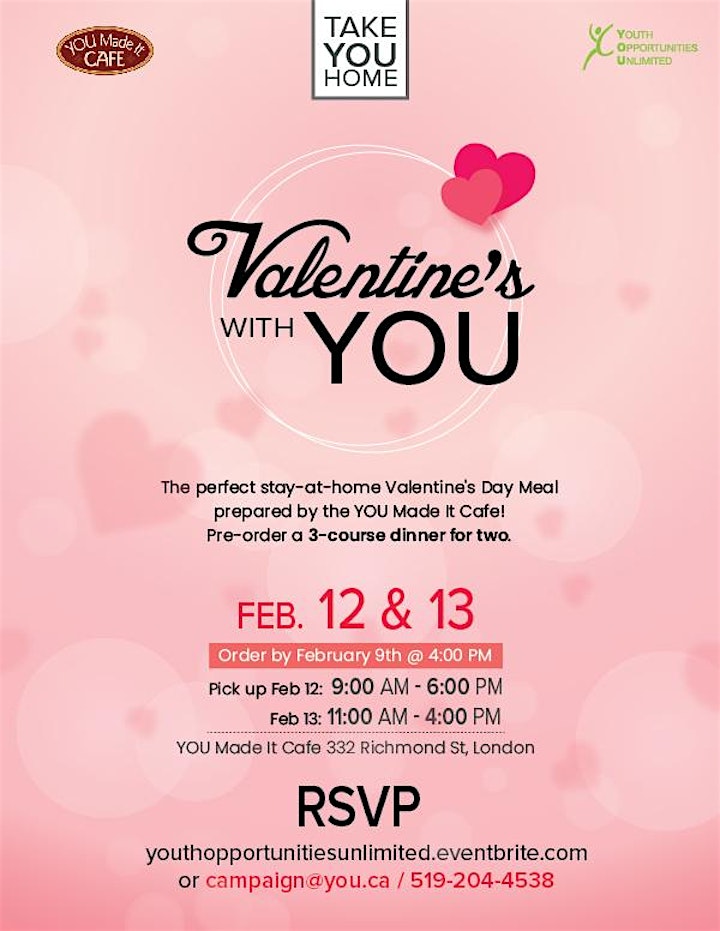 Valentine's with YOU
By ordering a meal you are directly supporting youth in our community.
Event Details:
Date: February 12 & 13, 2021
Place your orders online by Tuesday, February 9th @ 4:00 PM.
Pick-up Times:
February 12th: 9:00 AM - 6:00 PM
February 13th: 11:00 AM - 4:00 PM
Menu:
3 Course Meal [$45.00]
Appetizer: Citrus & Arugula Salad with shaved fennel, crumbled feta and lemon vinaigrette
Main: Lasagna Roses for 2 with creamy bechamel & bolognese sauce
Vegetarian Option: Lasagna Roses for 2 with lemon ricotta and marinara sauce
Dessert: Assorted YOU chocolate truffles
Add-ons:
Charcuterie for 2 [$26.00] Selection of dry cured Ontario meats, Ontario cheeses, 4 Pepper Jam, grainy mustard, seasonal pickles, seeded flatbreads, chewy baguette, fresh & dried fruits
Villa Sandi Prosecco Il Fresco DOC, Treviso [$30.00]
*Proper ID is required when picking up alcohol
Gift Basket:
Small baguette board with a mini 4 Pepper Jam (45ml) and a mini Strawberry Rhubarb jam (45ml)
Add a Valentine's Day Gift Basket to your order at checkout!
Donate Now
YOU is looking for donations to help us sustain our youth-based programming. Please consider making a donation at check-out or by clicking here.
For more information please contact our event manager:
E: campaign@you.ca
P: 519.204.4538