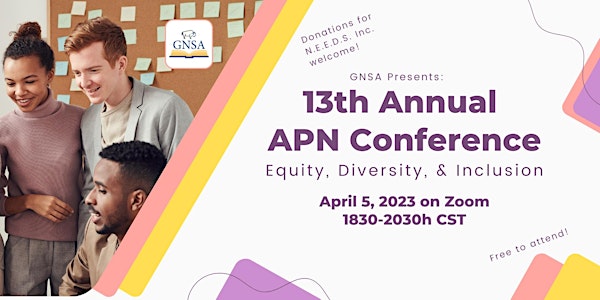 13th Annual APN Conference: Equity, Diversity, & Inclusion
UManitoba's GNSA presents the 13th Annual Advanced Practice Nursing Conference: Equity, Diversity, and Inclusion
Date and time
Wed, Apr 5, 2023 4:30 PM - 6:30 PM PDT
About this event
The University of Manitoba's Graduate Nursing Students' Association presents the 13th Annual Advanced Nursing Practice Conference. This virtual conference will highlight the work of three advanced practice nurses surrounding equity, diversity and inclusion.
Guest Speakers:
Ann Nzeruem (she/her), RN, NP: Ann is a family nurse practitioner who currently works with an Indigenous organization that provides primary and community health care services to eight First Nations communities in Manitoba. She supports nurses at health centers and nursing stations through in-person/virtual consultation. Ann is also the owner and founder of Mara Home and Health Services Inc.
Rani Hajela Srivastava (she/her), RN, PhD, FCAN: Dr. Rani Srivastava is Dean of Nursing at Thompson Rivers University in Kamloops, British Columbia. She is recognized for her leadership in cultural competence and bridging academia and practice environ¬ments. She is author and editor for The Health Care Professional's Guide to Cultural Competence (2nd edition published 2022), and has written several book chapters and articles on topics of cultural identity, religion, ethics, and family-centred care.
Vanessa Van Bewer (she/her/elle), RN, MN, PhD: Assistant Professor, College of Nursing, Rady Faculty of Health Sciences at the University of Manitoba. Weaving her background as a Métis spoken word artist and storyteller into her career as a scholar and researcher, Vanessa is passionate about encouraging others to use art to think creatively about social justice in their own lives and in their own communities.
In lieu of conference fees, we ask attendees to consider making a donation in support of N.E.E.D.S. Inc., which provides accessible services and support to immigrant and refugee children and youth and their families in Winnipeg. GNSA will match all donations. Please indicate the donation is in honour of the APN conference on the donation form to allow us to track this. https://needsinc.ca/donate/
Attendees who register will have the chance to win several door prizes!
We look forward to seeing you (virtually) at the conference!