13th Annual Mighty Asian Moviemaking Marathon(MAMM) Screening & Awards Gala
Description
The Vancouver Asian Film Festival (VAFF)'s Mighty Asian Moviemaking Marathon (MAMM) celebrates its 13th year during Summer of 2018 of supporting and showcasing emerging local filmmakers. Who will win the MAMM13 challenge? Join us at the Rio Theatre on Sunday September 9th, 2018 as we screen the MAMM13 finalists in the 10-minute Short and 1-minute Ultra Short categories, find out which two teams from each category will win the adjudicated prizes, and help us select the "Fan's Choice Award" (overall short and overall performance)!
Come see the top films, and stay to congratulate your favourite teams in person at the after party.
We're also very excited that the luminous Nhi Do - television/film/stage actress, producer, director, with credits including Zack Snyder's Watchmen (2009) - will be our MC for the evening!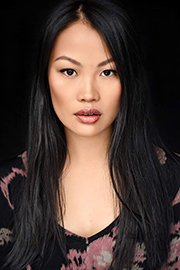 Please remember to print and bring your Eventbrite tickets to help us check everyone in as efficiently as
possible.
Doors Open: 6:15pm
Event Starts: 6:45pm
Afterparty: 9:15pm at SushiVille, 2068 Commercial Dr, Vancouver, BC

Advance tickets (online), until 2:00pm Sunday September 9th: $15
Rush tickets at the door (if still available): $18
Ticket price includes Awards Screening, VAFF2018 Membership Fee, and Afterparty access
All Tickets are non-refundable.
As these films are not rated, this event is 19+ only.
Please contact us at info@vaff.org if you have any questions!
IF CAPACITY ALLOWS, Afterparty-only tickets will be available at 9:45pm (cash-only) at the door of the afterparty venue for $5 (these tickets do not include VAFF2018 Membership).

Cocktail-style appies will be available at the afterparty courtesy of VAFF!
Here are our competing teams (in alphabetical order):
2018 MAMM 10-MINUTE SHORT FILM COMPETITION TEAMS
TEAM Bunny Man - "Bunny Man" - Team Leader: Athena Han
TEAM The ChoZen Ones - "Soul 4 Soul" - Team Leader: Shar Yeoh
TEAM Eunoia - "CR: Complete Reality" - Team Leader: Berlin Lu
TEAM Hot Java - "Robin & James" - Team Leader: Alesandria Mentari
TEAM Team Mani-ho! - "Moving Day" - Team Leader: Brian Nguyen
TEAM NGTV Productions - "Followers: Wifi, Interrupted" - Team Leader: Milton Ng
TEAM Travisty - Team Leader: Kate Ely
TEAM Renegade Warrior - "Eight Short Films About Cell Phones" - Team Leader: Ronin Wong


2018 MAMM 1-MINUTE ULTRA SHORT COMPETITION TEAMS
TEAM Bruised Peach - Team Leader: Jaymee Mak
TEAM The ChoZen Ones - Team Leader: Shar Yeoh
TEAM The Fresh Breeze - Team Leader: Gerry Chow
TEAM Korean Canuck - Team Leader: Yoosik Ethan Oum
TEAM Lannister - Team Leader: Lee Shorten
TEAM Last Second Productions - Team Leader: Aurora Chan
TEAM Soul Fruit - Team Leader: Beatrice Armstrong
TEAM Yekim76 - Team Leader: Michael Arzadon
TEAM yllw - Team Leader: Carolyn Yip
NOTE: Tickets are $15 ($18 at the door) which include awards screening and after party (until venue capacity is reached). There is no guaranteed entrance to the after party once venue capacity has been reached, even with a ticket. There is no partial refund, if you do not get into the after party. Sorry, no reservations.
The after party event is 19 and over. Any Ticket holder unable to present valid identification indicating that they are at least 19 years of age will not be admitted to the after party event, and will not be eligible for a refund.
PHOTOGRAPHY NOTICE:
We will be taking photographs and video at this event for promotional and archival purposes. If you would not like your image used in any VAFF promotional content, please inform our photographers. Thank you!
MEMBERSHIP REQUIREMENT:
These films have not been rated by the Provincial classifiers; only VAFF members will be allowed into this screening. 2018/19 Membership fee is included in the ticket price (expires September 1st, 2019).
QUESTIONS:
If you have any questions, please contact us at mamm@vaff.org
For more information, visit www.vaff.org/mam13