13TH GARD GENERAL MEETING
About this event
Global Alliance against Respiratory Diseases (GARD) is a voluntary alliance of national and international organizations, institutions, and agencies committed towards the common goal to reduce the global burden of respiratory diseases (CRD). The 13th GARD General Meeting will be held in Beijing, the Capital City of China on 25-26 October, 2019 and will address CRD prevention and management in Primary Health Care and Universal Health Coverage. A preconference symposium on air pollution and chronic lung diseases in China will take place on the 25th of October. Please participate and raise the importance of CRD in global health. Program details will be announced at a later date.
REGISTRATION
Registration for both the preconference symposium and the GARD General Meeting is open now. Last date to register for these events is 31st July 2019.
PRELIMINARY PROGRAM
Program at a glance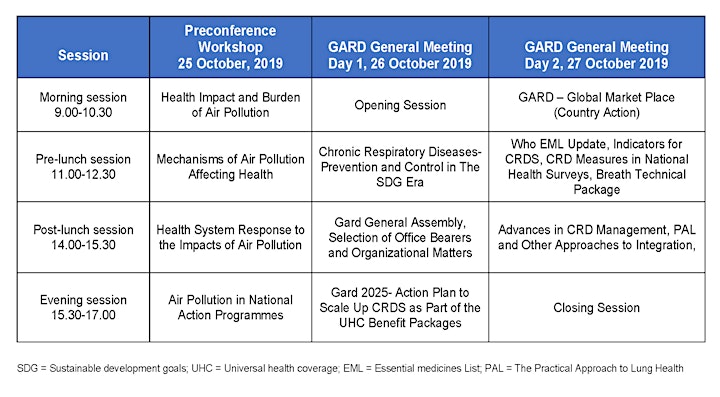 Download full preliminary program (PDF), Not currently available
HOTEL ACCOMMODATION
Currently no available, will be updated at a later date.
ORGANIZERS
The World Health Organization and the Chinese Academy of Medical Sciences, Peking Union Medical College.
CONTACT
gardbreathe@gmail.com