Description
Support QMUNITY at the 14th annual International Day Against Homophobia, Transphobia, and Biphobia (IDAHOT) breakfast, presented by Vancity and a benefit for QMUNITY.
Doors open: 6:45 am
Program: 7:00 am to 9:00 am
Since 2012, the International Day Against Homophobia, Transphobia, and Biphobia breakfast attracts an enthusiastic crowd of community, business, and political leaders. IDAHOT continues to hold a place of prominence on Vancouver's community calendar. With an official proclamation from the City of Vancouver, movers and shakers from many different organizations, corporations, and sectors celebrate and commit to the life-changing work QMUNITY undertakes.


Program Preview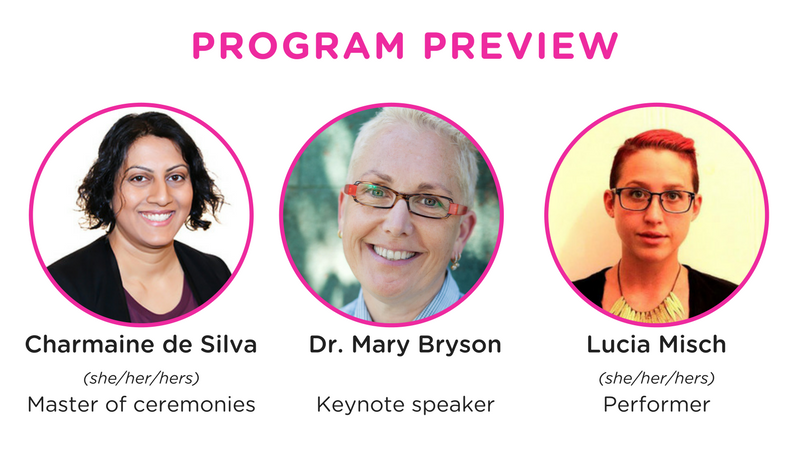 Keynote Speaker: Mary Bryson

Title: Awkward Choreographies from Cancer's Margins
Dr. Bryson will share findings from the Cancer's Margins project (www.lgbtcancer.ca) - the first nationally-funded, nation-wide Canadian research study designed to advance our understanding of how minority sexuality and/or gender shape cancer health experiences and knowledge access, and the mobilization of both biographical and biomedical knowledge in health and in treatment decision-making that is medically and culturally competent.
Dr. Mary K. Bryson is Senior Associate Dean, Administration, Faculty Affairs & Innovation and Professor, Department of Language and Literacy Education, Faculty of Education, University of British Columbia. Dr. Bryson chairs the UBC Vice-Presidential Trans, Two-Spirit and Gender Diversity Task Force and is a member of the World Professional Association for Transgender Health (WPATH) Global Education Initiative. They are the recipient of multiple awards for their interdisciplinary scholarship, including most recently, the American Educational Research Association Significant Body of Research award and a Senior Fellowship at Stanford University's Clayman Institute for Gender Research.
Performer: Lucia Misch (she/her/hers)
Lucia Misch is a writer and performer from the Bay Area. She has presented her work on stages across North America as part of events ranging from literary festivals to labor union conventions. In 2011, Lucia placed second in the country in the Canadian Individual Poetry Slam. Her writing it has been anthologized, and published in print and online. Also a veteran arts educator, Lucia facilitates writing workshops for youth as a member of WordPlay: Poetry In Schools, an ArtStarts Poet in Residence, and a teaching artist at creative arts camps along the West Coast. She lives and works on the unceded territory of the Musqueam, Squamish, and Tsleil-Waututh people in Vancouver, BC.
MC: Charmaine de Silva (she/her/hers)
News Director, NEWS 1130
A political junkie, Charmaine credits her father with introducing her to politics at a young age and encouraging debate.
Charmaine is a graduate of both Simon Fraser University (Political Science) and B.C.I.T. (Broadcast Journalism.) She started her journalism career in the Okanagan, before moving back home to Vancouver where she has been a part of the CKNW and CBC newsrooms, and now leads Vancouver's Breaking News station, NEWS 1130.
As a journalist, Charmaine has been recognized for her investigative reporting, including uncovering concerns about breast cancer pathology at Kelowna General Hospital, and for exposing several large developers for helping drive up rental costs in Vancouver by flouting short-term rental rules. Charmaine is also the recipient of several B.C.A.B awards for coverage of wildfires in the Okanagan, and two National Radio Television Digital News Association awards – one for reporting during the 2011 Stanley Cup Riot, and the other for shedding light on the challenges Vancouver seniors face living alone. More recently, she garnered attention for uncovering major violations of Vancouver's short-term rental rules by several developers, and for highlighting gaps in BC's family justice system.
Charmaine is also a passionate community leader, who currently serves as Co-Chair of the Vancouver Pride Society. In that role, she has been passionate about creating safe and inclusive events for Vancouver's LGBTQ2+ community - especially its most vulnerable members.
Charmaine lives in the West End with her wife and children. Coffee, wine and cheese help her tackle the challenges of parenting a teenager and a toddler.
Location and Event Accessibility Details


We are pleased to let you know that ASL interpreters can be made available upon request. If you or one of your guests requires ASL interpretation please let us know by Monday, May 7, 2018 and we will ensure you are seated at a table with a clear view of the ASL interpreters.
The Hotel is accessible by elevator as well as by a flight of stairs.
We make an effort to have scent reduced spaces and would ask all attendees to refrain from using perfume or cologne the day of the event.
Please contact us if you have any concerns or needs which we can address.


Land Acknowledgement


We would like to acknowledge that this event is taking place on the ancestral, traditional, and unceded homelands of the Musqueam, Skxwú7mesh, and Tsleil-Waututh peoples. It is important to recognize this for many reasons; in particular we would like to remember and work against the impacts of historical and ongoing colonial oppressions experienced by Indigenous/Two-Spirit peoples.