14th Osprey Festival: Celebrating Chief Dan George's 122nd Birthday
Join us for our 14th Osprey Festival with a day dedicated to celebrating the life of Chief Dan George on his 122nd birthday!
About this event
Featuring performances on the mainstage, nature walks, fun children's activities, nature stations and bbq across the 320-acre Conservation Area at Maplewood Flats . We anticipate with Covid19, we will be doing a mix of in-person and livestreamed programming so you have a comfortable choice. Join one of our knowledgeable members for an in-person walk on site. Enjoy our BBQ!
Mainstage Performers:
Murray Porter
Ta'ah Amy George performing 'Lament for Confederation'
Sandy Scofield Trio
Wil George
Rachelle George
Trevor Carolan Spoken Word & Jazz Trio
Kultsia Barbara Wyss
Saeid Kooshki
Al Grass and Ryan Brandlmeyr in conversation
Walks:
Indigenous Plant Walks by Senaqwila Wyss
Nature Walk by Kevin Bell
Public Art at Maplewood Flats by Irwin Oostindie
In the Nature House:
Chief Dan George: Actor and Activist exhibit. This travelling exhibit on loan from MONOVA: Museum of North Vancouver, developed in collaboration with the Tsleil-Waututh Nation and members of the George family, is on display until the end of August, 2021.
Info Booths:
Takaya Tours
OWL (Orphaned Wildlife) Rehabilitation Society
CPAWS-BC
North Shore Black Bear Society
Birds Canada
Nature Stations at Osprey Point and the eastern Mudflats!
and more TBA!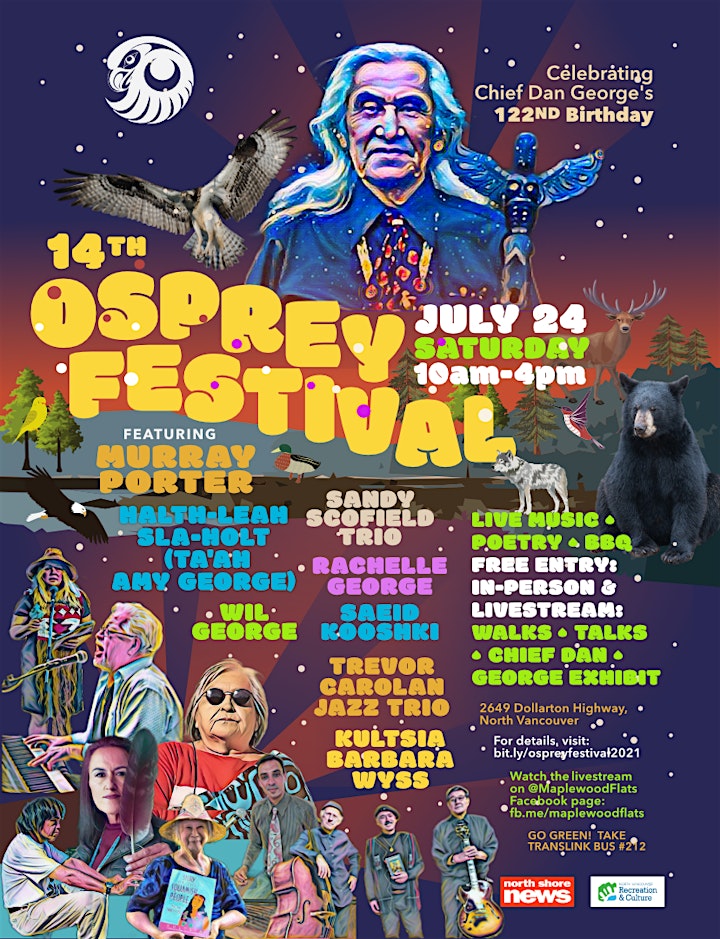 Organizer of 14th Osprey Festival: Celebrating Chief Dan George's 122nd Birthday
The Conservation Area at Maplewood Flats is a bird and wildlife sanctuary on Vancouver's North Shore, operated by the Wild Bird Trust of British Columbia.
WBT acknowledges that the Conservation Area at Maplewood Flats is on lands stewarded by Tsleil-Waututh Nation since time out of mind.  The Board is actively committed to reconciliation and redress, and is working in relationship with TWN.