Description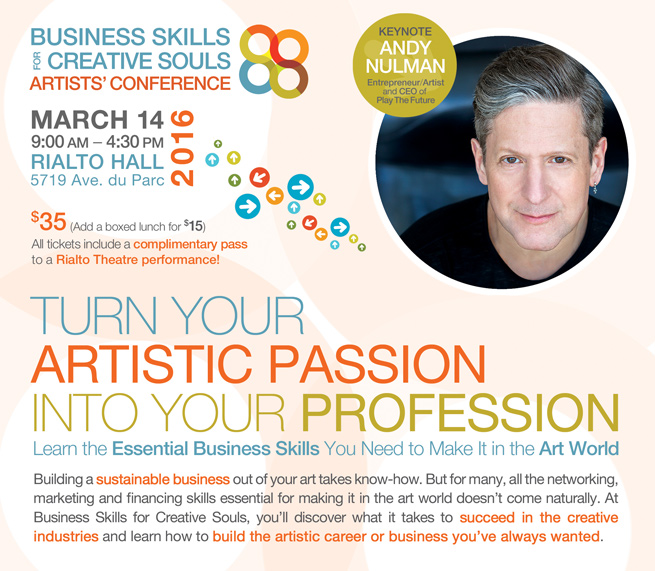 This conference will help you develop the business skills you need to succeed.
Hosting more than 150 participants, speakers and special guests annually, this not-to-be-missed event has over the years hosted some of Montreal's most renowned artists and cultural industry leaders. It is with immense pleasure that we announce Andy Nulman as our keynote presenter at this years' conference.
Join Andy Nulman and other renowned speakers from the Montreal cultural and business milieu and discover brand-new and exciting insights along with network-building opportunities, making it the "go-to" arts conference of the year.
Please note that this venue is not wheelchair accessible.
Cancellations must be made in writing and received on or before March 7, 2016. An administration fee of $10.00 will be deducted from the refund, which will be issued after the conference. Please know that YES respects your privacy and protects your personal information. We do not rent, sell or trade our mailing lists. The information you provide with this registration form will be used by YES for the sole purpose of service provision, and to keep you informed of activities, programs, services, special events, and other opportunities. If at any time you wish to be removed from our contact list, simply advise us by e-mail at info@yesmontreal.ca or by phone at 514-878-9788 and we will gladly accommodate your request.