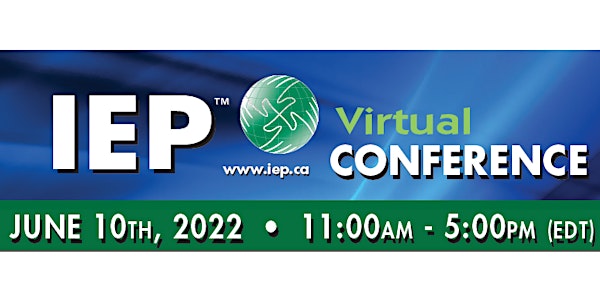 17th Annual IEP Conference (Virtual)
The IEP Conference is a unique Canadian initiative for Internationally Educated Professionals (IEPs).
About this event
Hope:
New Paths to Careers for Internationally Educated Professionals in Canada
Progress Career Planning Institute's IEP Conference, Canada's longest running and preeminent showcase for internationally educated professionals, returns Friday June 10th!
Opening our doors to the world – Free registration and unlimited access to keynote presentations, employer forums, IEP leader panels, skill building tutorials, and incredible networking opportunities – all from your time zone, your desktop!
This year's virtual conference examines how the traditional pathways to securing great jobs in Ontario and other Canadian regions have been impacted by COVID, climate change, sustainability, and inflation.
Discover career opportunities for IEPs like yourself who are flexible and ready to apply their skills and experience in Canada's rapidly evolving job market.
Whatever your path to Canada – the "PR Route", student visa, or just contemplating a move at this stage – get the latest information and insights on the in-demand skills, roles, and sectors in need of your talent.
Hear directly from employers, recruiters, industry experts, community leaders, and established IEPs:
• Local labour trends and job vacancies
• Communities experienced in welcoming and integrating newcomers into well-paying jobs and affordable housing
• Navigating Canada's culture – especially post-COVID and managing employer expectations of returning to the 'new' workplace
Join hundreds of other IEPs determined to Ask Questions, ready to Be Inspired, and absolutely committed to Get Connected for Professional Success in Canada!
Sector conversation hubs at this year's conference:
Engineering; Healthcare; Digital Technology and Finance & Accounting
Early Bird Incentive! Register by Monday, May 23rd to have your name entered to win fabulous prizes!
To download the flyer, please copy and paste to your browser:
https://www.iep.ca/content/uploads/2022/05/IEP-Conference-2022-Community-Flyer-1.pdf