18th Annual First Time Home Buyer Seminar
Description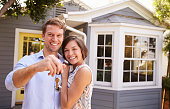 Are you thinking of buying your first home? New immigrant? Newly graduated? Young couple? Move down buyer? Investor?
Attend our 18th annual first time home buyer seminar with industry experts who have the knowledge, experience and passion to help you navigate the intricacies of buying real estate. Geraldine Santiago, published author of the "Complete Home Buyer's Guide for Canadians", "Sellling Your Home in Canada", and "Buy and Sell a Recreational Property in Canada" Self-Counsel Press Ltd. hosts and speaks at the seminar.
Want to know the latest market trends, new mortgage rules, how to choose the right professional for your needs & more! Our team or professionals have been providing guidance and information to the communities of greater Vancouver for the last 18 years and we are passionate about helping first time home buyers. Buying a home is probably one of the largest investments you will ever make, financially and even maybe emotionally. Whether you are a veteran or novice, buying a home can be intimidating and worrisome. Understanding the buying process can give you the confidence you need to make the right decisions. Whether you are buying a condominium or a leasehold property, our seminar is targeted to help first-time home buyers.