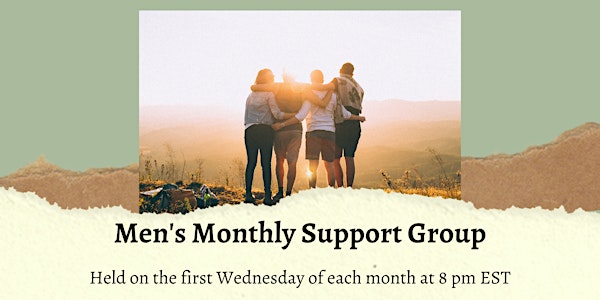 Men's Monthly Support Group
This monthly men's support group will create the space for men to come together and be vulnerable with one another.
About this event
This monthly support group welcomes men from all walks of life.
The purpose is to create the space for men to open up and discuss topics that they may not feel entirely comfortable sharing with other men.
Each month we will meet for an hour and a half to discuss our experiences with masculinity and our healing journeys.
These groups will be free and held at 8 pm EST on the first Wednesday of every month.
They will start with a quick 10-minute meditation to help clear and ground us.
Following the topic will be introduced for that meeting. The topics will range from issues with anger, suppressed emotions, fitting in with other men, boundaries, working through trauma and more.
One very important note...
This is a pro-feminist group and supports gender equality. Any anti-feminist talk or support of ideas such as "red pill" or "manosphere" will not be tolerated. This space is meant for us as men to collectively come together and talk responsibility for our own healing and not place blame on others.
If you have any questions feel free to reach out at any time.
If you RSVP and cannot make it please try to cancel your ticket as there is limited capacity each month.
Please try your best to be on time. I will close the Zoom meeting after 5 minutes from our start time
I look forward to beginning the healing journey with you!!!
Who am I?
My name is Chris. I graduated with a MA in Sociology at the University of Toronto in 2019. I have combined my educational background and lived experiences to help individuals uncover and release some of their deepest wounds.
I struggled for most of my life with suppressing the large majority of my emotions through drugs, alcohol and sex. These numbing vices accumulated a great deal of shame, but they never actually addressed the roots of the issues from which I was running away.
These issues became highlighted even more through my relationships as I had no boundaries and attempted to find someone to help me work through these embedded layers of trauma.
However, by meeting other men with similar issues, I discovered that I wasn't alone on this journey. I quickly found out that many other men have struggled with the same things. This support instantly transformed me and enabled me to start to have more compassion for myself.
For this reason, I feel inspired to start a monthly men's group to bring together men to heal alongside one another.