1er anniversaire de l'Accélérateur d'idées de Radio-Canada

Thursday, 3 March 2016 from 4:00 PM to 6:00 PM (EST)
Event Details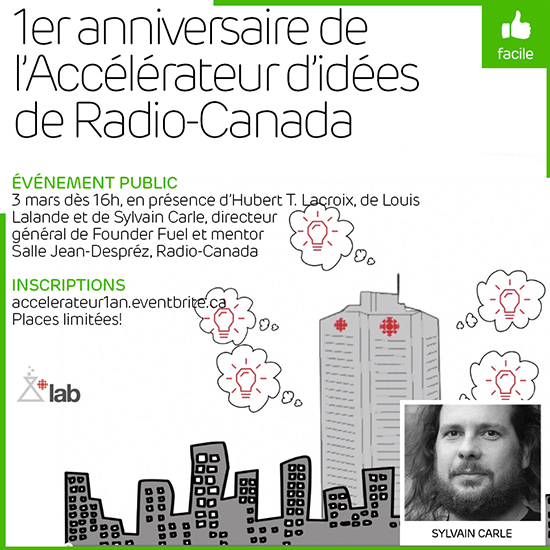 Vous êtes invités à célébrer le 1er anniversaire de l'Accélérateur d'idées de Radio-Canada. Après deux saisons d'idéation, fort de 1200 membres, d'une centaines d'idées et du financement de 4 prototypes, l'Accélérateur d'idées de Radio-Canada a permis de catalyser la psyché créatrice du service public ainsi que de prototyper les idées novatrices de ses employés. 

Pour l'occasion, les deux équipes lauréates de la saison Automne 2015 présenteront leur prototype respectif: Marine Fleury propose de résoudre le problème de viralité de l'audio sur les réseaux sociaux, et Christian Sylvain propose d'utiliser la technologie RFID afin de mieux répertorier l'équipement technologique et technique de Radio-Canada.

Avec nos invités, nous ferons le bilan des projets de 2015 et évoquerons la feuille de route pour la nouvelle année. Venez célébrer avec Hubert T. Lacroix, président de CBC/Radio-Canada, Louis Lalance, vice-président des Services français, Sylvain Carle, directeurgénéral de Founder Fuel et mentor, et avec nous!

À propos de l'Accélérateur d'idées:
L'Accélérateur d'idées de Radio-Canada est un processus de prototypage simple, social et ludique qui permet de faire émerger, de faire cheminer et de réaliser des idées novatrices tant numériques et que technologique. Ce processus vise à réaliser des prototypes pour diminuer les risques liés à des projets plus audacieux. Soumettez, votez, prototypez: l'Accélérateur d'idées de Radio-Canada vous permet de sortir de votre quotidien et de démontrer, à l'aide d'un prototype, la valeur d'une idée extraordinaire. 

Suivez les activités du Radio-Canada Lab sur Facebook ou sur Twitter, et abonnez-vous à l'infolettre.



When & Where
Salle Jean-Despréz, Maison de Radio-Canada, Montréal

Canada

Thursday, 3 March 2016 from 4:00 PM to 6:00 PM (EST)
Add to my calendar
Organizer
Le laboratoire numérique de Radio-Canada.