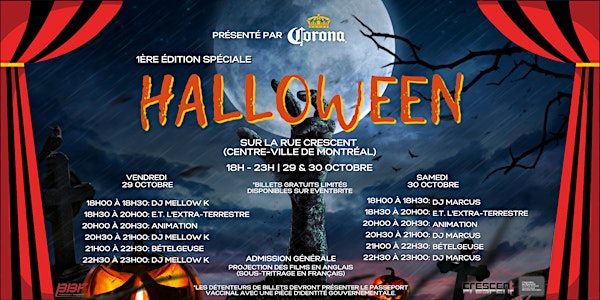 1ÈRE ÉDITION SPÉCIALE "HALLOWEEN" SUR LA RUE CRESCENT
1ÈRE ÉDITION SPÉCIALE "HALLOWEEN" SUR LA RUE CRESCENT
When and where
Location
Crescent Street Rue Crescent Montréal, QC H3G Canada
About this event
BBF Promotions et Événements et l'Association des Marchands de la rue Crescent sont fiers de vous présenter la première édition spéciale d'Halloween sur la rue Crescent au centre-ville de Montréal, entre la rue Sainte-Catherine et le boulevard de Maisonneuve Ouest.
Ces 29 et 30 Octobre prochains, venez vêtus de vos déguisements effrayants pour visionner des films classiques d'Halloween (versions originales en anglais avec sous-titrage en français) sous une ambiance festive en présence d'un DJ et de l'animation à l'extérieur.
Dépêchez-vous à être parmi les premiers à vous procurez vos billets gratuits disponibles dès maintenant (quantité limitée) : www.eventbrite.ca/e/1ere-edition-speciale-halloween-sur-la-rue-crescent-tickets-193686350087
Esprits d'Halloween, cet événement est pour vous!
ACCÈS
Chaque personne devra avoir un billet gratuit d'eventbrite selon les horaires et choix disponibles.
L'entrée du site se trouve au coin de Crescent et Sainte-Catherine du côté Nord de l'intersection. Dès votre arrivée, vous serez accueilli pour valider votre billet, votre passeport vaccinal, votre carte d'identité et une place vous sera assignée. Premier arrivé, premier servi.
Prévoir votre arrivée 30 minutes à l'avance afin d'avoir le temps pour les vérifications des mesures sanitaires et rejoindre votre place.
MESURES SANITAIRES
Les mesures de distanciation sociale en vigueur seront appliquées lors de l'événement.
Afin de demeurer en conformité avec le décret gouvernemental, les détenteurs de billets âgés de 12 ans et plus devront présenter leur passeport vaccinal et une pièce d'identité gouvernementale afin de pouvoir accéder au site.
Le port du masque sera requis en tout temps sur les lieux de l'événement tant que vous ne serez pas assis à vos places.
RESTRICTIONS
Aucune nourriture et aucune boisson ne sont permises sur le site.
Des chips et la bière seront en vente sur place.
RÈGLEMENTS
Les billets ne sont pas transférables .
Les billets ne sont ni monnayables ni échangeables pour une autre date.
Aucune personne d'âge mineur ne sera acceptée sur le site sans un accompagnateur d'âge adulte.
L'événement aura lieu beau temps mauvais temps.
*********************************************************************************************
BBF Promotions and Events and the Crescent Street Merchants Association are proud to present the first special edition of Halloween on Crescent Street in downtown Montreal, between Sainte-Catherine Street and de Maisonneuve Boulevard West.
This October 29th and 30th, come dressed in your scary costumes to watch classic Halloween movies (original versions with French subtitles) in a festive atmosphere with a DJ and outdoor entertainment.
Hurry to be among the first to get your free tickets available now (limited quantity): www.eventbrite.ca/e/1ere-edition-speciale-halloween-sur-la-rue-crescent-tickets-193686350087
This event is for everyone as long as you are in the Halloween spirit!
ACCESS
Each person who will come to access the site must have a free ticket purchased on the eventbrite link according to the schedule of choice or available.
Access to the site will be on Crescent Street at the intersection of Sainte-Catherine Street on the North side. Upon arrival, you will be greeted by a designated member of the event to validate your ticket, vaccination passport, ID card and assign you a seat on a first come, first served basis.
Plan to arrive 30 minutes early!
HEALTH MEASURES
The social distancing measures in effect will be applied during the event.
In order to remain in compliance with the recent governmental decree, ticket holders aged 12 years and older will be required to present their vaccination passport and a government issued ID in order to enter the event.
Masks must be worn at all times on the event grounds until you reach your seat.
RESTRICTIONS
Chips and beer will be sold on site. No outside food will be tolerated.
RULES
Tickets are not transferable.
Tickets are not redeemable for cash or exchangeable for another date.
No minors will be allowed on site without an accompanying adult.
The event will take place rain or shine.
*********************************************************************************************