Description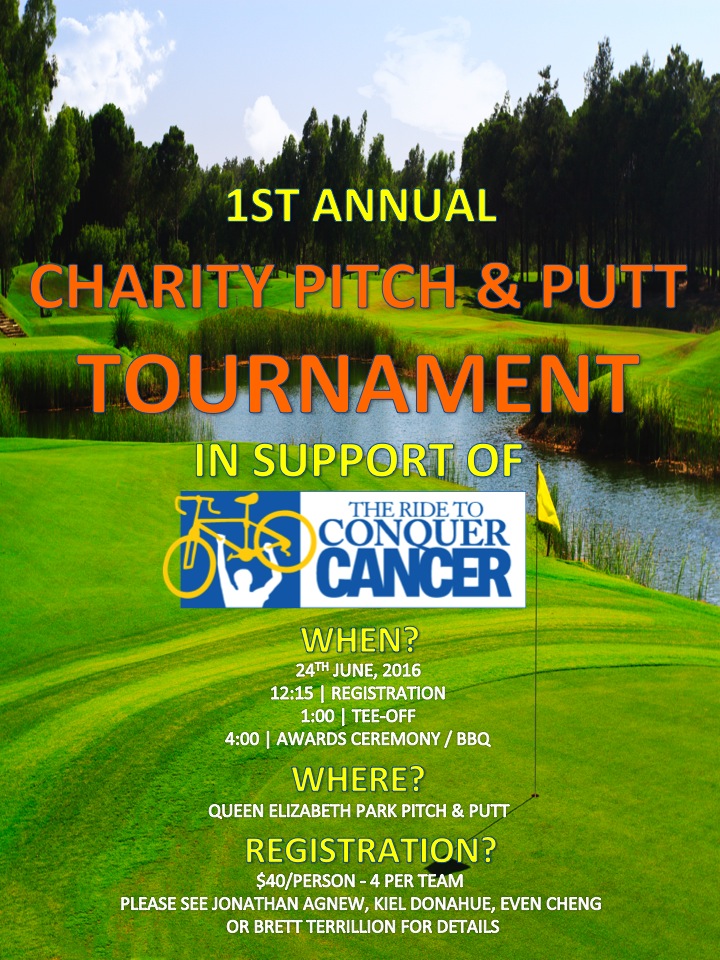 Hello Golfers,
Welcome to the 1st Annual Charity Pitch & Putt Tournament in support of the BC Cancer Foundation.
As many of you are aware, the organizers of the tournament (Jonathan Agnew, Kiel Donahue, Evan Cheng, and Brett Terrillion) have signed up to be part of the Ride To Conquer Cancer, a 2-day cycle from Vancouver to Seattle late this August. As part of this, we have each pledged to raise a minimum of $2,500 for the BC Cancer Foundation.
So come on out for a day of fun!
Tournement Details:
When: June 24th, 2016. Registration at 12:15PM. Tee-Off at 1:00PM. Awards / BBQ at 4:00PM.

Where: Queen Elizabeth Pitch & Putt (37th and Ontario). 18 holes of fun.

Cost: $40/Person. Maximum of four per team. Clubs (Putter and Iron) can be rented for $2/club. Balls can be purchased for $2/ball.

Format: 4-Man Scramble*. Details on format below.

Prizes: 50/50 Draw, $500 Hole-in-One Prize (Graciously pledged by Brandi Wingrove, Partner KPMG Enterprise), and a Best Overall Team Score Prize.
Registration:
1. Reserve your ticket here on Event Brite.
2. Fill out the following survery: https://www.surveymonkey.com/r/9MK2CWX
3. See Jonathan Agnew, Kiel Donahue, Evan Cheng, or Brett Terrillion for payment.
*The four-man scramble features teams of four players competing against one another. In this format, each team's players hit from the teebox, then the team members choose the best of the four shots for the next shot. All team members then play the second shot from that location, and again choose the best shot. Play continues in this manner until the hole is completed. The team then records its score and maintains that format for all 18 holes.