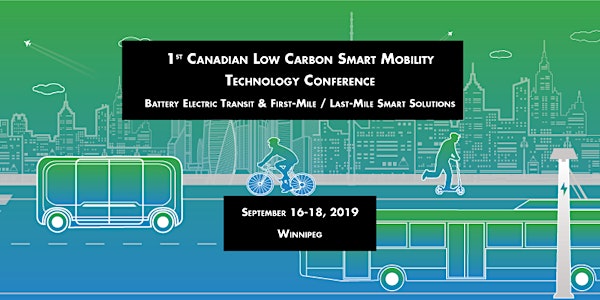 1st Canadian Low-Carbon Smart Mobility Technology Conference: Battery Electric Transit & First-Mile/Last-Mile Smart Solutions
When and where
Location
Radisson Hotel Winnipeg Downtown 288 Portage Ave Manitoba R3C 0B8 Canada
Description
Dear CUTRIC CRITUC Members & Stakeholders:
CUTRIC is announcing the 1st Canadian Low-Carbon Smart Mobility Technology Conference: Battery Electric Transit & First-Mile/Last-Mile Smart Solutions to be held in Winnipeg, Manitoba!
This conference is a first of its kind in Canada.
The conference will focus on battery electric transit technologies -- including battery electric buses (BEBs), coaches, and shuttles -- as well as smart mobility solutions such as low-speed electric autonomous shuttles for first-mile/last-mile and "Mobility as a Service" (MaaS) options.
The conference will help Canadian innovators, cities, transit systems and manufacturers gain insight into the most cutting edge technologies in Canada and worldwide.
Specific topics include:
Battery electric bus (BEB) technologies

Performance data from BEBs in operation in transit agencies

On route/opportunity & depot charging "smart" enabled solutions with storage integration

Electric coach bus systems for inter-city and regional transit

First-mile/last-mile smart solutions with low-speed autonomous electric shuttles

Integrated Mobility as a Service (MaaS) data platforms for seamless on-demand multi-modal mobility options
This conference will educate, inform, and mobilize public fleets, transit agencies, cities, technology developers, manufacturers and integrators across Canada who are keen to learn everything there is to know about electric buses and electric first-mile/last-mile solutions for zero-carbon smart mobility for the future.
Date: September 16th to 18th 2019
Location: Radisson Hotel Winnipeg Downtown288 Portage Ave, Winnipeg, MB R3C 0B8
Special Nearby Hotel Rates: Radisson Hotel Winnipeg Downtown
Book by Aug. 26 to receive a great rate
Conference Program Website: http://cutric-crituc.org/2019national
See you there,
Dr. Josipa G. Petrunic
Executive Director and CEO
Proudly Sponsored by:
Also, supported by:
Sponsorship and advertising opportunities are available.
Contact Lana Sanderson @ lana.sanderson@cutric-crituc.org for further information.
---
Chers membres du CUTRIC-CRITUC et partenaires d'affaires,
Le CUTRIC-CRITUC vous invite à participer à sa première conférence canadienne sur les technologies de mobilité intelligente à faible émission de carbone. Cette année le thème se concentrera sur les Solutions intelligentes en mobilité électrique à batterie et pour le premier / dernier kilomètre. Cette conférence aura lieu à Winnipeg au Manitoba du 16 au 18 septembre 2019. Cette conférence est une première en son genre au Canada.
Cette conférence, mettra l'accent sur les technologies de transport en commun à batterie - y compris les autobus électriques à batterie (BEB), les autocars, les navettes et les systèmes caténaires sans rails. Cette conférence sera également l'occasion de s'informer sur les solutions de mobilité intégrées intelligentes, y compris Mobility as a Service et des navettes électriques autonomes pour les solutions de mobilité premier kilomètre / dernier kilomètre.
Les participants de la conférence auront un aperçu des technologies les plus avancées au Canada et dans le monde.
Les sujets spécifiques porteront sur les:
Technologies BEB (autobus électrique à batterie)

Données de performance des BEB en service des sociétés de transport

Solutions de recharge intelligentes de nouvelle génération en route / opportunité et au dépôt

Futurs systèmes d'autobus électriques pour les transports en commun interurbains et régionaux

Solutions intelligentes du premier / dernier kilomètre avec navettes électriques autonomes à basse vitesse

Plateformes de données intégrées de mobilité en tant que service (Mobility as a Service) pour des options de mobilité multimodale à la demande intégré
Cette conférence sera une occasion unique pour sensibiliser, informer et mobiliser les opérateurs de flottes de véhicules publics, les sociétés de transport, les villes, les décideurs, les développeurs et les intégrateurs de technologies de tout le Canada qui souhaitent en savoir davantage sur les autobus électriques et les solutions de premier / dernier kilomètre et la mobilité intelligente à zéro émission de carbone.
Date: 16 au 18 septembre 2019
Lieu: Radisson Hotel Winnipeg Downtown288 Portage Ave, Winnipeg, MB R3C 0B8
Tarifs spéciaux hotel à proximité: Radisson Hotel Winnipeg Downtown
Réservez avant le 26 août pour obtenir un tarif préférentiel
Site web du programme de la conférence: http://cutric-crituc.org/2019nationale
On se voit à Winnipeg,
Dr. Josipa G. Petrunic
Directrice exécutive & PDG
Fièrement commandité par:
Supporter par:
Les opportunités de commandite et de publicité sont disponibles,
Contactez Lana Sanderson @ lana.sanderson@cutric-crituc.org pour plus d'information