Ticket prices for events in Canada now include taxes and fees, so the price you see is what you will pay.
1st Faculty of Medicine Symposium on Internationalization and Global Health
About this Event
***Unfortunately, in light of the recent COVID-19 developments in Ottawa, we are postponing the International and Global Health Symposium until the Fall. Stay tuned for more details on all IGHO activities, including virtual events. ***
Please register to all activities you plan on attending.
Please refrain from registering to two or more activities taking place at the same time.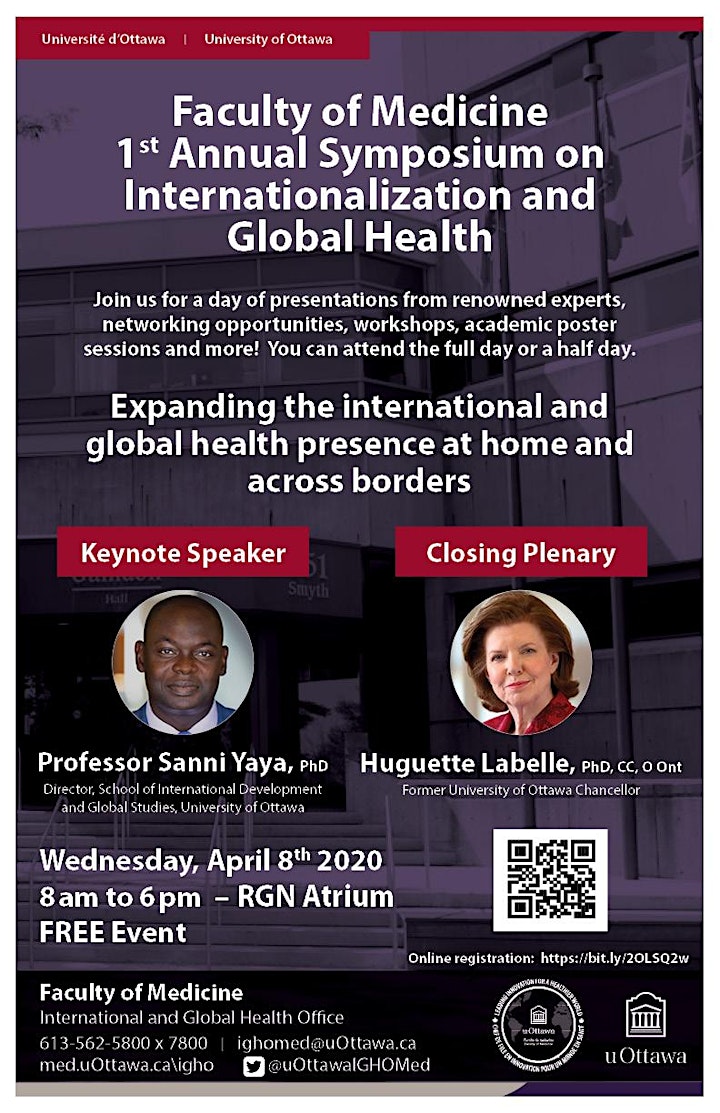 This year's Symposium theme is:
Expanding the international and global health presence at home and across borders.
Join us for a day of presentations from renowned experts, networking opportunities, workshops, academic poster sessions and more!
You can attend the full day or a half day.
The focus of the Symposium will be Expanding the international and global health presence at home and across borders.
Agenda overview:
7:45 – 8:20 Registration and Networking
8:30 – 9:00 Official opening ceremony with remarks from J. Frémont, President and Vice-Chancellor
9:00 – 9:45 Keynote speaker – Professor Sanni Yaya, Director, uOttawa School of International Development and Global Studies
9:45 – 10:00 Refreshment break
10:00 – 12:00
Workshop 1A: Résilience psychologique pour les intervenants en santé mondiale (Dr. Rachel Thibeault, in French)
Panel 1A – Global Health: Ethical Considerations when Crossing Borders (moderated by Dr. Manisha Kulkarni)
12:15 – 13:15 Lunch (Buffet Style)
13:30 – 14:30 75 years of international activity at the Faculty: A conversation with special guests! (moderated by Dr. Melissa Forgie and featuring Dr. Bill Cameron, Dr. Marie-Hélène Chomienne, Dr. Nicole Rouvinez-Bouali and Dr. Peter Tugwell)
14:45 – 15:45
Workshop 1B: Global Burden of Disease, Dr. Seyed-Mohammad Fereshtehnejad
Panel 2B – Breaking down silos in international medical research (moderated by Dr. Julian Little)
Panel 2C – The synergy between Global Health and social accountability: helping Canadian vulnerable populations (moderated by Dr. Claire Kendall)
15:45 – 16:30 International Connections Networking Activities
1. Continental Table Talk (Network by continent!)
2. "In what area is your research?" (Networking activity by participants' research interest)
15:45 – 16:30 Poster Session (all posters have been selected)
16:30 – 17:00 Closing Plenary by Former uOttawa Chancellor, Huguette Labelle
17:00 – 18:00 Networking and Reception
Join the #uOttawaFOM movement for Internationalization and Global Health!
Stay tuned! We will reveal more on this year's unique speakers and exciting programme!
For questions please contact ighomed@uottawa.ca