Description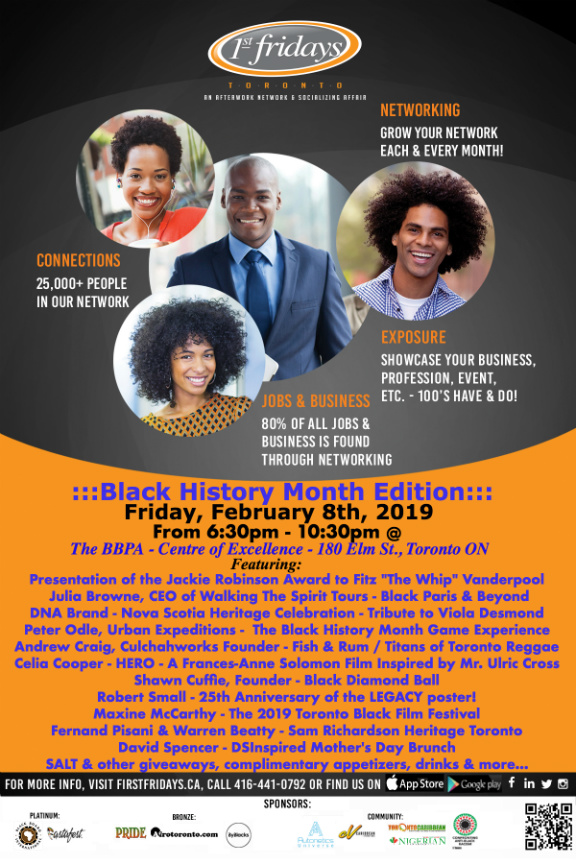 You are cordially invited to the
1st Fridays Black History Month Edition
Friday, February 8th, 2019
 @
The BBPA - Centre For Excellence
180 Elm St., Toronto ON


From 6:30pm - 10:30pm


Featuring:
Presentation of the Jackie Robinson Fortitude Award


Julia Browne, CEO of Walking The Spirit Tours - Black Paris & Beyond

DNA Brand - Nova Scotia Heritage Celebration - Tribute to Viola Desmond

Peter Odle, Urban Expeditions - The Black History Month Game Experience
Robert Small - 25th Anniversary of the LEGACY poster!
The 2019 Toronto Black Film Festival
Sam Richardson Heritage Toronto
TO Live Events Ticket giveaways
Complimentary appetizers & drinks & more...
Admission is $20 - $10 for students.
To order tickets online, visit:
or send email money transfers to events@firstfridays.ca and
text your name and security answer to 416-882-9863.

1st Fridays Sponsors:

Platinum:
Black Board International
Rastafest



Community:
Caribbean Vibrations TV
Planet Africa Network
Autonetics Universe
TorontoCaribbean Newspaper