Description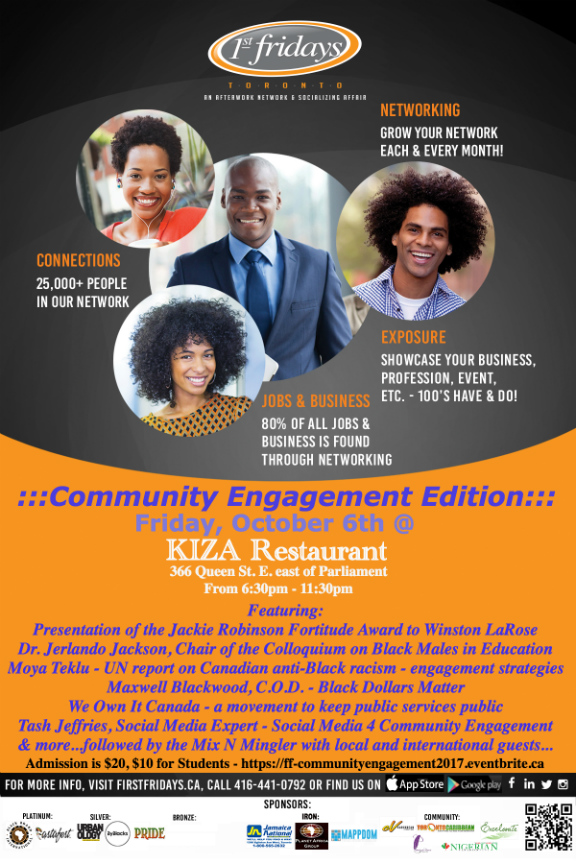 You are cordially invited to the
1st Fridays 'Community Engagement' Edition
Friday October 6th, 2017 @
KIZA Restaurant
366 Queen St. E., east of Parliament
Featuring:
Presentation of the Jackie Robinson Fortitude Award to Winston LaRose
Dr. Jerlando F.L. Jackson, Ph.D., Univ. of Wisconsin–Madison, Chair of the 6th Annual International Colloquium on Black Males in Education - "Global Community Engagement"


Lawyer Moya Teklu - UN report on anti-Black racism in Canada and potential community engagement strategies to implement recommendations

Maxwell Blackwood, C.O.D. - Black Dollars Matter
We Own It Canada - a movement of citizens, community groups and organizations acting to keep public services public
Tash Jeffries, Social Media Expert - Social Media 4 Community Engagement
Afroglobal Television Excellence Awards
& more...followed by the Mix N Mingler with local and international guests from the Colloquium on Black Males in Education...

Admission is $20, $10 for Students (at the door with valid id.)

To order tickets online, visit:
https://ff-communityengagement2017.eventbrite.ca

or send email money transfers to events@firstfridays.ca and
text your name and security answer to 416-882-9863.

1st Fridays Sponsors:

Platinum:
Black Board International
BlackCyberMall.ca
Rastafest

Silver:
URBANOLOGY Magazine
ByBlacks.com

Bronze Sponsors:
Afrotoronto.com
Pride Newsmagazine

Iron:
Jamaica National Building Society
TorontoCaribbean Newspaper
MAPPDOM

Community:
Caribbean Vibrations TV
Planet Africa Network
Excelovate
Nigerian Canadian News

For more information, visit:

http://www.firstfridays.ca/

or Find us on:

Facebook: https://www.facebook.com/groups/32442645953/?fref=ts

LinkedIn: https://www.linkedin.com/groups/First-Fridays-Toronto-3738275?trk=myg_ugrp_ovr

Twitter: https://twitter.com/FirstFridaysTO

Instagram: http://instagram.com/firstfridaysto

Sponsorship and advertising opportunities available -
contact info@firstfridays.ca or 416-441-0792​