Description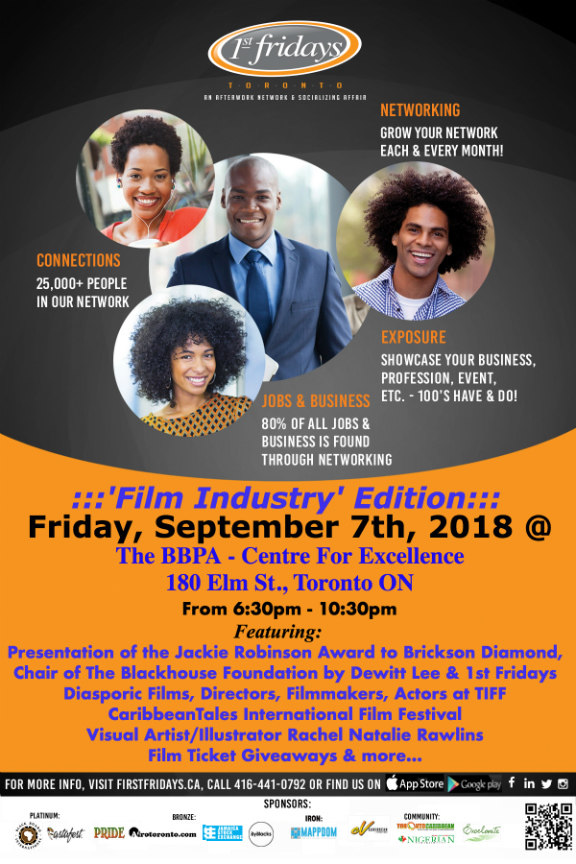 You are cordially invited to the
1st Fridays 'Film Industry' Edition
Friday September 7th, 2018
 @
The BBPA - Centre For Excellence
180 Elm St., Toronto ON
From 6:30pm - 11pm
Featuring:
Presentation of the Jackie Robinson Award to Brickson Diamond,
Chair of The Blackhouse Foundation by Dewitt Lee & 1st Fridays
Diasporic Films & Filmmakers at TIFF
CaribbeanTales International Film Festival

Visual Artist/Illustrator Rachel Natalie Rawlins
Film Ticket Giveaways & more...
Admission is $20, $10 for Students (at the door with valid id.)
Brickson Diamond:
Los Angeles, California based Brickson Diamond is CEO of Big Answers, LLC, which generates new partnerships and leverages impactful connections for clients in entertainment, technology and asset management. Brickson served for five years as EVP and COO of The Executive Leadership Council (ELC), the preeminent member organization of black board members, CEOs and senior executives. He spent 15 years at the Capital Group Companies, a $1.7 trillion investment management firm, in varied roles including private wealth management, institutional marketing and leadership development.
Brickson is a founding board member and chair of The Blackhouse Foundation. He is a trustee of Brown University, the Middlesex School (Concord, MA) and Tides (San Francisco, CA).
He is a graduate of Brown University and the Harvard Business School.
The Blackhouse Foundation works to expand opportunities for Black multi-platform content creators by providing pathways into career opportunities within film, television, digital and emerging platforms. We design and execute programming that raises the level of our constituents' acumen around financing, production, marketing and distribution. By creating a nucleus for continuing support, community and education in varied environments, we ensure artists of exceptional talent have the profile, prevalence and platforms to access emerging domestic and global opportunities.

To order tickets online, visit: