Description
$30 AT THE DOOR FOR NON-SMART HOME CHOICE MEMBERS WITHOUT MONTHLY MEMBERSHIPS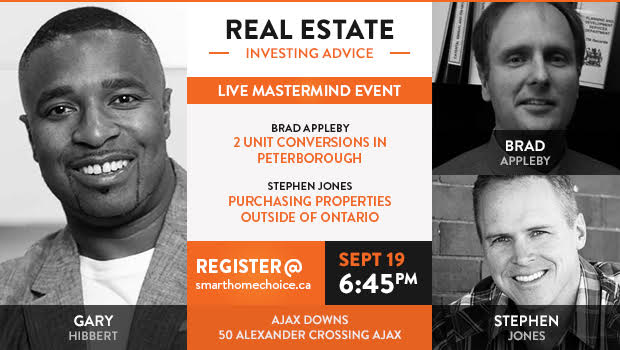 We are close to acquiring 40 homes in Peterborough in just over a year and we have no intentions on slowing down. The market is great, the rents are better than we ever imagined and the city has embraced Smart Home Choice and what we are doing for their community (creating affordable housing).
To show their appreciation Brad Appleby from the City of Peterborough will be coming out to share the recent amendment to the bylaw and how to ensure your conversion goes as smoothly as possible.
That same evening, a great friend and someone I look up to will be sharing his journey from working in the jail system, quitting his job, to owning multiple properties right across the Country. Stephen Jones, affiliated with Keyspire, REIN and Investor on Fire isn't scared to think outside the box for himself and his clients. In September you'll learn how to acquire passive investments outside of Ontario safely and securely by following a simple process.
Don't keep this to yourself... BRING A FRIEND FOR FREE. Lets head into the fall market with all the info you need to buy the best investment properties that could change your life forever!
Stephen Jones' Bio
Stephen Jones is a prolific Realtor®️ and Real Estate Investor whose consistent work ethic, drive, and passion have all earned him the reputation as a dedicated industry leader countrywide. Moreover, he is known as a Preferred Investment-Focused Realtor for the Real Estate Investment Network RPG Program, Keyspire, and Investor on Fire. Over the course of half a decade, he has garnered extensive hands on experience in helping fellow investors achieve their goals. In addition, he formerly served as a Manager for the Province of Ontario.
Embarking on his investment journey back in 1998, Stephen purchased his very first investment property in the heart of Pickering, Ontario for $147,000. To date, he is involved in land development and the owner of multiple properties not only in Ontario, but in Alberta and British Columbia as well. Currently, he is on a mission to assist his valued clients in building secure, lucrative real estate portfolios.

When he isn't working directly with new investors, Stephen Jones can be found spending quality time with his wife, 4 children and his dog. He is also a voracious reader and avid traveler.
Brad Appleby's Bio
Brad Appleby is the Planner of Subdivision Control and Special Projects with the City of Peterborough. Brad has been with the City since 2008 and is responsible for overseeing the City's planning approval process for plans of subdivision and condominium.
Additionally, Brad oversees policy initiatives such as the completion of secondary land use plans and functional planning studies for new growth areas. Currently, Brad is leading the City's secondary suites policy review and is active in the City's Official Plan review. Brad has a Master of Arts in Planning from the University of Waterloo and is a full member of the Ontario Professional Planners Institute and the Canadian Institute of Planners.
$30 AT THE DOOR FOR NON-SMART HOME CHOICE MEMBERS WITHOUT MONTHLY MEMBERSHIPS
Limited Seating. Register Today
6:00pm - Smart Home Choice Members Only Pre-Meeting
6:45pm - Doors open
6:45 - 7:10pm - Mix and Mingle
7:10 – 7:20pm – Introduction – Chris Hummell
7:20 - 8:00pm – Stephen Jones – Purchasing Properties Outside Of Ontario
8:00 – 8:20pm – Mix and Mingle Break
8:20 – 9:00pm – Brad Appleby – 2 Unit Conversions In Peterborough
9:00 - 9:10pm - Closing remarks – Gary Hibbert
9:10 - 10:00pm - Mix and Mingle