A virtual conference to mark the 20-year anniversary of TRPV4, discussing its role across various biological systems and associated disease.
About this event
TRPV4 was first published at the end of 2000 where it became a part of the TRP ion channel superfamily. As a polymodally-activated calcium-permeable, non-selective cation channel it is a family member in good standing to this day.
In the last two decades, we have witnessed fascinating discoveries which have moved us toward an improved understanding of TRPV4's basic mechanism of action, its physiologic, pathophysiologic and etiopathogenic (mal-)function.
The 20-year-birthday meeting to honor TRPV4 will be a welcome opportunity to celebrate this wide spectrum of topics, supported by deep and cutting-edge inquiry, and united by a focus on TRPV4 as a relevant molecular player. Therefore the aim of our meeting is to integrate the entire TRPV4 story as it has unfolded so far, so that all researchers can reassess their concepts and future exploratory directions. We also intend to clarify TRPV4-related areas of interest to new colleagues, teachers and communicators so that new concepts can be developed and the amazing TRPV4 story can be shared with a global audience.
What is included in your ticket:
Access to all live events in the agenda (see below)
The ability to network with speakers and fellow attendees from within the conference environment
An invitation to join our exclusive LinkedIn group to continue conversation and collaboration following the event
Unlimited access to the on demand content for 3 months
Preliminary Agenda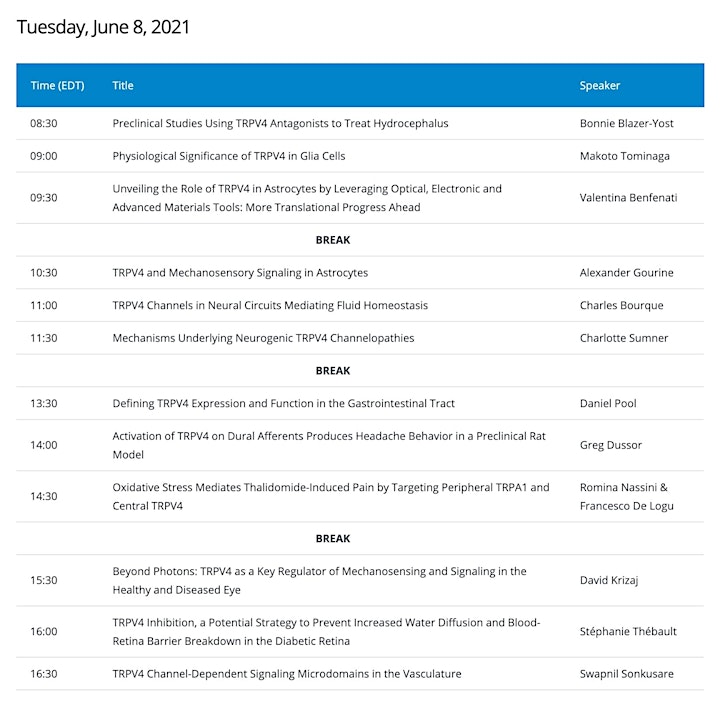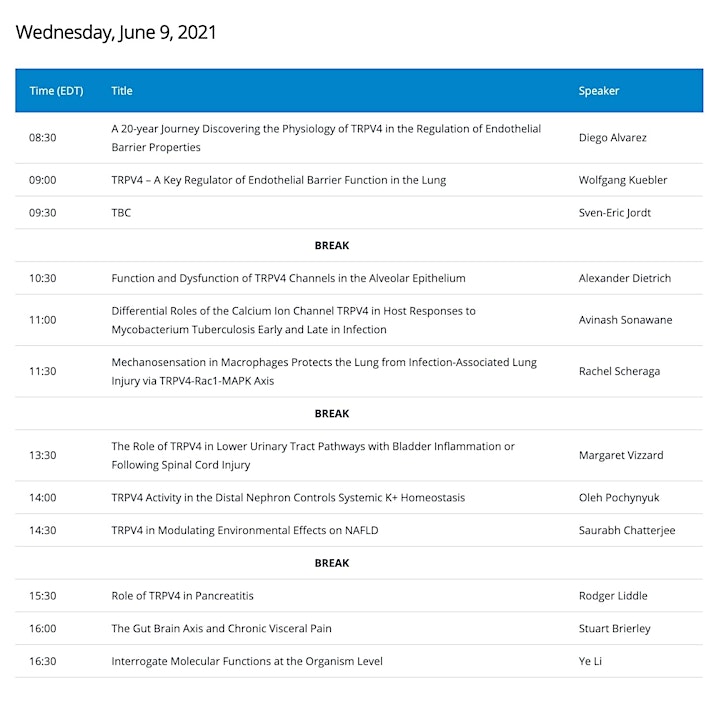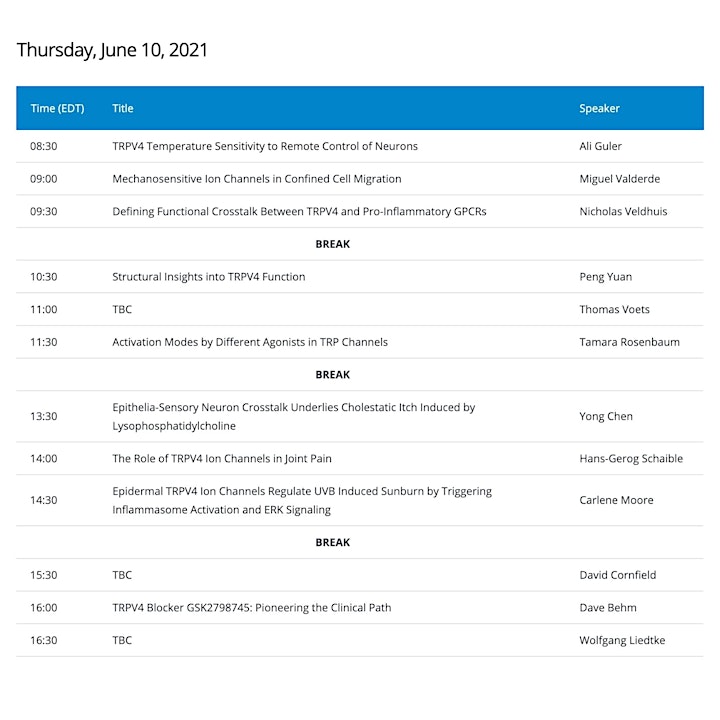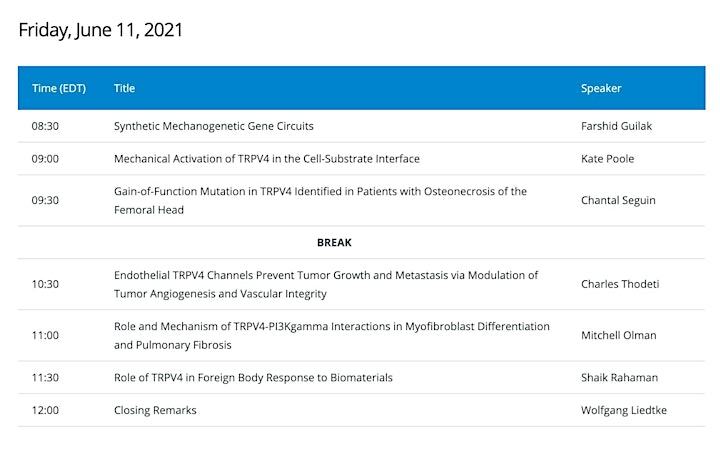 Confirmed Speakers:
Prof. Alexander Dietrich, MD
Alexander Gourine, PhD
Ali Guler, PhD
Avinash Sonawane, PhD
Bonnie Blazer-Yost, PhD
Carlene Moore, PhD
Chantal Seguin, MD
Charles Bourque, PhD
Charles Theodeti, PhD
Charlotte Sumner, MD
David Behm, MS
Daniel Poole, PhD
David Krizaj, PhD
Diego Alvarez, MD, PhD
Farsh Guilak, PhD
Francesco DeLogu, PhD
Greg Dussor, PhD
Prof. Hans-Gerog Schaible, MD
Kate Poole, PhD
Makoto Tominaga, MD, PhD
Margaret Vizzard, BA, PhD
Miguel Valverde, PhD
Mitch Olman, MD, MA
Nicholas Veldhuis, PhD
Oleh Pochynyuk, PhD
Peng Yuan, PhD
Rachel Scheraga, MD
Rodger Liddle, MD
Prof. Romina Nassini
Saurabh Chatterjee, PhD
Shaik Rahaman, PhD
Stephanie Thebault, PhD
Stuart Brierley, PhD
Swapnil Sonkusare, PhD
Tamara Rosenbaum, PhD
Thomas Voets, PhD
Valentina Benfenati, PhD
Wolfgang Kuebler, MD
Wolfgang Liedtke, PhD
Ye Li, PhD
Yong Chen, PhD