201. Advanced Blockchain Trust & Consensus - Live Online Course
Event Information
Refund Policy
Refunds up to 30 days before event
Learn how trust is established in decentralized Blockchains and about popular consensus mechanisms
About this Event
Learn More at TransformationWorx
CIO Certified Blockchain Professional (CCBP)
CIO Certified Blockchain Professionals are business and technology executives, senior management, innovation and transformation strategy consultants, and advisors. They own and lead enterprise-wide and cross-ecosystem Blockchain and Digital Transformation projects.
CCBPs have a deep understanding of Blockchain, cryptocurrencies, and digital assets across multiple areas including technology, business, regulatory, governance, risk management, policy, vendor eco-system, solution design, innovation strategy and business case development. However, beyond a deep understanding, they demonstrate the ability to critically assess business and technology problems, strategize and lead the decision making process to orchestrate complex and highly fluid transformation projects that traverse multiple lines of business and external partners.
The 200-level courses teach seasoned professionals the skills needed to achieve this. Certification requires demonstration of these skills via an online exam and a capstone project. Either completion of 100-level courses or equivalent knowledge is needed for this program.
201. The Blockchain Construct - Trust, Decentralization and Consensus
What you will learn: This course digs deeper into how trust is established in decentralized and distributed Blockchains. You will learn how several important Consensus mechanisms work, when and how they are applied to establishing trust and overcoming security threats.
Audience: Open to business and technology professionals who are learning about Enterprise Blockchain and Digital Transformation.
4-hour Live Stream courses
Level: 201
Certification: CCBP and CCBA
Pre-requisite: Course 101 or Equivalent Understanding
Dates and Times: All sessions are Live Streamed in the Eastern Time zone (Toronto, Canada) and Available Globally
Sept 29: 3:00 PM Eastern Time (Toronto, Canada)
Nov 30: 3:00 PM Eastern Time (Toronto, Canada)
Optional Blockchain Course Book: Participants can optionally order the course workbook. Please note that the workbook covers the material for all 200-level courses. You only need to order the book once and NOT for each 200-level course you take for the CCBP certification.
Workshop Content
With all new disruptive technology innovation strategy development framework - used by leading management consultants including McKinsey, Bain and BCG.
Pre-learning materials will be provided ahead of the course.
The Blockchain Construct - Trust, Decentralization and Consensus
How is trust established in Blockchains?
Trust in centralized vs. decentralized systems
Considerations for decentralized and distributed networks
Consensus mechanisms - PoW, PoS, dPoS, PBFT and derivatives, Round Robin
Consensus (PoW) in Bitcoin: Hashing and SHA 256, how transactions are added to blocks and blocks mined onto the Blockchain.
Differences between different consensus mechanisms
Deeper understanding of PBFT and use for permissioned Blockchains
Practical Byzantine Fault Tolerance (PBFT) consensus
XFT
Federated BFT
CFT
Consensus in Hyperledger Fabric, Quorum, Ethereum, Bitcoin, EOS, Ripple, Corda, and other popular Blockchains and DLTs
Important Information
Certification: This course provides the foundational knowledge needed for all of the certifications. Certification requires successfully passing the online multi-choice exam. CCBP certification candidates also receive a capstone (Blockchain strategy and lean business model) template and receive feedback on the capstone. Successfully completing the capstone is needed for the CCBP certification only.
Cost for Certification: Please note that there is an additional fee for review of the capstone project and the certification exam. This will be kept to a minimum and shall not exceed $300 for those registered for the bootcamps. Bootcamp participants will be emailed a coupon code to reduce certification costs.
Pricing and Discounts: Discount and coupon codes are for limited time only and may be discountinued at any time. Expect the price for any given course to increase closer to the date of the course.
Refund Policy: Refunds are issued less processing and creditcard/Paypay fees as long as cancelation is received 30 days in advance of the event.Unfortunately we are not able to provide refunds within 30 days of event.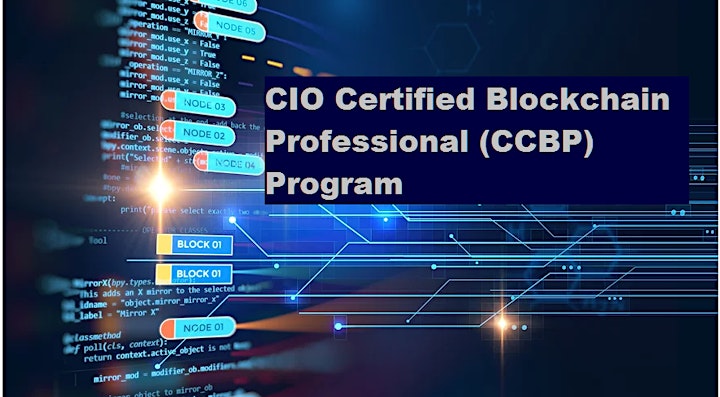 Date and Time
Location
Refund Policy
Refunds up to 30 days before event