2014 Geo Open Source Conference presented by GeoPhilly and LocationTech

Thursday, 20 November 2014 from 1:00 PM to 8:30 PM (EST)
Event Details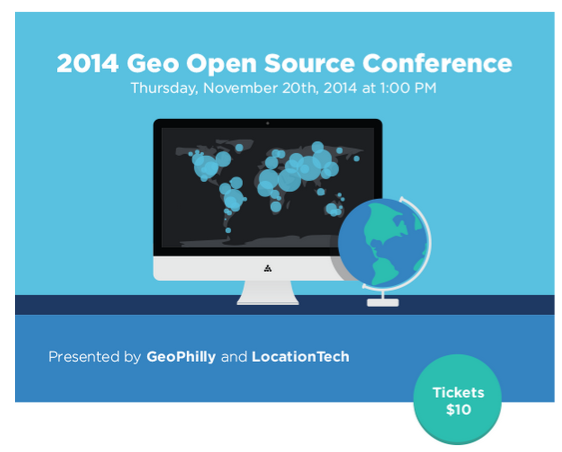 Philadelphia's LocationTech event will be a conference-style speaker series featuring technical talks on the convergence of open source and geospatial. This will also be a GeoPhilly event hosted by Azavea. A social happy hour will follow.
Afternoon Workshop:
1:00-5:30pm
Arch Street Meeting House
320 Arch Street, Philadelphia 
Evening Happy Hour:
5:30-8:30pm
Buffalo Billiards
118 Chestnut Street, Philadelphia 

Preliminary Agenda:
1:15pm Keynote Michael Brennan, SecondMuse
Michael Brennan leads projects focused on technology and social impact such as the National Day of Civic Hacking. He also leads SecondMuse's Internet Freedom program which focuses on needfinding and localization to enable safe, secure access to the Internet around the world. He has a Ph.D. in Computer Science from Drexel University where he co-founded their Privacy, Security and Automation Lab. Michael is passionate about catalyzing positive social change through open technology communities, socially conscious software development, and free and open access to the Internet.
2:00pm Ingrid Burrington, Mapzen
Open Source's Boundary Issues: A Talk On Building Better Gazetteers
Geocoding remains one of the hardest problems in open source geo. It's still really hard to get a clear answer to the question "Where am I?" To some extent this is a data problem, but a lot of it's a human problem—people don't actually agree on the answer to that question a lot of the time. This is a talk about the role of administrative and political boundary data in geocoding, the current limitations of open source data in that space, and different approaches to defining place boundaries.
2:25pm Ryan Arana and Josh Yaganeh, Esri
geobin.io - Lessons learned building an opensource geo web app with Go
We made geobin.io. We'll talk about what that is and how we made it. You'll hear about the nitty-gritty details of how we wrote this geo web service using Google's Go programming language. We'll go over what worked, what didn't, and what's left for the project. Specifically, we'll cover: Concurrency, Websockets, Searching for geo in arbitrary data, Mocking services for tests, Middleware, and Deployment.
2:50pm Lauren Ancona, the Corzo Center for the Creative Economy at University of the Arts
Parkadelphia: building the first street parking mapplication for Philly.
Using open source tools including QGIS, Mapbox and CartoDB, we're assembling the myriad of layers necessary to produce a complete reference of all parking rules in the city. With four city and state agencies responsible for street signage, it's a more complicated task than you'd think - but help has come from the least likely sources. Want to be the first to try it out? Sign up for updates at parkadelphia.org.
3:45pm James Tyack, Software Engineer
Civic hacking with impact - using open data and crowdsourcing to map and improve accessibility in Philadelphia
Unlockphilly started out as a weekend hackathon project with an objective to map accessible stations and venues. The project has grown and is making an impact through collaboration with community members and groups that support the interests of people with disabilities. This talk discusses the project and the importance of making buildings, maps and apps accessible to everyone.
4:10pm Rob Emanuele, Azavea
Distributed tile processing with GeoTrellis and Spark 
"GeoTrellis is a geospatial Scala library and framework for doing high performance geospatial processing in a distributed environment. This past year developers of GeoTrellis have created extensions to the Spark cluster computing platform to ingest and process raster data stored in Accumulo and HDFS. Spark and GeoTrellis can be used to process and serve raster data through web services to create TMS tile layers that can be used on web maps. The framework can work with both spatial-only tiles, as well as spatial-temporal tiles such as climate model data.In this talk I'll describe the process of using GeoTrellis to ingest raster data into Accumulo, and give examples of how we can manipulate that data using spark.

4:35pm Matt Amato, Analytical Graphics
Data-Driven Geospatial Visualization with CZML and Cesium
CZML is an open JSON schema for data-driven geospatial visualization on the web. Cesium is the premier open-source WebGL globe and map for visualizing CZML.  With an emphasis on high-fidelity, time-dynamic visualization, Cesium and CZML handle both traditional datasets as well as geospatial data that can not be expressed in existing standards, such as KML or GeoJSON. This talk introduces CZML with simple examples and builds upon them to create complex, real world demos that illustrate the need for new ways of thinking about and visualizing data.


Have questions about 2014 Geo Open Source Conference presented by GeoPhilly and LocationTech?
Contact LocationTech
Attendee List
Sort by:

Date

|

First Name

|

Last Name
When & Where

Arch Street Meeting House
320 Arch St
Philadelphia, PA 19106


Thursday, 20 November 2014 from 1:00 PM to 8:30 PM (EST)
Add to my calendar
Organizer
LocationTech
LocationTech is a vendor neutral community for individuals and organizations who wish to collaborate on commercially-friendly open source software that is location aware.
LocationTech hosts technology projects and helps cultivate both an open source community and an ecosystem of complementary products and services.
2014 Geo Open Source Conference presented by GeoPhilly and LocationTech