Location
Trinity Baptist Church
1905 Springfield Road
Kelowna, BC
Canada
Description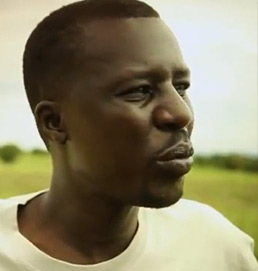 Okello Kelo Sam, is a motivating example of the power of human drive and positive attitude. Okello finds hope and humour even at the brink of death, and his presentation motivates participants to discover what drives their own passions. Beginning with the emotional story of his desperate drive to Northern Uganda, and his reasoning for suddenly deciding to stop, he tells the tale of how he began Hope North, a home, school, and rehabilitation sanctuary for former child soldiers.
Listeners will be inspired to feel good by doing good. The story of Okello discovering his own drive, he will inspire listeners to discover what drives them. Okello punctuates his memorable story with original music, and inspiring messages for all of us. A trained performer prior to the war, Okello uses the arts as a platform for education and social activism. He is a gifted actor who has had starring roles in the films "Abducted: War Child," directed by Robert E. Altman, and "Silent Army," directed by Jean van de Velde which premiered at Cannes Film Festival in 2009. Both films address the crisis of child soldiers. He also appeared in "The Last King of Scotland," as well as serving as choreographer and composer for the film. www.hopenorth.org
Says Okello,
"I will not even think of failing. I will not even think of stopping. Because if we all had a challenge and stopped, then what would happen?"
Volunteers from Kelowna based organization Niteo Africa, came across Okello and Hope North last summer while working on their project delivering literacy centres in the region. Moved by the stories shared by the boys one night around the fire, they were also inspired by their collective desire to move towards peace. Niteo Africa volunteers came home to Kelowna determined to bring this story and Okello Sam to Kelowna.
The Global Citizen Kelowna Speaker's Series Event will also feature the Global Marketplace. 20 + locally based organizations and NGO's will be on hand to showcase different ways to help make the world a better place. Learn how local groups are supporting the UN Millennium Development goals in their own unique and astounding ways. Find out about the many different ways you can become a volunteer locally to make an impact globally.
In partnership with Niteo Africa, School District #23, the Global Citizen Kelowna Speaker Series is presented this year by SUN FM and JCI Okanagan
About Niteo Africa:
Niteo Africa is a partnership of Ugandans and Canadians that supports quality education for Ugandan children. We support schools and educators in their work of strengthening the literacy culture in Uganda. We provide sustainable literacy centers to local Ugandan schools – converted shipping containers supplied with books and resources.
We develop cross-cultural relationships through annual trips to Uganda. Based out of Kelowna, we are dedicated to building a future where there is no need for orphanages, where children become leaders, and where the society flourishes. We believe that quality education is the key to building this future. Visit: http://www.niteoafrica.org