2015 Canadian Society for the Study of Higher Education (CSSHE) Graduate St...
Sales Have Ended
Ticket sales have ended
Thank you for registering for this event. We are looking for to seeing you in Ottawa! -Kathleen and Deanna
Sales Have Ended
Ticket sales have ended
Thank you for registering for this event. We are looking for to seeing you in Ottawa! -Kathleen and Deanna
Description
Planning Your Post-graduation Transitions:
Academic and Alt-Academic Options
Join other graduate students from across the country for an exciting day networking and learning about options and career strategies relevant for every graduate student studying higher education. The day will be focused on planning career development strategies for both academic and practitioner careers, including managing your online professional identity.
The schedule for the day is as follows:
10-10:30am Registration and Introductions
10:30-12pm Making a Successful Transition to Academic or Alt- Academic Careers
Two speakers will present personal perspectives of post-phd transitions. The first, Dr. Bryan Gopaul, will share his experience transitioning from a PhD program into an academic career. The second, Dr. Jennifer Polk, will discuss her experiences of transitioning into alternative-to-academic career. Both speakers will highlight what worked well/didn't work well for them and will also share recommendations for graduate students who are looking at post-phd opportunities.
Speaker #1: Bryan Gopaul, PhD
Bryan Gopaul is a graduate of OISE/UT and is now an Assistant Professor of Educational Leadership at the Warner School of Education and Human Development at the University of Rochester. From 2012-2014, he completed a post-doctoral fellowship in the Graduate School of Education at the University of Pennsylvania. During doctoral study, Gopaul served as a graduate student representative for Division J (Postsecondary Education) of the American Educational Research Association (AERA) and facilitated multiple workshops and initiatives for graduate students to encourage successful completion and post-graduate employment. Gopaul's research interests focus on the experiences of graduate students and the changing nature of faculty life and work. Specifically, he is currently exploring mobility among doctoral students and early-career faculty members moving through doctoral study and into the academic profession.
Speaker #2: Jennifer Polk, PhD
Jennifer Polk works as an academic, career, and life coach. Her clients include graduate students working on dissertations and PhDs figuring out life and work beyond the tenure track. Find Jen online at FromPhDtoLife.com, and at her University Affairs blog. Join her twice a month for #withaPhD chat on Twitter, and at the monthly Versatile PhD Toronto meetup in Toronto. In May 2015 she will co-present the second annual Beyond the Professoriate virtual conference.
Twitter: https://twitter.com/FromPhDtoLife
12pm-1pm LUNCH (included)
1pm-2:30pm Managing Your Online Presence: Considerations for Graduate Students
This session will have participants explore some of the potential for online presence, particularly for graduate students. The speaker for the session, Melonie Fullick, will discuss how graduate students may benefit from interacting and engaging in online social media platforms. Discussion will also involve how to use different platforms for social and scholarly needs while in graduate school, and how this online activity may be beneficial post-phd. Attendees will consider what their personal online presence looks like, how it can be improved, and how it can be used for different needs.
Speaker: Melonie Fullick, PhD Candidate
Melonie Fullick is a writer, researcher, and student of Education. Her current research focuses on university governance, Canadian post­secondary policy, and communication and organizational change, examining the processes and effects of policy changes at various levels on the work and experiences of students, faculty, staff and administrators. Melonie holds a BA in Communication Studies and an MA in Linguistics. She has written critically about academic issues for various publications including Inside Higher Ed, the Globe and Mail, the Guardian UK, University Affairs, and Academic Matters, and she can be found on Twitter at @qui_oui and through her blog, Speculative Diction.
2:30pm-4pm CV Clinic
Bring your CV and get some feedback on how to improve your CV for your career ambitions. One-on-one discussions with people from different areas will help you identify where your CV can be strengthened.
Reviewers will be scholars or administrators from the college or university sector as well as from relevant industry/alt-ac fields. This page will be updated as we confirm the names of the reviewers.
Reviewer 1: Bryan Gopaul
I have participated on faculty search committees as a graduate student and as a faculty member, so I have had multiple opportunities to review applicants' CV for professorial appointments. Further, I recently undertook the process of searching for a professorial position, and spent considerable time and energy modifying my CV for various institutions and programs. Fortunately, I was able to engage with a number of friends and mentors in higher education about how to craft my CV, and can share these insights and strategies with clinic participants.
Reviewer 2: Richard Wiggers
Richard is the Executive Director, Research and Programs, with the Higher Education Quality Council of Ontario (HEQCO). In addition to personally authoring a 2013 study targeted at doctoral candidates and graduates (So You Want to Earn a PhD?: The Attraction, Realties, and Outcomes of Pursuing a Doctorate), and recently completing a survey of part-time faculty at Ontario colleges and universities, Richard is also currently planning studies on postdoctoral pathways. He also conducts approximately 50 job and informational interviews each year, and speaks often to various audiences about what it takes to transform PSE credentials and skills into jobs and careers.
Reviewer 3: Rob Shea
Rob Shea is the associate vice president (academic and student affairs) at the Marine Institute Campus of Memorial University of Newfoundland. He has spent over 25 years in the post - secondary field. He is a faculty member in the Faculty of Education at Memorial University teaching graduate and undergraduate students in the post - secondary studies option. He was the founding director of the department of career development and experiential learning at Memorial and is the founding editor of the peer reviewed Canadian Journal of Career Development . Rob has spent over 30 years as a researcher, instructor and administrator in the field of career development. He is currently principal investigator on a 5 year research project on career integrated learning working and President of the International Association of Student Affairs and Services representing 1300 higher education faculty and administrators from 52 countries around the world.
---
The organizing committee gratefully acknowledges the major sponsors of the 2015 Graduate Student Pre-conference, whose major contributions have made this conference possible: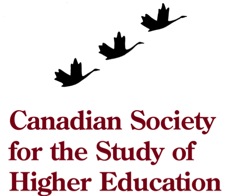 Find out more about graduate programs at SFU here: http://www.sfu.ca/education/gs.html
Find out more about graduate programs in the Leadership, Higher and Adult Education department at OISE here: http://www.oise.utoronto.ca/lhae
Find out more about CSSHE here:
Join other CSSHE graduate students on Facebook!
Organizer of 2015 Canadian Society for the Study of Higher Education (CSSHE) Graduate Student Preconference