2015 Urban Farming Certificate Program: Food Skills in Action

Saturday, 28 March 2015 at 9:00 AM

-

Wednesday, 21 October 2015 at 12:00 PM (PDT)
Event Details
We are using Eventbrite as a registration tool only.
In order to save costs for participants we will be taking cash,  cheque or email money transfer to bypass the large VISA ticketing fee on Eventbrite.
Complete registration by phoning:
250 884 0223
Full payment must be received by the course start date.
Course fee's and deposits are listed below!

In the event that you can't pay the full course fee upfront arrangements can be made.
Please contact us: masonstreetfarm@gmail.com

What is the Urban Farming Certificate Program?
In the Urban Farming Certificate Program, students will learn the theory and application of intensive urban food production and the foundations of holistic ecological farming. The focus of this program will be on the application of the theory learned in the classroom. Over 60% of the instruction will be on the ground building soil, building farm infrastructure, planting, propagating and growing food. Mason Street City Farm has spent a decade honing techniques specific to ecological urban food cultivation. Whether you're a novice  gardener or a budding farmer, this program will provide you with the core skills needed to create a thriving productive food system on a home or commercial scale.
Who is this program for?

Novice gardeners

Organic Master Gardeners

PDC graduates

Aspiring farmers

Community activists 

Scheduling and Fees*
The UFCP is broken into two modules.
Full Course (Module 1 & 2 : 80 hrs)                                     $795
  Schedule: March-October (For actual dates, see module 1 and 2 below)
  Classroom time: Two weekday evening courses per month
  Practical/Hands on: One full weekend day course per month
  Deposit: $195 due March 15th

  *Remaining Course Fees due April 1st.
Module 1 - Ecological Farming in the City                   
March-July
  Orientation  9 AM-12 PM Saturday March 28th

  Theory classes         20 hrs
  Wednesday evenings 7PM: Apr 1, Apr 15, May 6, May 20,
                                                 June 10, June 24, July 8, July 22

  Practical/Hands on: 28 hrs
  Saturdays 9 am-4:30:           Apr 11, May 9, June 13, July 18

Module 2 - Integrating Systems: Closing The Loop    
September-October

  Theory classes         10 hrs
  Wednesday evenings 7PM: Sept 9, Sept 23, Oct 7, Oct 21
  Practical/Hands on: 22 hrs
  Saturdays 9 AM-4:30 PM:    Sept 12, Sept 26, Oct 17

Course Location
All evening theory classes will be held at Limbic Media.
740 Discovery Street
All weekend practrical/hands on classes will be held at Mason Street City Farm
1015 Balmoral Rd
Course Overview
Module One (March-July)
Ecological Farming in the City
This module offers a broad spectrum of ecological and high yielding
approaches to year round food production. We will explore the many
unique benefits and methodologies of growing food in the city.
The topics covered in this module are, and not limited to:
Planning and designing your year round food garden

Growing your year round food garden

Annual vegetable plant propagation


Foundations of soil health (Biology, Compost, Compost Tea)

The resourceful farmer: Up-cycling the urban waste stream (gathering free compost materials)

Transitioning lawn into food cultivation


Identifying and mitigating common pests and diseases

Four season plant propagation

Urban livestock

Farm infrastructure (building greenhouses, trellising, polytunnels)

Season extension

Introduction to aquaponics

Smart harvesting and processing techniques

Community food systems (Working with the City, ie bylaws)

Land acquisition and tenure
Module Two (September/October)
Integrating Systems: Closing The Loop
This module expands on the foundations of ecological food cultivation by looking at specific   fields   of interest in the alternative economy. Through the lense of permaculture we will explore ways to connect the many different elements of a homestead* to a larger community food system. Whether you wish to evolve your own urban homestead or start a new food based ecological business, this module provides an in depth introduction to :
Applied aquaponics

Mushroom cultivation

Urban earthworks

Water systems

Perennial fruit and vegetable propagation (grafting/cuttings)

Pollinators (honeybees, blue orchard mason bees, etc.)

Filling the pantry (preserving the harvest)

Seed saving

Marketing, distribution and sharing surplus
*By homestead we are referring to any accessible piece of land, whether it be privately, publicly or cooperatively owned.  
*Module 1 is not a prerequisite for Module 2 but it is strongly recommended that those taking only module 2 have a practical understanding of the topics covered in Module 1.
Urban Farming Certificate Graduates walk away with:
the ability to design a beautiful urban food system using practical and ecological techniques that promote fertility, reduce reliance on fossil fuels and increase biodiversity.

a better understanding of the science and alchemy of a healthy biological soil system.

the ability to resourcefully identify and acquire the elemental materials for building your farm. (Infrastructure materials, compost materials)

a cultivated awareness of the elements involved in an inclusive community food system.

the necessary tools to creatively participate in growing alternative economies through entrepreneurship. (Growing mushrooms, plants, fish, food etc for profit)

an  "Ecological Food Skills Certification"
We are very excited to finally be offering this program. It has been a decade in the making. We are keeping the course relatively small to ensure a quality educational experience that is rooted in practical skill building.
There are 15 spaces available.
One partial subsidy available.
Instructors:
Angela Moran Director @ Mason Street City Farm
Jess Brown Director @ Mason Street City Farm

Julia Ford Nursery Manager @ Mason Street City Farm
Danielle Stevenson Mushroom Specialist 
Jesse Howardson Seed Security 
Mighk Simpson Urban Planner and Permaculture Designer (Portland City Repair)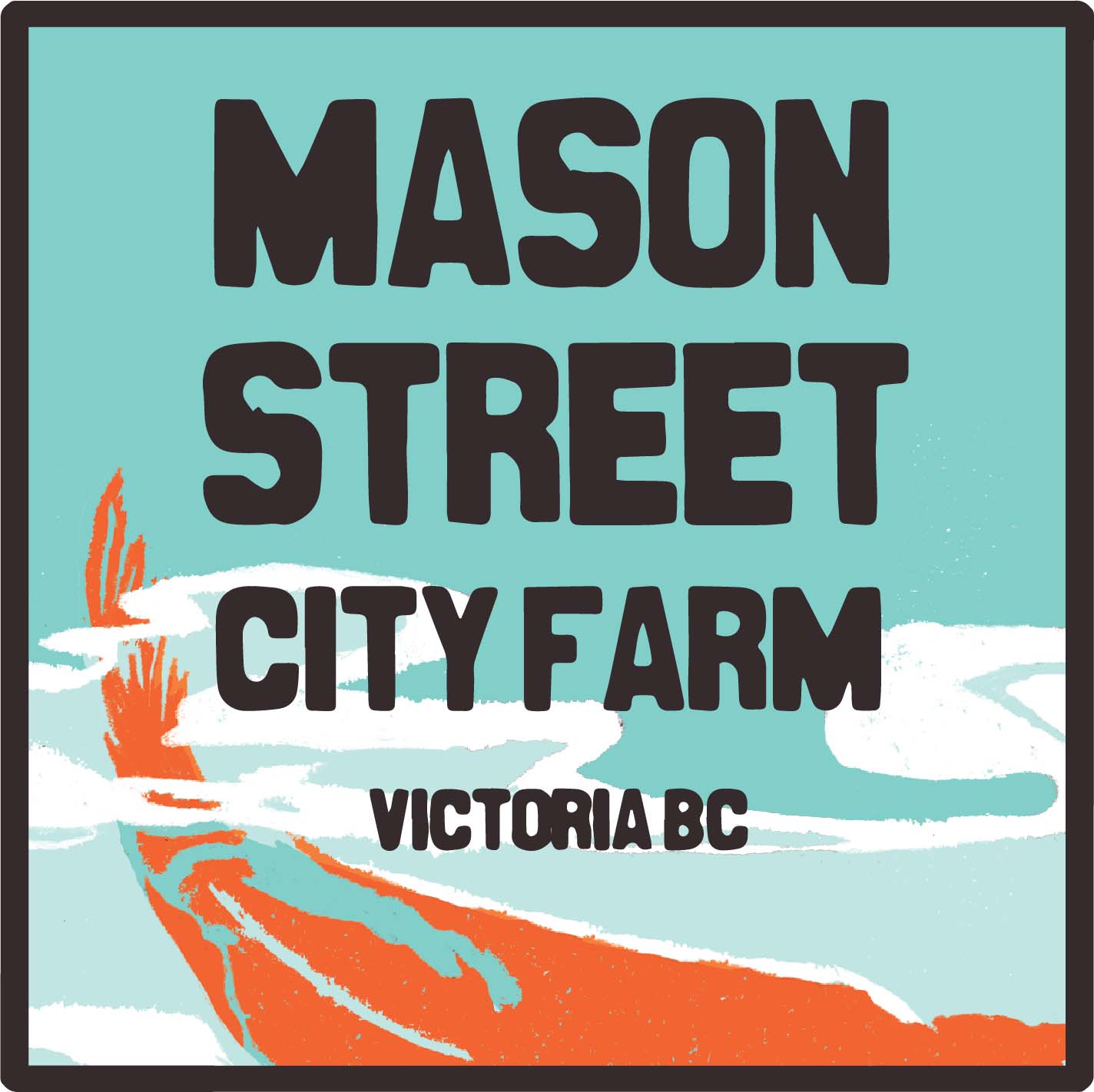 When & Where

Mason Street City Farm
1015 Balmoral Rd
Victoria, BC V8T 1A7
Canada

Saturday, 28 March 2015 at 9:00 AM

-

Wednesday, 21 October 2015 at 12:00 PM (PDT)
Add to my calendar